Pastor, Son Arrested for Beating Boy in Church Because He Wanted to 'Test God,' Police Say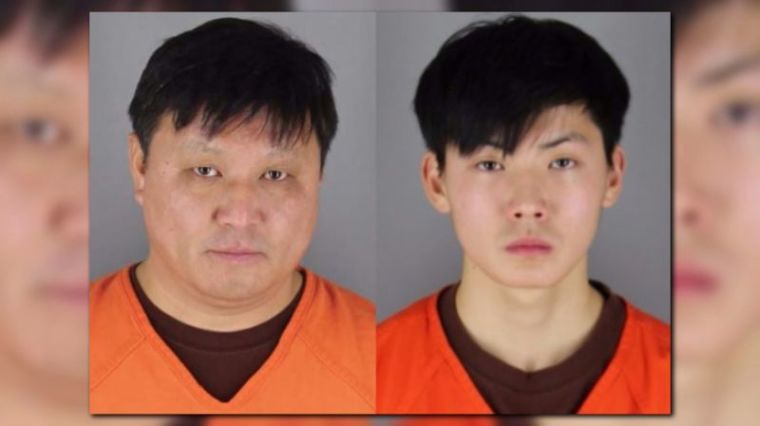 A Minnesota pastor and his son allegedly beat a 12-year-old boy over the course of several days for rejecting his faith in a bid to "test God," and are now facing felony charges after the boy escaped the church and called for help.
A letter written by the pastor's wife in defense of her family said they were simply just trying to help a troubled child who they considered "family."
A criminal complaint filed on Tuesday against Pastor Dong Wook Kim, 51, of Good News Church in Minneapolis, Minnesota, and his 19-year-old son, Joo Seong Kim, charges the father and son duo each with two counts of assault in the second and third degree, and one count of malicious punishment of a child. All the charges are felonies.
The Minneapolis Police Department received a call from a resident last Saturday who told police that she was shoveling snow at her home when she saw the boy running through the snow toward her. As he approached her yard he yelled "help me."
He was dressed in only a pair of basketball shorts and a T-shirt in sub-zero temperature. She told police that she took the limping boy into her home where he showed her injuries he received during four days of beatings in the basement of the Good News Church.
Police reported that the boy had what appeared to be a black eye and a healing busted lip, bruising on both arms, whip marks, healing scabs on his back, bruising on his buttocks and thighs, "one of which was the approximate size of a football." He was taken to a local hospital for treatment where he told police that his 4-year-old sister had also suffered abuse at the hands of the pastor in the past.
The boy explained to police that on Dec. 14, Pastor Kim made him get into a push-up position and plank for a long period of time. When he got tired and could not hold the position, the pastor kicked him in the head and face. On Dec. 15, the pastor's son made him get into a push-up plank position and struck him in the back and on his foot with a 3 to 4 feet long stick that was about 2 inches thick. Then, last Friday, the pastor's son allegedly punched the boy in the head and stomach multiple times which "caused bussing (sic) in his ears."
The pastor, according to the boy, also slammed his head multiple times in a doorframe which "caused him to see stars and caused injury to his head, face and ear."
On Saturday, he said his parents called the pastor and his son to pick him up from their home, and that is when they took him back to the basement of Good News Church where the pastor's son pulled him by the hair, made him do to pushup position and whipped him with a stick. The pastor's son then told him to remove his sweatshirt and jacket and went to retrieve an extension cord. It was at this point that the boy took the opportunity to run away.
The boy told police that he was running to a nearby CVS pharmacy to call police and get warm. But when he saw the woman who helped him outside he ran to her for help instead. He said the pastor and his son had started taking him to the basement of the church, which has no windows, about two to three weeks earlier but things only started getting physical last Wednesday.
The boy reportedly told the pastor that "he wanted to test God," and the pastor became angry and made him assume the push-up position. The pastor then struck him on the buttocks 15 to 20 times with "a small stick." The pastor's son said because the boy moved, his father struck him on other parts of his body.
Last Thursday, according to the pastor, the boy had also run away from the church in the wee hours or the morning, but they were able to find him and return him to the church. The pastor's son said he saw the boy's father escort him into the pastor's office and struck him once or twice with an open hand. When the pastor's son was shown images of the extensive injuries on the boy, he blamed them on his father and the boy's father.
The pastor admitted to striking the boy on Dec. 14 because he "was really upset at the time" over the boy's rejection of God. He admitted that "I lost control."
One of the pastor's other sons told 5 EYEWITNESS NEWS that his father was really just trying to help the boy's parents with discipline.
"From the bottom of our hearts, we really wanted to help (the victim)," the son said.
In the letter to the judge in her husband's case, the pastor's wife said he had served in the Korean Air Force for 16 years before he was honorably discharged in order to become a minister.
"I respect and honor my husband because he left his place as the Lieutenant Commander and left his guaranteed life to serve God, serve the Gospel and walk his path as a minister," she wrote.
The pastor's wife explained that he has been ministering for 14 years and "has guided countless youths to get on the right path."
She also pleaded for her son, Joo, whom she called a gift from God. She explained that she had suffered five miscarriages over four years before she gave birth to Joo.
"There were times when I hated God and resented Him. Then in the year of 1995, I received salvation and God gave me a son. Joo is not just a son. Joo is the first gift that God has given me. As much as the pain I had having miscarriages, I was that much more happy when I bore my son," she wrote.
She credited the church with helping her to raise her sons and is expecting Joo's two younger brothers to become ministers.
"I believe if I were the one to raise my son, I wouldn't have been able to raise him this well. It was God and the church who raised him. I believe that my sons, even the two after Joo, will become servants of God," she said.
She again argued that her husband and son did not have "bad intentions" when they hit the boy.
"It was out of greed of wanting to make him a better person. We were like family. Since both of his parents worked, my husband would go and pick him up every day after school and bring him to church. We would eat dinner together as a family. It was out of discipline not rage," she said.
Both the pastor and his son are currently in custody and being held on $50,000 bail.