Pastor Angers Believers for Telling Christian Women They Should Keep Silent During Preaching, Refusing Even to Say 'Amen'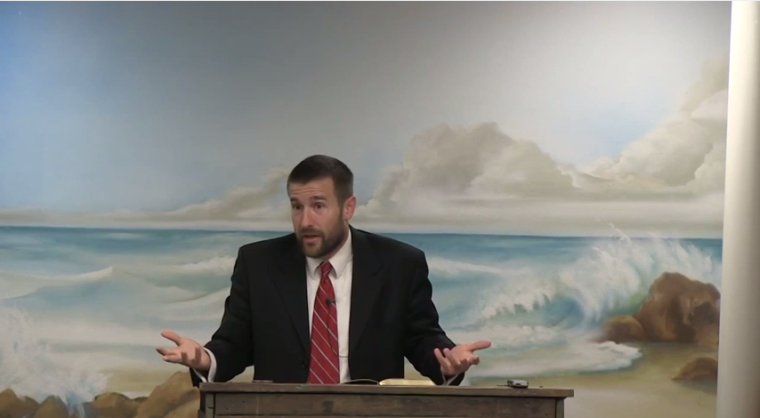 Pastor Steven L. Anderson of Faithful Word Baptist Church in Tempe, Ariz., is once again drawing the ire of women on the Internet for sharing his controversial brand of biblical advice. Women should remain quiet during teaching in the church, he says, and should refuse to say as much as "amen."
In a recent sermon clip from his church posted to YouTube on Sunday, Anderson declared from I Timothy 2:11: "Let the woman learn in silence with all subjection."
He then jumped over to I Corinthians chapter 14 and declared: "Let your women keep silent in the churches for it is not permitted unto them to speak. But they are commanded to be under obedience as also sayeth the law. And if they will learn anything let them ask their husbands at home for it is a shame for women to speak in the church."
Anderson then took the time to explain his message.
"Obviously, before the service, before the congregation begins the service, there is chatting and talking going on, that's perfectly legitimate. And when we all sing praises to God of course the ladies should also lift up their voices and sing praises unto God. But wait a minute, when it's learning time, it's silence time," he explained.
"When the learning is happening they're (women) to be in silence, when the preaching of God's word is taking place," said Anderson.
He then pointed out that women should also not be preaching in the Christian church.
"First of all, it's not for a woman to be doing the preaching. And second of all, it's not for women to be speaking. Even if they were to have a question, they're not to ask that question in the church, number one. And number two, even if they wanted to ask questions of their husband, they should wait until they get home," he said.
"This is why I don't believe that women should say "amen" during the preaching either. Simply because amen…means truly or verily," he continued.
He explained that by saying "amen" women are expressing an opinion about the sermon being preached. And women, he argues, should not be expressing an opinion during the preaching.
And what happens if a woman should ever interrupt one of his sermons? Well, by Anderson's own admission, that woman might have to face a bit of his wrath.
"I was preaching one time and a woman actually disagreed with me in the middle of my preaching. I said something and she said I was wrong and I kind-of blew up a little bit," he said.
The clip of the video has already been viewed more than 13,500 times since Sunday, and many viewers have sounded off at the pastor with colorful language branding him a backward sexist.
"Women should speak with their feet and walk out of your church," noted one commenter under the screen name IndigoVagrant.
Others, like Nika Cruz, hit his arguments with some thoughtful criticism.
"Pastor Anderson, so what if a woman gets saved and her husband doesn't? Should she not go to church then? Just confused. There seems to be some biblical contradictions to this statement, and like you have instructed in the past, I checked for other supporting biblical texts and found that there are women prophets in the New Testament (Anna in Luke 2:36-38; and the daughters of Phillip in Acts 21:8-9)," noted Cruz.
"How can you prophesy and be silent? What about Acts 2:17; Joel 2:28 in the Bible that says: 'And it shall come to pass in the last days, saith God, I will pour out of my Spirit upon all flesh: and your sons and your daughters shall prophesy, and your young men shall see visions, and your old men shall dream dreams?'" she continued.
"So if I study the Bible daily and my husband does not study it at all, should I still go to him for clarification? Should I go to one of the men in the church for help? (God forbid.) What do women even go to church for? I need to know, because I want to be saved, my husband is not saved and I just study my Bible myself at home," she said.
According to Anderson's church website: "Pastor Anderson started Faithful Word Baptist Church on Dec. 25, 2005. He holds no college degree, but has well over 140 chapters of the Bible memorized word-for-word, including approximately half of the New Testament. Today, most Baptist churches are started by Bible colleges. However, the Bible makes it clear that the church is the pillar and ground of the truth, not a school. Faithful Word Baptist Church is a totally independent Baptist church, and Pastor Anderson was sent out by a totally independent Baptist church to start it the old-fashioned way, by knocking doors and winning souls to Christ."