Pastor Tim Keller Explains Why Your Christian Identity Should Supercede All Others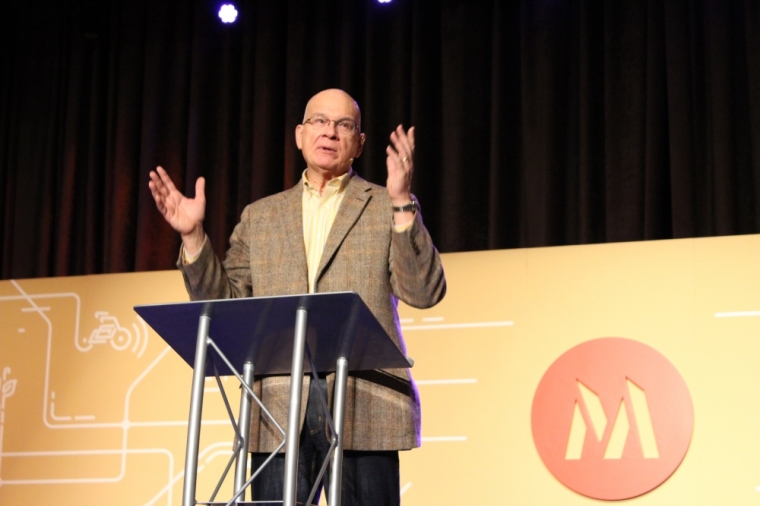 NEW YORK — It doesn't matter if you are rich, poor, black, white or Asian, if you're a Christian, suggests Pastor Tim Keller of Redeemer Presbyterian Church in New York City, that identity and all the qualities attached to it should trump all else. And here's why.
At an annual leadership initiative called Movement Day, hosted at the New York Hilton Midtown in Manhattan, Keller suggested that if Christians focused more on the identity they all share in Christ — instead of identities based on differences — they could more positively impact their communities.
"There are great spiritual and cultural divides in every city. There are temperamental divides. There are cultural, racial and generational divides. And we can't communicate the Gospel by word and expect anybody to hear it unless we also back up our communication with deeds," said Keller.
"If you say one thing and act another way, people aren't going to listen to what you say. Of all the things we can do as Christians to back up the words of the Gospel, there is nothing more powerful than bridging the spiritual and cultural divides even within the Church," he said.
Perhaps a nod to the current political climate, Movement Day 2015 focused on the spiritual, economic, and racial divides that exist within cities and discussed solutions to bridge those divides. Keller, using Ephesians 2 as a guide, demonstrated how Christians can leverage their membership in God's family to overcome divisions driven by cultural, social, familial or economic ties.
"We are told here [Ephesians 2] when you become a Christian you are fellow citizens with God's people. You become part of a new nation. What this means is our citizenship as Christians in God's kingdom is more fundamental than our citizenship in any other nation or racial or cultural group," Keller said.
"It takes time to see this, but as times goes on after you become a Christian you begin to realize that you are more like Christians in the other racial and national groups than you are alike people who don't believe in Christ in your own," he noted.
He continued on with Scripture: "It also says we are members of God's household. It doesn't say house. Household means members of God's family. What this is telling us is we're not just citizens in the same nation, we are siblings, we are brothers and sisters. We are children of God, not just simply citizens of the Kingdom."
The brotherhood Keller mentioned is united by the Holy Spirit. The pastor challenged Christian leaders and others at the conference to examine their own identities to see if they were focusing too much on what makes them different.
"Let me just suggest that this is always the hostility between people groups. It's our assets. It's the things that are good about us. And here's the reason why: Until Christ comes in and really changes us, our identity factors operate on the basis of difference," Keller said.
"Think about it for a minute. You're not really proud of having money. You're proud of having more money than other people. You're not really proud of being a great violinist, you're proud of being a better violinist than others," he continued.
"So if you're the best violinist in your little town in Texas, you feel good about yourself. Why? Because you're the best violinist in Texas. Then you move to New York and when you get out at the train station the violinist that is playing in the station is better than you," he said as the crowd erupted in laughter.
"And suddenly you feel terrible because your identity factor is based on difference. I only feel good about myself if I am better than everybody else around me. Or better than a lot of people around me, and so we all walk around looking at others saying 'those people,'" he added.
Keller explained that to overcome the mindset of difference, Christians need to embrace the concept that everyone is a sinner.
"In the Gospel there is no pecking order. You might be a mafia hitman, you might be a prostitute, you might be … you're lost because the essence of sin is to be your own savior and not let God be your savior," Keller said.
"When you realize that everybody is lost … it humbles you forever. That destroys your ability to look [down] on everybody else," he added.