Pat Robertson Calls Atheists 'Miserable Grinches' Trying to Steal Christmas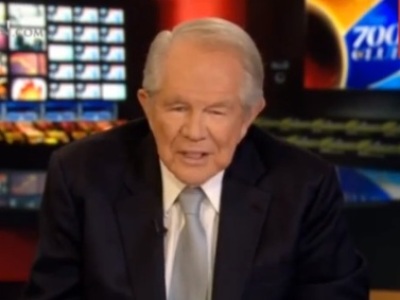 Televangelist Pat Robertson is making headlines once again due to his recent comments regarding what many call the "war on Christmas," saying that he believes atheists are "miserable" people who want to steal the Christmas holiday away from Christians.
"The Grinch is trying to steal our holiday," Robertson told viewers on the Monday, Nov. 19 episode of the "The 700 Club", the flagship program of the Christian Broadcasting Network.
"Atheists don't like our happiness, they don't want you to be happy, they want you to be miserable," Robertson went on.
"They're miserable so they want you to be miserable, so they want to steal your holiday away from you."
Robertson's comments have stirred some controversy on the Internet, with critics arguing that the CBN founder repeatedly and unfairly targets atheists as an angry, bitter group of people perpetually on the attack against traditional American society.
When a gunman opened fire at a Sikh temple in Oak Creek, Wis., in Aug. 2012, Robertson received criticism for his comments on the incident, because many argued that he appeared to blame atheists for the shooting.
"People who are atheists, they hate God, they hate the expression of God, and they are angry at the world, angry with themselves, angry with society and they take it out on innocent people who are worshipping God," Robertson said in reference to the shooting.
In regard to Robertson's comments concerning the "war on Christmas," many have voiced their agreement, pointing to recent court cases involving challenges to public Christmas displays.
In Loudoun County, Va., the American Atheist organization is contemplating a lawsuit against county officials for including religious symbols in their annual public holiday display, the decorations of which cater to mainstream religions and secularists alike.
Additionally, earlier this week a federal judge denied efforts to re-open a 60-year-old Christian nativity display in a city park in Santa Monica, Calif.
While atheists continue to argue that there should exist a separation of church and state when it comes to Christmas and public holiday festivities, Christians argue that the tradition and purpose of Christmas should be preserved in American society and celebrated openly.
For example, the Liberty Counsel, a nonprofit public interest law firm, is kicking off its 10th annual "Friend or Foe" Christmas campaign this year, which is "designed to educate and if necessary, to litigate, to make sure that Christmas is not censored from either the public marketplace or the private retail."
As Robertson added on Monday's episode of "The 700 Club", he believes Christmas is an event that unifies the nation.
"It's been so beautiful. The nation comes together, we sing Christmas carols, we give gifts to each other, we have lighted trees, it's just a beautiful thing," Robertson said of the holiday.
Watch a video clip of Pat Robertson commenting on "miserable" atheists and the Christmas holiday: