Pat Robertson Urges Christian Woman to Quit Her Job So She Doesn't Get 'Infected' by Buddhist Co-Workers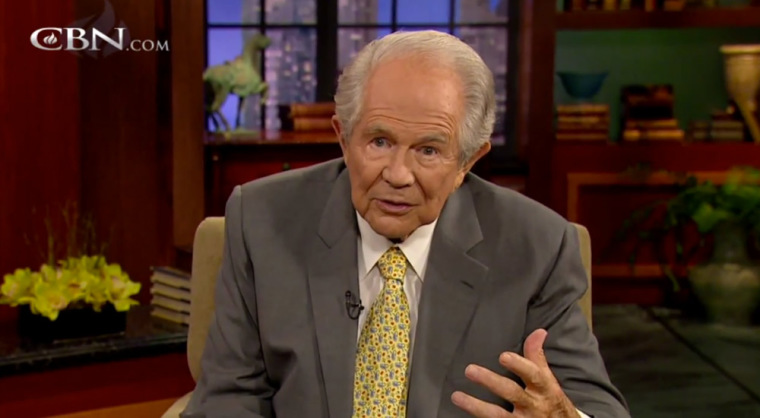 Christian Broadcasting Network televangelist Pat Robertson instructed a Christian woman, who wrote into "The 700 Club" asking him for advice on what she should do about working in an office full of Buddhist co-workers, to leave her job so that she won't be "infected" by their religious theology.
"I work in an environment where all of my co-workers are Buddhists. They talk about Buddhism all day long and try to preach to me. It didn't matter much to me before, but since I recommitted myself to Jesus a year ago, it has started to bother me a lot," Tina wrote in her inquiry that was read during Monday's broadcast. "I remember our pastor telling us to teach others about Jesus, so that they can receive salvation. However, every time I approach my co-workers, the end up offending me in ways that I feel are criticizing the Word of God. But if I argue, I end up offending them."
"What should I do?" Tina asked. "Should I continue to insist on helping them or get a different job? Also, is this a sign that this is not what I am created to do — to minister to others?"
Although Tina wants to evangelize to her Buddhist co-workers, Robertson responded by comparing her situation to a healthy person who enters a hospital only to catch a virus or disease floating in the air.
"If you're healthy and their is a mild contagion around you, chances are that you won't get it. But if you put yourself in the middle of a hospital ward where everybody has that disease except you, sooner or later you will be infected by it," the 84-year-old Robertson asserted.
Robertson continued by saying that it might be wise for Tina to leave her job because the Buddhists, with their power in numbers, are more likely to change Tina, rather than Tina being able to change all of them.
"Now, it is one thing for you to be ministering to somebody who is of a different persuasion, but if you are in the middle of hundreds and hundreds of people who believe that way, you got an uphill fight, and I think your best thing to do at that point is to withdraw with dignity," Robertson contended. "Get out of that environment because they're going to get to you before you get to them."