Pat Robertson Claims Teen Is Gay Because He's Raised by Single Mom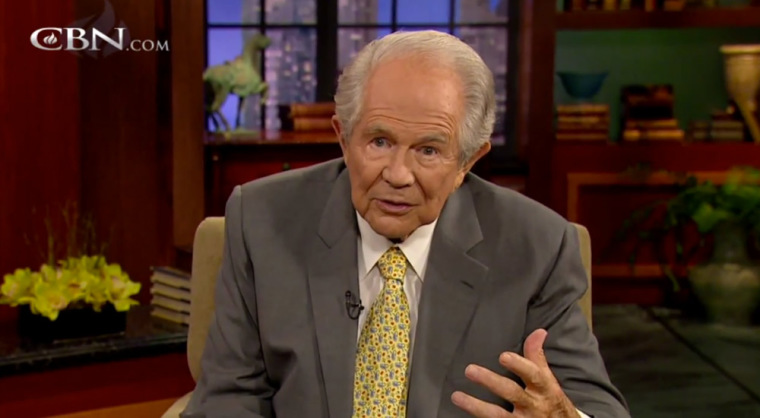 Controversial televangelist Pat Robertson has recently claimed that a teenage boy brought up by his single mother is showing signs of being gay because of the absence of a father figure.
During the "Bring It On" segment on an episode of the long-running series "The 700 Club," Robertson received a written question from a viewer named "Kristi."
"Recently, my step-son told me he is having crushes on boys. He is 13, and lives with his mother most of the time," queried Kristi.
"How do we approach the situation? What are the next steps we should take? We have two other boys, ages 3 and 1. What is your suggestion?"
Robertson responded that while many people "think they are born that way," he disagrees and considers "nurture" to be the primary factor.
"He's being raised by a mother, so his attraction is now toward other men because he's raised by a woman," said Robertson.
"Before I did anything else, I would get him male companions. I'd get him some man to help him … some mentor or someone who cares about young men in a fatherly or elder brother type of way."
Much debate has existed on the specific origins of homosexual behavior. Some have argued that it is the exclusive product of nature or genetics, while others have claimed that it is the product of nurture and the environment.
Some researchers tilt toward a middle ground, with homosexual orientation being the product partly of biology and partly of the environment.
In recent years, much has also been made about the damages done to children brought up in single parent homes, especially homes devoid of a persistent fatherly presence.
In a 2012 column for Psychology Today, Edward Kruk noted that many problems existed for fatherless children, including "behavioral problems," "truancy and poor academic performance," "delinquency and youth crime," "promiscuity and teen pregnancy" and "homelessness."
"Given the fact that these and other social problems correlate more strongly with fatherlessness than with any other factor, surpassing race, social class and poverty, father absence may well be the most critical social issue of our time," wrote Kruk.
However, amongst the numerous ills caused or perpetuated by fatherlessness at home, homosexual orientation was not listed.
Neither was sexual orientation mentioned by Dennis A. Balcolm in a study published in 1998 by The Journal of Men's Studies.
"Many adult sons abandoned by their fathers have difficulty developing and sustaining self-esteem, forming lasting emotional attachments, recognizing their feelings, or being expressive with their adult partners and children," wrote Balcolm.
"These men must turn their attention toward their absent fathers and resolve the mystery of their absence to ensure that their current intimate relationships can succeed."