Paul Ryan Says House Chaplain Fired for Inadequate Pastoral Services, Not Politics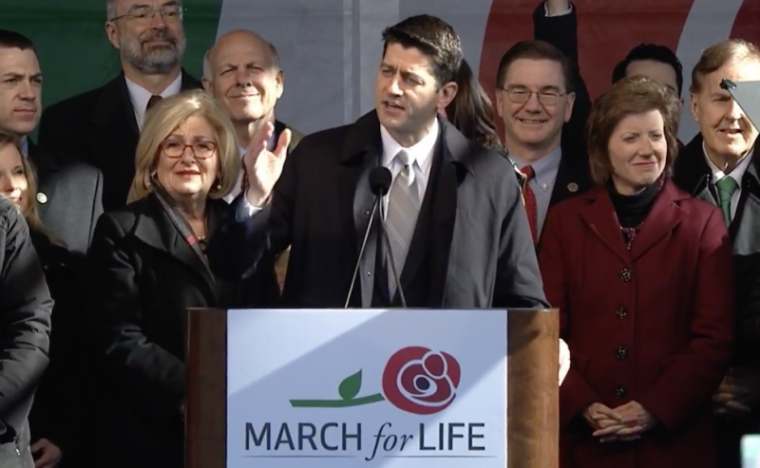 House Speaker Paul Ryan says he removed the Rev. Patrick J. Conroy as the chaplain of the House of Representatives because of his failure to provide "pastoral services," and that a new bipartisan committee will select his replacement.
"This is not about politics or prayers, it's about pastoral services," Ryan told The Weekly Standard. "A number of our members were not being adequately served or offered services, so I made a decision on behalf of the House, on behalf of making sure we could have adequate pastoral services."
Conroy, a Roman Catholic priest from the Jesuit order, has accused Ryan of punishing him for not staying out of politics. In November, Conroy said in a prayer that the upcoming tax reform legislation needed to be fair.
Conroy prayed that representatives would ensure "there are not winners and losers under new tax laws, but benefits balanced and shared by all Americans."
Ryan says the politicized prayer was not the reason he asked for Conroy's resignation. 
Ryan, a Republican from Wisconsin, added, "As a person who stands up for the institution I just wanted to make sure that we have pastoral services that are being adequately offered on a go forward basis for all of our members."
Rep. Mike Coffman, a Republican from Colorado, seconded Ryan. "He had a number of complaints that the chaplain was not meeting the pastoral needs of the members in general," Coffman said, according to Fox News.
Democrats have criticized Ryan's decision.
"I have expressed my forceful disagreement with this decision to the speaker," House Democratic leader Nancy Pelosi said in a statement. "It is truly sad that he made this decision, and it is especially bewildering that he did so only a matter of months before the end of his term."
Pelosi added, "During Father Conroy's entire service, I've never received a complaint from our Members about him pastoring to the needs of the House."
April 16, Ryan's office announced that Conroy would be stepping down "next month after seven years in the post."
"As chaplain, Father Conroy has been a great source of strength and support to our community. He is deeply admired by members and staff," it said in a statement. "Father Conroy's ministry here has made a difference, and we are all very grateful to him."
Friday morning, CNN reported that Ryan had fired Conroy and at least two Republicans were upset with the move. 
Ryan, a Catholic, is retiring at the end of this term to have more time with his family.