Paula White Talks Poverty, Claims to Know Formula for Financial Freedom (Watch)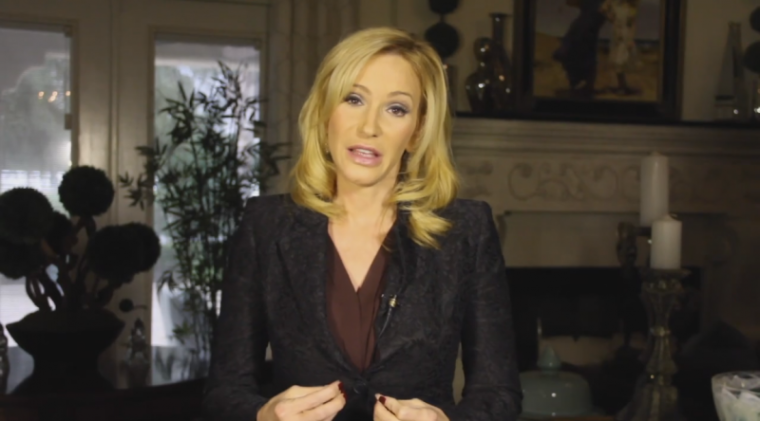 Televangelist Paula White says she's found the formula to financial freedom and wants to share it with those who need a breakthrough.
In a recent video message posted on her Facebook page, White said she received over 6,000 prayer request from those in need of a financial breakthrough and felt compelled to reach out and share the secret of her success.
"I understand the pain of financial crisis. I understand what it is to be stressed out, concerned, worried," she said. "I'll never forget there have been many seasons in my life that I'd gone from highs and lows and had different financial situations and circumstances."
White recalled her struggle beginning as early as 5 years old when her father died. She spoke about having only two outfits and one pair of shoes when she was in the first grade because her family could no longer afford their basic essentials needs.
"I remember that feeling of feeling poor," she explained.
At 18, the now senior pastor of New Destiny Christian Center in Apopka, Florida, found herself living in a trailer and once again in financial distress. But when her life turned around and she started to get blessed, White says she started her ministry.
"I can remember specifically when I would look at my son's eyes who's now 30 years old, and for five days — this feeling will never leave me it's part of what drives me to do what I do — I looked in those beautiful brown eyes (and if your parent you understand this), and I literally had absolutely nothing to feed my child. I had left over Keebler cookies, but I remember that gut feeling. It was beyond, 'How am I going to get an outfit for myself?' It was literally, 'How am I going to feed my child?' I didn't care if I ate at that point," White confessed. " I chop them up, I baked them I fried them. I did anything to make the most horrific situation be tolerable."
White said her son, Bradley, now hates the thought of Keebler cookies because of how often he had to eat them when they were struggling.
"I'm grateful that God allowed me to go through that. You say, 'Why would you ever be grateful?' Because I know what it is to have financial pressure," she said.
White said her past struggles are what encourages her to be so bold now and share the secret to believing for the best.
"I also know what it is to get into God's Words and truly find the blueprint and the map to break poverty for financial abundance, having enough to do what God called you to do," the 50 year old minister added.
White said she's well aware that people will accuse her of just being "after money," but she went on to say that the people who think that way are the ones that "don't have money."
"I know what it is to build multimillion dollar companies, I know what it is to not only bring financial breakthrough to myself, my family for generations to come, but to literally thousands of others, and I want to help you," she said.
White's hope is to be a coach and mentor to those who need a financial breakthrough. She encouraged people in need to visit her site for more information. 
Watch the full video below.