Pennsylvania County Government Member Quietly Puts Ten Commandments Placard in Meeting Room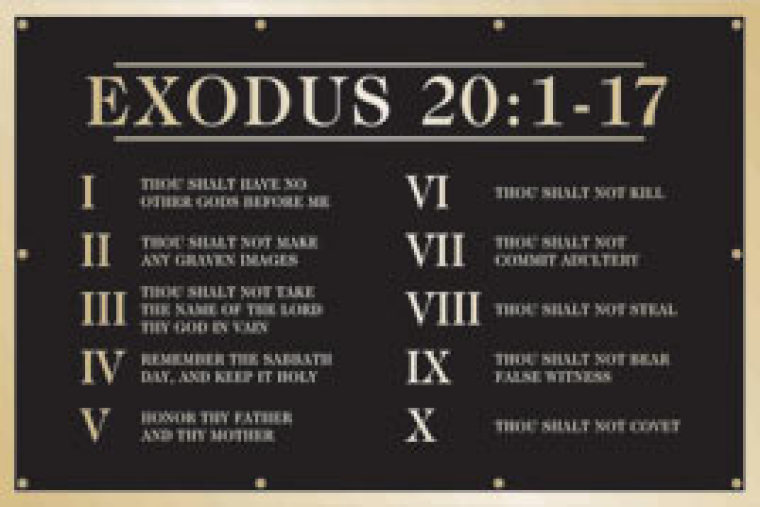 A member of a county government in Pennsylvania has placed a Ten Commandments placard by his seat in a courthouse meeting room.
Mathew Benol, councilman on the Northampton County Council, placed the Decalogue display behind his seat in the county courthouse in Easton, according to local media.
"Benol hung the Ten Commandments before the meeting without saying a word and the plaque's presence was not discussed during the meeting," reported John Best of lehighvalleylive.com.
"Benol said he made the decision to place the commandments on the wall after careful consideration, but he wanted to do it without fanfare and didn't want to make a scene."
This is not the first time that Northampton County Councilman has placed a Ten Commandments placard in the Easton courthouse.
In 2002 Councilman Ron Angle placed a similar Ten Commandments placard behind his seat, which was stolen in 2012.
"Council Clerk Frank Flisser discovered the plaque was missing during Wednesday's council meeting, held on the eve of Holy Thursday," reported Samantha Marcus of The Morning Call in April 2012.
"He doesn't know how long it's been missing. He only noticed its absence when he looked in the direction of Angle's old seat during the council meeting."
After another council member opposed to the plague suggested Benol would oppose displaying the Koran, Benol told Best he would be fine with a Koran display, if a council member similarly decided to place it on the wall behind them.
Regarding news of the new Decalogue display, Angle told local media that he was thrilled at the decision to place it in the courtroom.
"Religion isn't what hurts this country … I think it's the lack of it that's hurting this country," said Angle to lehighvalleylive.com.
Ten Commandments displays on public property have been the subject of much debate among politicians and various courts, with diverse results for the displays.
Benol's decision to display a Ten Commandments placard on government property comes not long after the Oklahoma Supreme Court ruled against a Decalogue statue placed on capitol grounds.
In a 7-2 decision released last week, the state's highest court concluded that the privately-funded 6-foot tall granite monument violated the Oklahoma constitution.
"Because the monument at issue operates for the use, benefit or support of a sect or system of religion, it violates Article 2, Section 5 of the Oklahoma Constitution and is enjoined and shall be removed," concluded the opinion, overturning a lower court decision.