Pentagon Lifts Ban on Transgender Military Service, Could Pay for Gender Reassignment Surgeries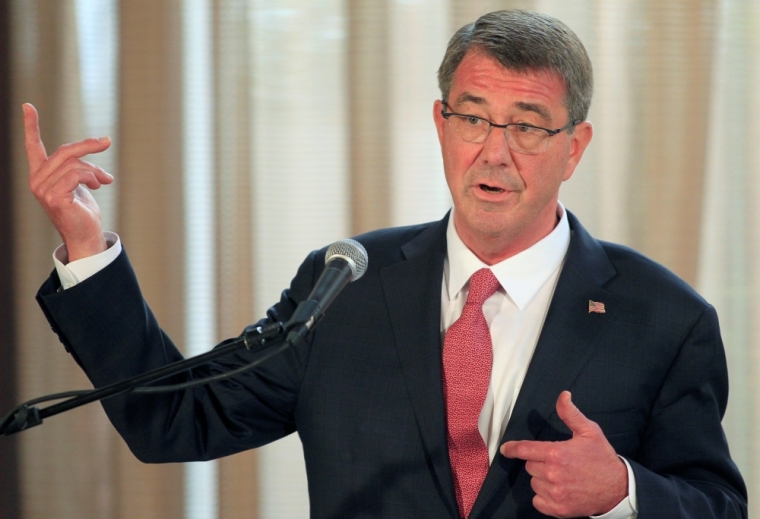 Transgender individuals are now allowed to serve openly in the United States armed forces under a new policy announced by the Pentagon that would require the U.S. government to cover "medically necessary" medical care associated with gender transition.
Secretary of Defense Ash Carter announced Thursday that the longstanding ban against transgender military service has been lifted, "effective immediately."
"This is the right thing to do for our people and for the force," Carter said in a prepared statement. "We're talking about talented Americans who are serving with distinction or who want the opportunity to serve. We can't allow barriers unrelated to a person's qualifications prevent us from recruiting and retaining those who can best accomplish the mission."
Carter explained that the department's new rules will be phased in by the military branches over the course of the next year. By October, the Department of Defense will distribute a training handbook, protocol and guidance for changing a service member's gender of record in the Defense Eligibility Enrollment System.
"At one year, the services will begin allowing transgender individuals to join the armed forces, assuming they meet accession standards," the Department of Defense statement reads. "In addition, an otherwise-qualified individual's gender identity will not be considered a bar to admission to a military service academy, or participation in the Reserve Officers' Training Corps or any other accession program if the individual meets the new criteria."
The statement explains that the government plans to "take care" of whatever medical care is necessary for transgendered troops. The statement adds that the Pentagon will create "a construct by which service members may transition gender while serving, sets standards for medical care and outlines responsibilities for military services and commanders to develop and implement guidance, training and specific policies in the near and long-term."
According to Military.com, Carter said that the government will cover "medically necessary" gender reassignment surgery and medications once the policy is implemented.
"At this point, the services will be required to provide medically necessary care and treatment to transgender service members according to the medical protocol and guidance," the DoD statement reads.
Although Military.com and other news outlets say that the policy could cover gender reassignment surgeries, Digg.com points out that Carter did not specify whether or not the policy would cover the procedure.
Defense estimates find that there are between 2,500 to 7,000 transgender active duty service members and about 1,500 transgender reserves.
According to Military Times, officials that are familiar with the new policy say that people with gender dysphoria, a history of medical treatments associated with gender transition and individuals who have had gender reconstruction surgery may be disqualified from military service unless they have medical certification stating that they have been clinically stable in the preferred gender for 18 months and are free from distress and impairment.
Additionally, individuals who have received hormone treatment must have been stable on the medication for 18 months.
The Obama administration's transgender policy does not come as a surprise. Last year, Carter issued two directives, one of which created a group to study the impact of allowing transgenders to serve openly.
As the study group was led by Secretary of Defense for Personnel and Readiness Brad Carson, Carter said that the group would "start with the presumption that transgender persons can serve openly without adverse impact on military effectiveness and readiness."
In a statement issued along with the directives, Carter said that the department's policy on transgender service members was "outdated" and "causing uncertainty that distracts commanders from our core missions."
"Moreover, we have transgender soldiers, sailors, airmen, and Marines — real, patriotic Americans — who I know are being hurt by an outdated, confusing, inconsistent approach that's contrary to our value of service and individual merit," Carter's statement reads.
As the move comes five years after the repeal of the "Don't Ask, Don't Tell," policy that prevented gay and lesbian service members from serving openly, AP reports that some military leaders voiced concerns that the administration's transgender push was moving too quickly and many issues are still yet to be resolved. Although many of the concerned military leaders backed the change, they requested more time to develop and implement the rules.
Military Times reports that senior military leaders will have 90 days to draw up implementation plans to accommodate the new policy.
The new policy was criticized by leading social conservatives.
Lt. Gen. (Ret.) Jerry Boykin, the executive vice president of the Family Research Council, said in a statement shared with The Christian Post that Carter failed to explain how this new policy "makes our military more capable of winning wars."
"Considering the abysmal condition of our military and a decline in readiness, why is this a top priority for the Obama administration?" Boykin asked. "This has everything to do with President Obama's social agenda for the military, but it has nothing to do with enhancing military readiness. No new science has led to the Pentagon's transgender study — only the politics of the Obama administration and the transgender movement."