Perry Noble shares health update about lump found on abdomen: 'I would so appreciate your prayers'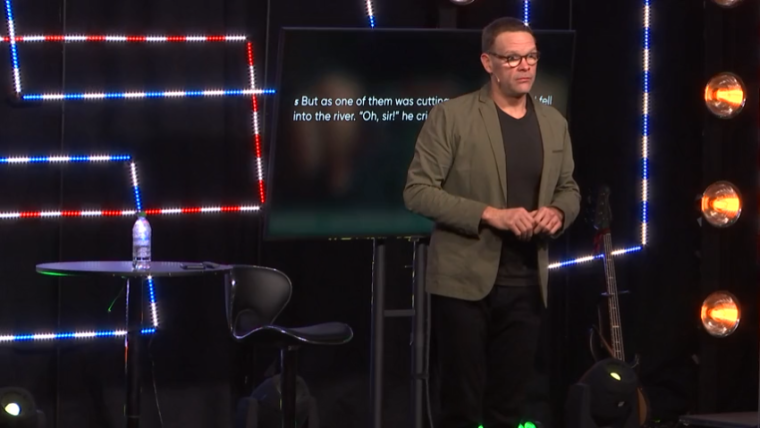 Perry Noble, the senior pastor of Second Chance Church in Anderson, South Carolina, recently revealed that a lump he found on his abdomen three weeks ago is not malignant.
"The lump is not cancerous (thank You Jesus!!)," Noble said in a Facebook post Monday morning. "At this point it is believed that it is either a fatty tumor or a clump of scar tissue! … Either way I would so appreciate your prayers as we try to get this thing out of me!!" 
Noble, the founding pastor of NewSpring Church in Anderson, revealed in a sermon Sunday that he discovered the lump three weeks earlier as he was getting dressed for church Sunday morning.
After calling his doctor, Noble said he immediately started thinking about the "worst case scenario." He revealed that at 51 years old, he had already passed the age when his mother died. "I freaked out. I just started melting down," he said.
The pastor underwent an ultrasound and a CT scan. He said he "chose to practice gratitude instead of worry on the drive back — and had a completely different attitude." Fortunately, the tests showed the lump to be non-cancerous.
"This whole thing has made me super thankful for all that I've been blessed with! And super excited about the future Jesus has for me and our church!" Noble concluded.
Noble, a well-known speaker and author, served as senior pastor of NewSpring, where weekly attendance was 30,000 until he was fired in 2016 for alcohol abuse and other "unfortunate choices and decisions." He was also placed under psychiatric care.
After completing rehab, Noble returned to the pulpit just seven months later against the wishes of his former church, speaking at Steven Furtick's Elevation Church in February 2017. 
In November 2017, Noble announced his divorce from Lucretia, his wife of 17 years. In December 2017, he launched a congregation called Second Chance Church. In May 2021, he married his now-wife, Shannon Repokis.
In a 2022 Facebook post, the pastor admitted he didn't truly repent of his failures until he viewed the situation from a Christlike perspective.
He recalled 2 Corinthians 7:10 was "HUGE for me after my colossal screw up in 2016." The verse states, "Godly sorrow brings repentance that leads to salvation and leaves no regret, but worldly sorrow brings death."
"I've got to admit that when everything happened the way it did — my emotions we[re] all over the place (anger, hurt, confusion, guilt, shame.) However, after I was able to get away (at rehab as well as an additional week of extensive outpatient therapy) and look at the situation, I came to the realization that when I came to how I thought, felt, reacted ... I was (as Dr. Henry Cloud says) 'ridiculously in charge,'" he recalled.
"(So often we want to blame everything on everyone, which will literally STOP the work of Jesus in our lives when it comes to repentance. Jesus allowed me to see things the way He saw them — to feel the way He felt about them (which was HUGE in the healing process)," he added. "And because of that I was able to reach out to those who I knew had been hurt/offended the most and apologize for the part I had played in all that had taken place."