Perry Signs 20-Week Abortion Ban Into Law; Lauded by Pro-Lifers as 'Brave'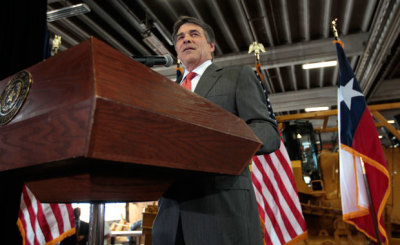 Republican Gov. Rick Perry signed a bill restricting abortions into law Thursday morning inside a secure auditorium at the capitol extension in Austin, Texas, where he was joined by select legislators and religious leaders. While pro-lifers lauded the move, pro-abortion protesters shouted "shame" inside the extension, which was heard by the governor.
Texas Rep. Jodie Laubenberg (R-Parker), is the author of House Bill 2, which prohibits the abortion of babies at 20 weeks gestation. The legislation also gives abortion providers one year, until Sept. 1, 2014, to update their abortion facilities in order to meet the same minimum safety standards as ambulatory surgical centers. It also requires abortionists to have admitting privileges at a local hospital located within 30 miles of the abortion clinic, and that only physicians administer RU-486 in person, and adhere to FDA guidelines for the drug.
Perry said today that everyone should consider the human impact of abortion, and noted that "new research and advanced technology give prematurely-born children a renewed chance at life, which should give us all pause as we argue the definition of viability."
"Additionally, House Bill 2 ensures that anyone performing abortions in Texas is doing so in a facility that is safe, clean and prepared to deal with any emergencies that might occur – a reasonable, common sense expectation for those caring for the health and safety of Texans."
Ashley McGuire, senior fellow with the Catholic Association, lauded Perry for signing HB 2 into law, and said the governor is a "brave man for standing up to the mob tactics of the abortion lobby and has earned the respect of pro-life women and men across the country."
Similarly, Tony Perkins, president Family Research Council, praised Texas lawmakers for passing HB 2 and the governor for signing the 20-week abortion ban into law.
"This new law is grounded in the latest science and in common sense. It will protect the most vulnerable – the unborn – after 20 weeks," Perkins said. "If babies can feel pain around 20 weeks and are viable shortly thereafter, then no one can argue that an abortion isn't ending life. The vast majority of Americans think that late abortion should be banned. Texas lawmakers have honored their wishes. The law will also ensure that women taking RU-486, an abortion-causing drug that has harmed thousands of women and killed at least 10, do so according to FDA guidance and with a doctor's supervision. This will help protect women in case of complications."
During previous legislative sessions, Perry has signed into law legislation that requires parental consent before minors undergo an abortion, and a bill that requires women in Texas to have a sonogram prior to having an abortion. Perry has also supported initiatives to allocate $100 million in funding to expand women's health services, including the creation of the Texas Women's Health Program.