Persecuted Burmese Christians Risk Death to Help Victims of ISIS in Mosul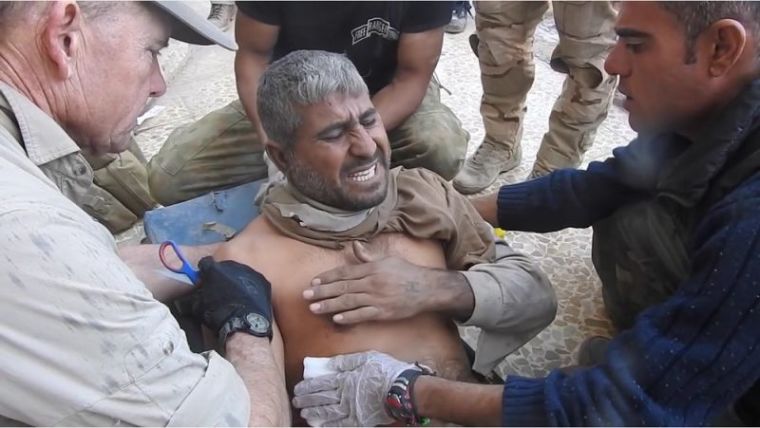 Iraqi forces wounded in the ongoing battle to push the Islamic State out of Mosul need all the help they can to stay alive. And coming to their rescue are oppressed Christians who felt God's call for them to travel all the way from the civil-war ridden asian nation of Burma.
For the last 20 years, the humanitarian aid group Free Burma Rangers, led by former U.S. Army Ranger officer David Eubank, has aided the oppressed ethnic minorities in Burma who are constantly attacked by the nation's military dictatorship.
Although FBR has established over 70 relief teams in Burma, representing 13 different ethnic minorities, the group says God presented a new opportunity for them to help oppressed Iraqis and Syrians in February 2015.
Eubank told The Christian Post in an interview that after IS (also known as ISIS or ISIL) rose to power in the Nineveh plains of Iraq in 2014, he was contacted by a friend working as a missionary in Kurdistan who pleaded for him to drop what he was doing in Burma and come to Kurdistan, where hundreds of thousands of displaced Iraqis migrated in search of safety and shelter.
The only problem was that the Burma Army was standing in the way, making it nearly impossible for Eubank to leave the country and make it to Kurdistan in the seven-day time span. However, Eubank turned to prayer and the next morning, the Burma forces had picked up and moved, which miraculously cleared the way for Eubank and his team.
"Once we got to another country, then we still needed to buy plane tickets out to meet that seven-day window but we had no money. But my friend living in the United States bought them for us. But it also happened to be a holiday and everything was full but we happened to get five seats," Eubank explained. "There were a lot of different things happening that got us to Kurdistan, which we felt we had no place being. But with all these miracles, it was like a sign that we were supposed to go."
"On the first trip to Kurdistan is when I was on the front lines with the Kurdish army and I was on top of Sinjar Mountain with ISIS down below and looked out and asked God, 'What do you want me to do?'" Eubank recalled. "I just felt him say, 'Give up the Free Burma Ranger way and help these people.'"
Eubank then went back to meet with his FBR team members in Thailand and told them about the operations that FBR would begin in Iraq. The ethnic Burmese team members were very receptive to the call.
"They all prayed and said, 'We want to go too,'" Eubank recalled. "I said, 'We are going to need some medics and some video people.'"
Along with his wife, daughter and son, Eubank brought about five of his ethnic Burmese team members with him when he went back to Kurdistan. All of the ethnic team members, he said, are Christians who know what it is like to have their homes destroyed, to be shot at and have their family members killed in military conflicts.
"So you get these guys from Burma and their war is not over yet. If you ask them 'Why are you going,' they will say, 'God is leading us and people have helped us so we should help others,'" Eubank stated.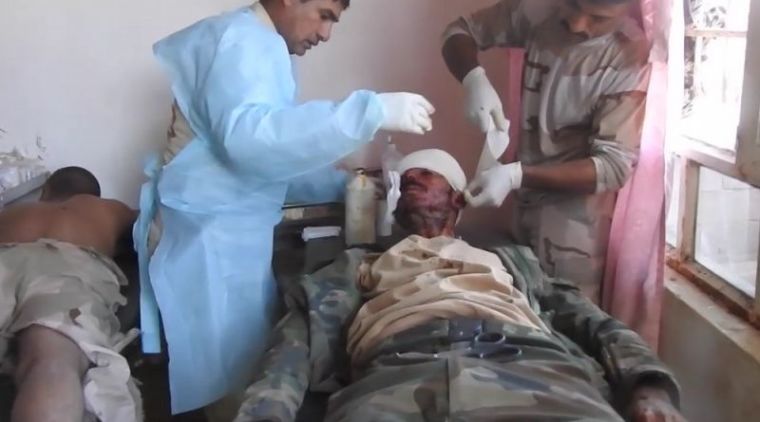 "They have all been at war," Eubank added. "They are long-term combat veterans who are not afraid of violence. Because of their culture, they are very patient and humble and fit in with people. When the Kurds first met them, they were like 'Who are these little brown guys?' Then they saw that they are fearless under fire and patient and humble. Then they begin to find out their stories. When they heard that these ethnic people were from Burma and have also suffered and have been under oppression, they really felt an affinity for them. They were seen as small people like them, like the Kurds or the Assyrians. They broke down a lot of barriers."
The experiences in Burma have helped a number of ethnic team members to become world-class medics and their help has been sought after by other groups, Eubank noted.
After providing supplies and medical needs to displaced families in Kurdistan, Eubank said FBR was asked by an NGO in November 2016 to go into the heart of the war against IS and provide food to residents of Mosul who haven't been able to escape the war-stricken town and aid wounded Iraqi soldiers.
In Mosul, Eubank, his family, the ethnic team members and American volunteers stay at an abandoned house in the city that is attacked by IS everyday and is protected by the Iraqi Army.
"There are still some civilians there but ISIS is just around the corner. So they attack everyday. You take sniper fire, mortar fire, machine gun fire or they try to drive a suicide vehicle up. Although none of us got hit, the Iraqis we were with, they got hit. Just about everyday, people died and got wounded," Eubank explained. "Everyday we were there, we were putting people in body bags or treating wounded people. Our medics were working with the Iraqi medics and then people like me, who are not medics, help to stop the bleeding or help out by assisting the medics."
Eubank also recalled the time when IS attacked the abandoned school where his kids were.
"We did one program without anything happening. The second program we did, we got attacked by ISIS," he said. "They shot up the school. The school is made of this thick concrete even though we were attacked with mortars, rocket propelled grenades, machine guns, everything."
He and his family were able to get out of the school thanks to the help of the Iraqi Army.
Although the danger is very real for Eubank, his family, and the others associated with FBR, the group leader maintained that there is a rule of thumb when serving with FBR.
"Wherever we are, whether we are in Burma, Syria or Kurdistan or Iraq, we have the same kind of way of looking at the situation — Wherever the people are, we are," he stated. "In this case, the people we needed to help were in Mosul. We were right in with the Iraqi Army, giving them medical care when they got shot, giving food and supplies for the city people."
According to Eubank, the key to working as a humanitarian in some of the world's most violent war zones is to be led by the Holy Spirit, not by fear.
"We don't want to be shot at. It is not a movie. You might get killed," Eubank said. "You don't want to get shot at and you don't want to take unnecessary risks but if people are in trouble, you want to stand with them. We have a rule in the Free Burma Rangers — You can't run away if the people can't run away. You can't just leave them."
"We never say 'That's too dangerous' or 'That's too risky.' We say, 'Does it need to be done? Yes? Then, how do we survive it?'" he continued. "I got my kids there. I don't want them to die. That would be horrible. But that's what everybody thinks about their kids. If America was under attack like these people are, we would want people to come help us too."
Eubank left Mosul in December to return to Burma for the graduation of 17 new FBR relief teams. He was in the process of returning to Mosul when he talked with CP.
In May 2016, Eubank's daughter produced a YouTube video that shows the horror caused by IS in northern Iraq. For more information on Free Burma Rangers, visit the website here.