Phaedra Parks Reveals How Prayer Brought Sarah Jakes Roberts to Atlanta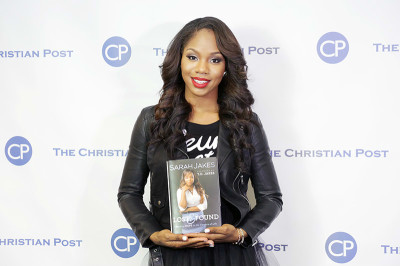 Phaedra Parks, reality TV star of Bravo series "Real Housewives of Atlanta," recently revealed how a prayer helped connect her with One Church International's first lady, Sarah Jakes-Roberts, daughter of popular televangelist Bishop T.D. Jakes.
Parks, an Atlanta attorney and cast member of "Real Housewives of Atlanta," let cameras film her dealing with the aftermath of crimes committed by her estranged husband, Apollo Nida, that have resulted in him being sent to prison. Nida is serving an eight-year prison sentence for bank theft and identity fraud charges, while Parks has been left to care for the pair's two young sons.
In the latest episode of the Bravo TV reality television series, Jakes-Roberts, the daughter of T.D. and Serita Jakes of The Potter's House in Dallas, Texas, appeared to help Parks deal with her problems in a healthy way. Sarah got married to Touré Roberts, the senior pastor of One Church International in Hollywood, last year.
After overcoming a divorce and being married and divorced at a young age, Jakes-Roberts encouraged Parks on the latest episode of "Real Housewives of Atlanta." She spoke about her own experience going through the divorce process after ending a previous marriage in 2012.
"You know, it was a difficult decision for me. I had my son at 14, and so I couldn't bear to have another church mess-up, another church mistake, but the reality is, I was suffering," she told Parks on the show. "I had everything that looked great on the outside, but at the end of the day, I was crying myself to sleep and marriage isn't this place where you should feel like you need protection. It's the place where you should be the most vulnerable. And when I was robbed of the ability to be vulnerable, I knew that I was in a bad situation."
Parks took to Instagram to explain her relationship with Jakes-Roberts, who she refered to as a "friend and confidant, the beautiful anointed lady of God."
"During one of the hardest nights of my life I prayed and asked God to send someone who knew HIM but could also understand me. Within hours I received a call from my dear friend who introduced me to Sarah," Parks wrote. "From that moment on she encouraged me, prayed with me and stood by me. She didn't know me from Adam's housecat, but she came to Atlanta to make sure I knew what she was saying was real. I thank God for sending her my way. She is an angel. #womanofGod #supermom #friend #PK #PKssticktogether #HEwilldoit."