Sarah Jakes Engaged? Trades Affectionate Messages With a Hollywood Pastor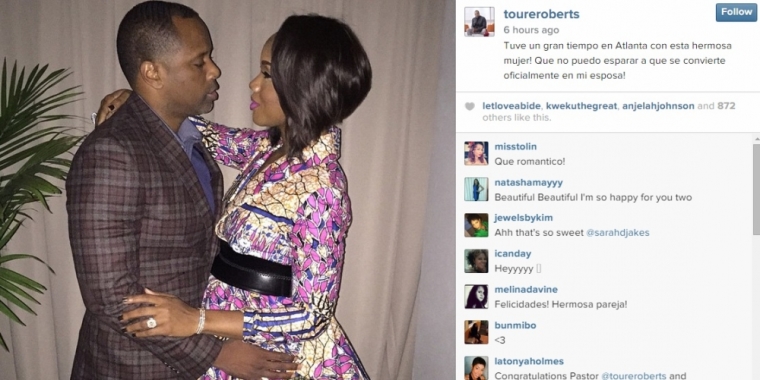 Los Angeles Pastor Touré Roberts shared a picture on Instagram Friday of him and Sarah Jakes embracing each other, proclaiming in Spanish "I had a great time in Atlanta with this beautiful woman! I cannot wait for her to officially become my wife!"
The warm message was one of two that the Purpose Awaking author shared with followers while attending T.D. and Serita Jakes' Women Thou Art Loose conference Thursday and Friday with his daughter, Ren.
Thursday night Roberts posted another Instagram picture of himself standing with his daughter and Sarah Jakes along with the message "Having a great time at #WTAL with two of the most special ladies in my life! My leading lady and firstborn lady."
Five days prior to the conference Jakes also posted a picture of herself with Roberts with the message "Your love polishes my crown and kisses my scars. Thank you for supporting my work and blessing my life. Love you @Toureroberts!"
Jakes and Roberts have been posting pictures of each other on their Instagram accounts since July. While neither one of them has explicitly commented on the nature of their relationship, both have shared many clues.
In a sermon posted on Vimeo a month ago entitled "5 Keys to Identifying your Soul Mate," Roberts describes meeting his soul mate for the first time. "I get called into a business meeting because I'm focused and in a business meeting I meet my soul mate."
He said he knew that she was his soul mate when they continually crossed paths. Roberts said one crossing in particular confirmed that he had indeed met the woman God had for him. Roberts described the event saying, "At one point we were at this event. There's 10,000 people at this event and God literally ends up having us sit right next to each other and it's a church service. So the service is getting ready to end... we're sitting right next to each other and the preacher says grab the hand of the person sitting next to you."
He concluded, "I take her hand and I am not holding the hand of a stranger. I didn't know what it was at the time but I'm like you are somebody who means something significant to me."
Jakes posted two clips from that sermon on her Instagram account with the messages "The first time we held hands" and "I watched with bated breath as @toureroberts shared the '5 Keys to Identifying Your Soul Mate' last night."
Sarah Jakes is the daughter of Potter's House Pastor T.D. Jakes. Sarah Jakes has endured many challenges in her young life as a result of being an unwed teenage mom at age 13 and a divorcée after marrying ex-NFL player Robert Henson in 2008. However she has used those obstacles to minister to young women. She also authored two books including her new book Colliding with Destiny: Finding Hope in the Legacy of Ruth.
Roberts is the pastor of One Church International, and has a ministry to those in the TV, film and music industries. Roberts also founded the Artist Resource Center to offer first-rate entertainment technology and business training in state-of-the-art multimedia facilities.
Both Jakes and Roberts are divorcées with children. Jakes has two children and Roberts has three children.