Philippine President Rejects Jihadis' Rumored Offer to Release Abducted Priest, Other Hostages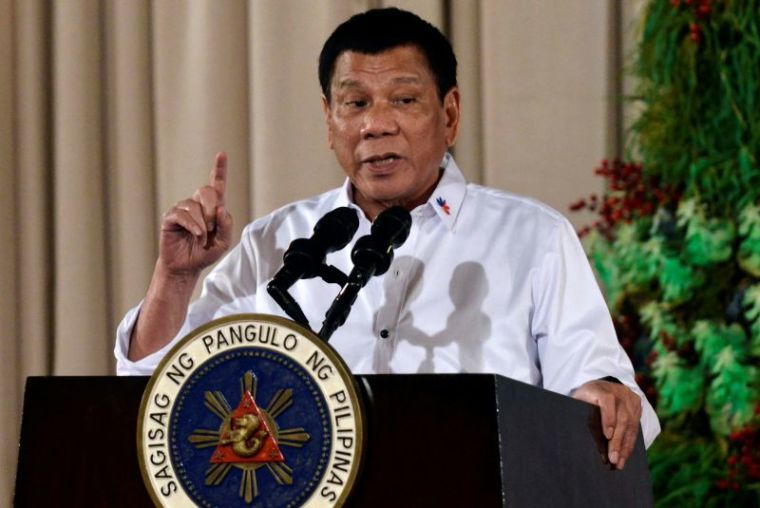 Rodrigo Duterte, the president of the Philippines, has rejected a rumored offer from Islamic militants to release a Catholic priest and other captives in exchange for safe passage out of the conflict-ridden city of Marawi.
The 72-year-old Duterte told media last Saturday that he would not accept an offer from Islamic jihadis to release Marawi Vicar-General Father Teresito "Chito" Soganub and dozens of other hostages in exchange for allowing the militants to flee the city, which was besieged by Islamic State-affiliated extremists from the Maute and Abu Sayyaf outfits in late May.
According to Reuters, a rumor has swirled that the leader of the Maute group, Omarkhayam Maute, had proposed such an offer. When asked about the offer while speaking with reporters, the president simply stated, "No way."
The Philippine military estimates that there are about 20 to 30 hostages now being held by the militants.
It was initially reported that there were over 200 hostages being held by militants in Marawi, some of whom were forced to take up arms against military troops, become sex slaves and loot homes. However, some hostages have been killed, while others have been rescued or escaped.
"If I can save one life there, I am willing to wait one year [to retake the city]," Duterte was quoted as saying after visiting with wounded soldiers.
Duterte's comments come as security forces have battled for over three months to retake the city from the Islamic extremists. According to ucanews.com, a website that reports on Asian-Catholic news, at least 100 Filipino troops and a total of 800 people have died since the Islamic radicals besieged the town.
The website reports that there are still about 50 jihadis battling security forces inside the city.
Although security forces are working toward defeating the last remaining jihadis in Marawi, Duterte said last weekend that he expects conflict and terror to continue throughout the island of Mindanao.
"There will be no peace in Mindanao for a long time," the president said at an island-wide business conference on Saturday. "What is happening in Marawi seems to have stretched the trouble farther than we expected."
According to ucanews.com, over a half million residents have been displaced.
A Filipino military official announced Monday that some militants in Marawi have hinted that they might soon surrender.
"Hopefully, we will have surrenders within the next days," Colonel Romeo Brawner said during a Monday news conference.
On Monday, the United States government announced that it will increase its support for counterterror efforts in the island of Mindanao.
"The United States deployed the Gray Eagle Unmanned Aircraft Systems (UAS) to Mindanao for additional surveillance in support of the Armed Forces of the Philippines (AFP) counterterrorism efforts," a news release from the U.S. Embassy in Manila states.
"Compared to current surveillance platforms used in the region, the Gray Eagle has a longer flight duration which will enable a larger area of reconnaissance and surveillance."
Over the past three years, the U.S. has provided over $294 million worth of assistance to the Philippines to help improve the military's command, control, intelligence, technology and reconnaissance capabilities.
"Recent deliveries include a Raven tactical UAS and two Cessna-208B surveillance aircraft, as well as various munitions and weapons to support urgent defense and counterterrorism needs," the news release states.