Photo of Teen Praying Over Homeless Man in Baltimore Goes Viral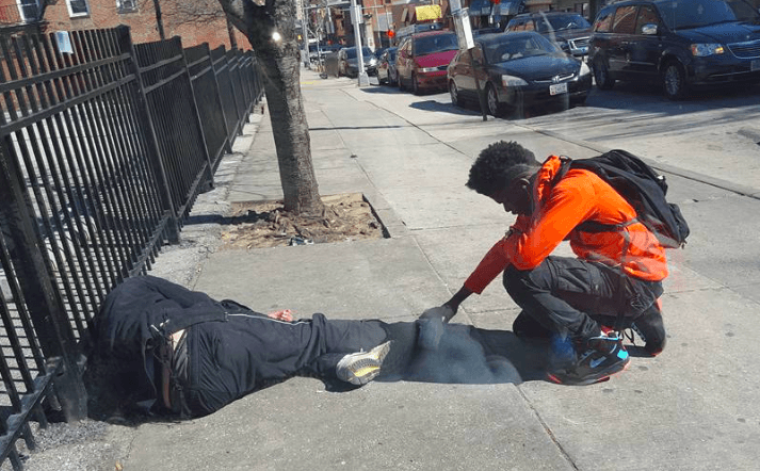 A Baltimore police officer is praising a teenager who knelt down and prayed over a homeless man.
University of Maryland, Baltimore police officer Eric Gaines shared an inspirational photo this week that shows the teenager saying a prayer for a sleeping homeless man near a campus bus stop.
Gaines shared the photo on Facebook, explaining that he had been waiting for the bus on March 1 when he noticed the teen's heartfelt gesture.
"He walked over to him and just knelt down and put his hands down on his foot," Gaines told The Baltimore Sun in an interview. "I thought it was an amazing sight. I had to take a picture of it. It was extremely powerful."
"He didn't do it for any accolades or any praise. ... I didn't get a chance to say anything. I wanted to say something to him," Gaines said. "But it was just as if he did what he had to do and left."
Gaines added that the boy, who has not been identified, simply finished his prayer and hopped on the bus.
The photo of the teen has been shared on Facebook over 35,000 times since the police officer posted it earlier this month.
Along with the photo, Gaines included a caption that read: "I watched as this young kid was walking past, stopped and walked over to this sleeping homeless man; touched him and began praying over him."
"This was an amazing sight! I pray this kid becomes a leader amongst his peers, and continues on this path!" the police officer added.
Gaines told ABC News that all those who witnessed the prayer were moved and inspired.
"It was a powerful moment," the 35-year-old police officer said. "Everyone who saw him in the area was moved."
Gaines said the teen "almost missed his bus while he was praying for the guy, which confirmed that he did it for no other reason than to pray for him."
There have been several stories shared on social media this year showing unnamed Christians living out their faith by helping people in need.
In January, Chick-fil-A customer Joey Mustain was eating lunch with his daughter in Murfreesboro, Tennessee, when he witnessed an inspirational site: the restaurant's manager saying a prayer with a homeless man.
As Mustain explained in a Facebook post, the young homeless man had visited the restaurant to ask for scraps of food. Instead, the store manager guaranteed him a full hot meal in exchange for a simple request: that the two say a prayer together.
Mustain shared a photo of the interaction on Facebook, saying that what he witnessed was truly inspiring and he "heard love in that prayer."
"The homeless man wasn't some untouchable stain on business. He was the reason that store opened its doors this morning (or any morning)," Mustain wrote on Facebook, adding that Chick-fil-A "truly [uses the] business to minister."
"In a time when companies are trying to win in the market by neutralizing any possibility of offense, [Chick-fil-A] is thriving because they unwaveringly cling to their principles and purpose," Mustain added.