Piers Morgan Tells Rick Warren: Bible Should Be Amended to Include Gay Marriage (VIDEO)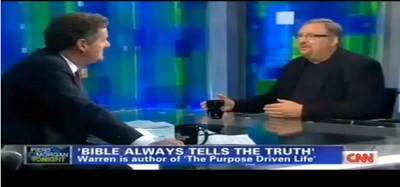 Outspoken CNN show host Piers Morgan has sparked fierce rebuke after telling megachurch pastor Rick Warren that the Bible should be amended to include gay marriage.
Morgan made the controversial statements in an interview with Warren on CNN's "Piers Morgan Tonight" on Monday.
During the conversation, which primarily focused on the separation of Church and State as it relates to the Constitution, Morgan put forth the argument that there should be an "amendment to the Bible" specifically regarding same-sex marriage because, Morgan insisted, the Bible is "inherently flawed" in terms of the teachings and doctrines.
"Both the Bible and the Constitution were well intentioned but they are basically, inherently flawed. Hence, the need to amend it," Morgan controversially said.
The host added: "My point to you about gay rights, for example, it's time for an amendment to the Bible."
However, despite the provocation from Morgan, Warren rebutted the proposal, saying, "No, not a chance. What I believe is flawed is human opinion, because it constantly changes."
He added, "What is new is not true. If it was here 1,000 years ago, it will be true 1,000 years from today. Opinion changes, truth doesn't."
To that the divisive CNN man said: "We'll have to agree to disagree on that."
The controversial comments by Morgan have drawn widespread criticism from Christians in the United States, who have used his comments to highlight Morgan's lack of understanding about how Christians hold the Bible.
On Twitter user Michael Moroney tweeted: "@piersmorgan now confusing the bible with the constitution. Asks @RickWarren why they can't add amendments…"
Blane Courtney also posted: "Piers Morgan is increasingly showing his ignorance of Christianity and understanding of faith in general to suggest the Bible could include amendments like the Constitution. Undermining his own journalistic image.. CNN should perhaps consider a replacement asap!"
This is the second time this month that Morgan has drawn criticism for comments. The first came about earlier this month when he came off the rails of constructive journalistic debate during an interview with Larry Pratt, the Executive Director of Gun Owners of America. During that interview he called his guest an "unbelievably stupid man," in response to Pratt's arguments on gun restrictions in America in the wake of the Newtown, Conn. shooting.
As a result of those comments a White House petition was created that advocated for Morgan to be deported.
Although the petition's request is quite far-fetched it has managed to gain more than 75,000 signatures after being posted on Dec. 21.
Kurt Nimmo, from Texas, charged in the petition: "British Citizen and CNN television host Piers Morgan is engaged in a hostile attack against the U.S. Constitution by targeting the Second Amendment."
However, popular British TV host and columnist for The Times of London, Jeremy Clarkson, has responded to that petition by issuing a public plea that Piers Morgan not be allowed to return to the U.K. either.
Here is a video of Morgan's latest controversial comments:
Piers Morgan: Bible And Constitution 'Inherently Flawed,' 'Time For An Amendment To Bible'