'We will fight': Planned Parenthood protests as pro-life groups celebrate Supreme Court overturning 49 years of Roe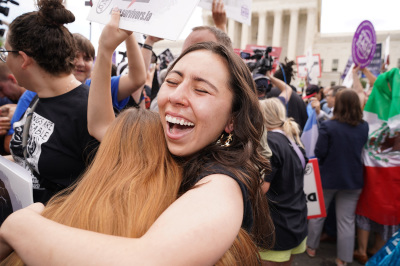 Thomas More Society 
The nonprofit law firm Thomas More Society not only celebrated the ruling, the group highlighted the work of pro-life leaders who contributed to the cause for years.
"Wholly apart from Roe's fatal flaws as a matter of legal (and historical) scholarship and its bloody legacy of so many millions of innocent lost lives, today's Dobbs ruling is also the fruit of more than a half century of ardent, sustained, and indomitable pro-life protest across the entire United States," they wrote. 
The group highlighted the late Joseph Scheidler, the "Godfather of pro-life activism," who in turn inspired Randall Terry, the founder of Operation Rescue. They also pointed to the work of modern pro-life leaders such as Lila Rose of Live Action and Center for Medical Progress founder David Daleiden for raising awareness about skeptical abortion industry practices via undercover video. 
"Today's pro-life victory is still only one more step in our ongoing crusade for the sacred cause we serve. Dobbs will not end abortion. Instead, it will shift our battles to each of the fifty (50) states — both red and blue states," the law firm stated. 
"Yes, we have cause to celebrate Dobbs as a landmark event. But we must persevere and even intensify our efforts toward ending this scourge of abortion, once and for all, as it still bloodies our nation and corrupts our culture. Let us renew our pro-life efforts with unstinting determination and the utmost vigor!"