Playing Jesus: 7 Actors Who Have Portrayed Christ on Film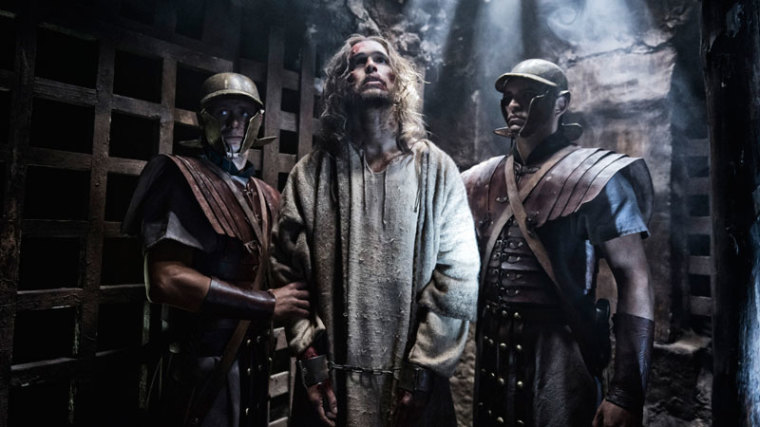 Jesus Christ, revered by billions around the globe as the Son of God and savior of the world, has been portrayed in film and on television for well over 100 years. Here are seven actors who have donned a beard and long robes to play the carpenter from Galilee and central figure of Christianity.
Diogo Morgado (2014)
While "Son of God" has yet to make its theatrical debut (Feb. 28), millions of viewers are already quite familiar with Portuguese actor Diogo Morgado due to his portrayal of Jesus in the History Channel's "The Bible" series. Morgado, reprising his role as the Son of God in the PG-13 spin-off, not only won admirers for his acting in the 10-hour TV series, but picked up a few fans also because of his good looks — with some dubbing the star as "hot Jesus."
Jim Caviezel (2004)
"The Passion of the Christ," top-grossing Christian film of all time that was produced by Mel Gibson, film features Jim Caviezel as the tortured and crucified Jesus. While the star picked up a few nominations and one award for his controversial role and the story in general was lauded, critics could not get over its graphic nature. The late Roger Ebert while praising the film, also wrote that "The Passion of the Christ" was "the most violent [film] I have ever seen." The film critic suspected that it was the subject of Jesus that prompted the MPAA to give Gibson's film an R rating, as opposed to a likely more deserved NC-17 rating.
Henry Ian Cusick (2003)
"Lost" star Henry Ian Cusick portrays Jesus in "The Gospel of John," a top favorite among viewers for adhering closely to the biblical account of Jesus' life and ministry. The $10 million budget film, which grossed a little over $4 million at the box office, was based on the American Bible Society's Good News Bible translation. MovieGuide, which awarded "The Gospel of John" in 2004 for being the "Most Inspiring Movie," described the production in a review as "a spectacular, well-directed, well-acted, word for word version of the Gospel of John."
Robert Powell (1977)
"Jesus of Nazareth," a TV miniseries, won British actor Robert Powell at least one nomination for Best Actor due to his portrayal of Jesus Christ, but it was the series' cinematography and production design that earned actual awards. Powell, whose intense gazes were a hallmark of the Jesus of Nazareth, narrates the British broadcast of "The Bible Series."
Max von Sydow (1965)
Nominated for five Oscars, "The Greatest Story Ever Told" features Swedish actor Max von Sydow as a memorable Christ, according to viewers who have gushed about his "powerful portrayal of Jesus." However, critics at the time found it jarring to see so many notable stars appearing throughout the film, particularly figures like Charlton Heston, Angela Lansbury, and John Wayne. A notable exchange listed on IMDB.com involves a soldier telling John the Baptist (Heston): "I have orders to bring you to Herod, Baptist." That drew the response: 'I have orders to bring you to God... heathen."
Jeffrey Hunter (1961)
"King of Kings," starring Jeffrey Hunt as Jesus Christ, also remains a crowd pleaser despite not being an immediate hit with critics and embellishments to the Gospel accounts. Hunt's youthful appearance in the film (he was 35 at the time), moved insiders to jokingly refer to "King of Kings" as "I Was a Teenage Jesus" (a reference to 1957 films I Was a Teenage Werewolf and I Was a Teenage Frankenstein). According to IMDB.com, Hunt's crucifixion scene had to be reshot because preview audiences found it offensive to see a hairy-chested Jesus.
Henry Byron Warner (1927)
Cecil B. DeMille, also known for the hit "The Ten Commandments" starring Charlton Heston, was very serious about his production of "The King of Kings," allegedly going so far as to have his main cast sign a contract to refrain from "unbiblical" activities for a length of time. Henry Byron (H.B.) Warner, who portrayed Christ in "The King of Kings" in the silent film, reportedly replacing his deceased brother James Byron Warner, also made an appearance nearly three decades later in "The Ten Commandments."