Plumb Exclusive: Acclaimed Singer Releases Cover Art for New Album 'Exhale'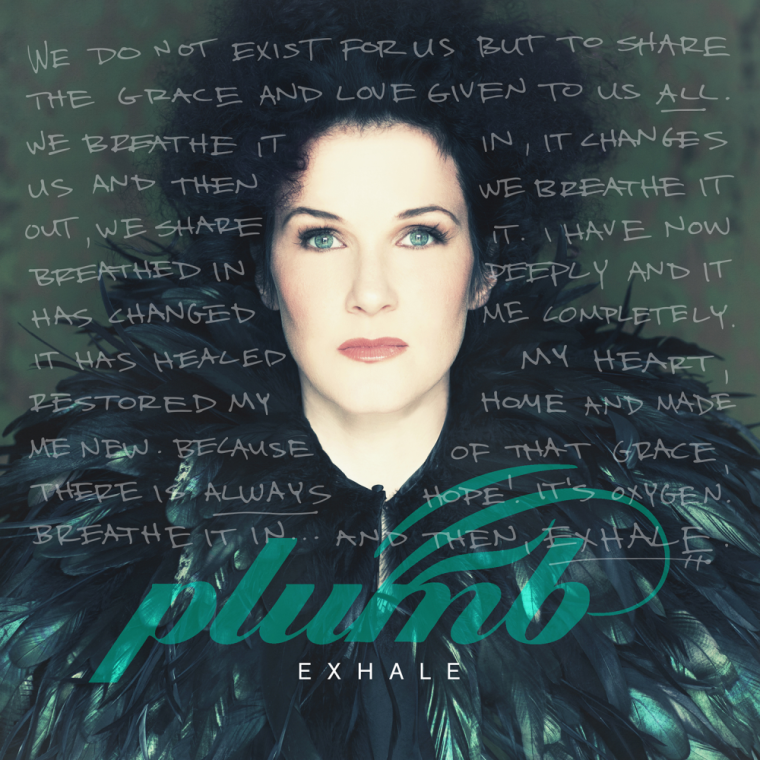 Acclaimed Christian singer Plumb is set to drop her seventh studio album Exhale in May and The Christian Post obtained an exclusive photo of the cover art.
The Need You Now singer appears on the cover draped in green feathers with poetic text framing her face. Plumb wrote the copy out in her own handwriting for the cover art.
"We do not exist for us but to share the grace and love given to us all./We breathe it in, it changes us, and then we breathe it out, we share it./I have now breathed in deeply and it has changed me completely./It has healed my heart, restored my home and made me new./Because of that grace, there is always hope. It's oxygen./Breathe it in…and then EXHALE," the text reads.
Exhale will be released through Curb Records on May 5.
The album comes two years after the release of Need You Now, which peaked at No. 2 on Billboard's Christian album's chart.
Last year she debuted her memoir of the same name which explores love, motherhood and the "crash and burn of my marriage and the rebuilding of that," she previously shared with CP exclusively.
"The book was an opportunity to kind of tell more of the different stories that I'm kind of drawn to telling," she said of Need You Now: A Story of Hope. "So often people ask about how I got signed, or how I met my husband, or [about] my parenting or my children and even more specifically as of late the crash and burn of my marriage and the rebuilding of that. So it's just been a chance to kind of tell what God did and I feel like it's an opportunity to be faithful as well I feel like I am supposed to tell the story."
Plumb also released a deluxe edition of her Need You Now album, which reached No. 2 on the Billboard 200 and the Christian Albums charts.
The singer will be touring this spring on "The Ready Now" tour with JJ Heller and early dates were announced recently. More are expected to be added at a later date.
FOR MORE INFORMATION ON PLUMB CLICK HERE
March 29 – Branson, Mo.
April 9 – Ft Mill, S.C.
April 10 – Lexington, N.C.
April 12 – Clinton, Ill.
April 18 – Vineland, N.J.
April 26 – Woodward, Okla.
May 2 – Orlando, Fla.