Poll: 1 in 3 Americans Fear Islamic Shariah Law in the US; 1 in 4 Believe ISIS Is True Nature of Islam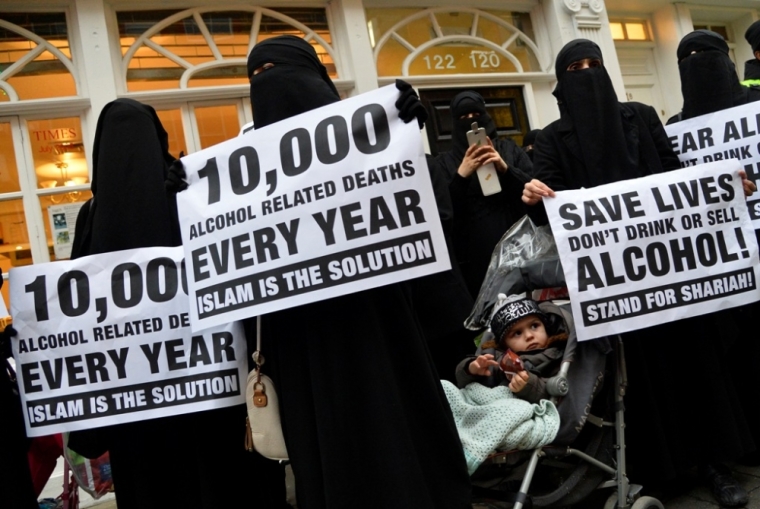 A LifeWay Research poll has found that one in three American citizens fear that Islamic Shariah Law could be applied in the United States, following reports of the first known Islamic Tribunal court opening in Texas. The survey also found that only one in four Americans agree that the terror group ISIS represents the true nature of Islam.
"ISIS has stirred an odd religious debate in America today," said Ed Stetzer, executive director of LifeWay Research. "In a nation that has long espoused religious freedom, Americans are thinking long and hard about the kind of society Islam fosters — especially the more radical groups that say they are Islamic — and whether Shariah law would ever be adopted here."
The poll found that four in 10, or 43 percent of all respondents, believe that Islam can create a peaceful society.
Seventy-six percent of Protestant senior pastors revealed that they are in favor of military action against the terror group.
The poll surveyed 1,000 people; was conducted between Sept. 19-Oct. 5, 2014, and reports with 95 percent confidence that the sampling error does not exceed plus or minus 3.5 percent.
Last week, Irving, Texas, Mayor Beth van Duyne insisted that the Islamic Tribunal court in the city, the first of its kind in the U.S., hasn't gained legal power.
Multiple reports stated that the Islamic court would oversee divorce, business and civil disputes among the Muslim community.
"Recently, there have been rumors suggesting that the city of Irving has somehow condoned, approved or enacted the implementation of a Shariah law court in our city," wrote van Duyne.
"Let me be clear, neither the city of Irving, our elected officials or city staff have anything to do with the decision of the mosque that has been identified as starting a Shariah court."
ISIS has been running its own version of Shariah law in the cities it has occupied in Iraq and Syria, forcing Christians and other religious minorities to choose between converting to Islam, paying a tax, or being killed.
The U.S. and a broad coalition of allies has struck back against the terror group with heavy airstrikes against a number of targets, but has not committed any ground troops.
President Barack Obama has asked Congress for new powers to allow military operations against ISIS to continue, and American lawmakers are now set to vote on a blueprint for action.
LifeWay's poll found that Americans largely disagree with Obama's assertions that ISIS has nothing to do with Islam, however. Only one in four, or 22 percent of the respondents, agreed with that statement, while three in 10 said they are not sure of the link.
There was a notable split in views among demographic lines, with Americans over 45 revealing that they're more skeptical of Islam than the younger generation. Almost half, or 47 percent of the over 45 age-group respondents said they're worried about Shariah law in America, while only 27 percent of those between 18 to 44 had similar concerns.
"Every religion has a broad spectrum of groups that fall under their umbrella," said Stetzer. "Who is mainstream or extreme, who is orthodox or heretical is often a topic of fierce debate."