Nearly two-thirds of voters think FBI has been 'politically weaponized,' poll suggests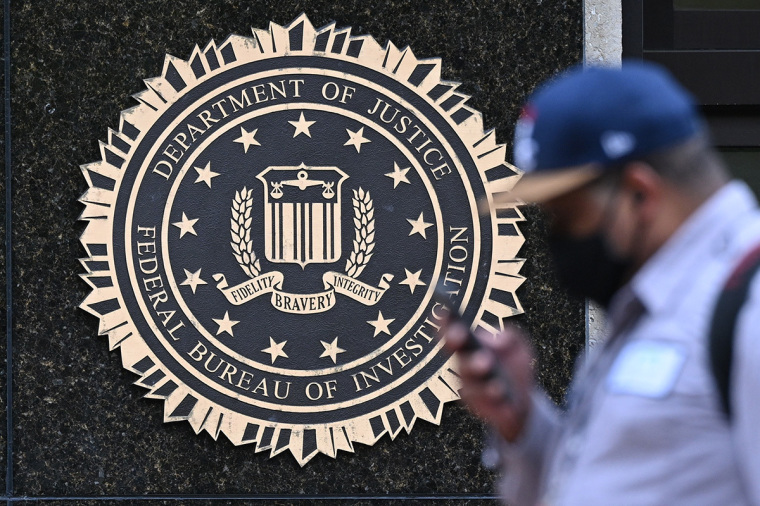 A majority of voters in the United States believe that the Federal Bureau of Investigation has become "politically weaponized, starting from the top in Washington," according to a recent poll.
"Do you agree or disagree with this statement: The FBI has become 'politically weaponized, starting from the top in Washington?'" Rasmussen Reports asked 950 U.S. likely voters in a survey conducted March 6-8.
With an error margin of 3 percentage points, the results suggest that 64% of respondents agreed with the statement, with 44% strongly agreeing. On the other hand, 30% of voters disagreed with the statement, including 17% who strongly disagreed.
The poll also showed that the FBI's favorability rating stands at 50%, while 45% of view the agency unfavorably.
Some respondents who say the FBI has been politicized also approve of its actions, according to the survey, which also showed that 90% of voters who strongly approve of President Joe Biden's job performance also view the FBI at least somewhat favorably.
Given that Republicans have alleged "weaponization" of federal government agencies against conservatives, some suspect that Biden's supporters approve of the FBI's actions because of the perception that the FBI has been weaponized on behalf of the Democratic Party.
When broken down by political affiliation, 59% of Republican voters strongly agree the FBI has been "politically weaponized," while only 28% of Democrats and 45% of voters not affiliated with either party said the same. 
"While 69% of Democrats have at least a somewhat favorable impression of the FBI, only 37% of Republicans and 43% of unaffiliated voters share that opinion," the report states. "Sixty-one percent (61%) of Republicans, 24% of Democrats and 50% of unaffiliated voters view the FBI unfavorably."
Last month, the Republican-controlled U.S. House of Representatives held its first hearing of a new subcommittee dedicated to investigating the alleged "weaponization" of federal law enforcement agencies. 
Witnesses included former FBI agents Thomas Baker and Nicole Parker; George Washington University Professor Jonathan Turley; Sen. Ron Johnson, R-Wis.; Sen. Chuck Grassley, R-Iowa and former Hawaii Rep. Tulsi Gabbard, who left the Democratic party last year.
Democrats argued that the hearing undermined government institutions, with some accusing Republicans of abusing power obtained by regaining control of the House in last year's midterm election. 
Committee Chair Rep. Jim Jordan, R-Ohio, claimed that whistleblowers allege that the FBI created a "threat tag" on Nov. 18, 2021, for parents who voiced concerns at school board meetings. In May 2022, an FBI whistleblower claimed that the bureau is investigating parents with a tag attached to their names.
Concerns about federal law enforcement agencies investigating parents who have voiced their concerns at school board meetings stem from Attorney General Merrick Garland's Oct. 4, 2021, memo attempting to address a "disturbing spike in harassment, intimidation and threats of violence against school administrators, board members, teachers, and staff."
Garland's memo followed a heavily scrutinized request from the National School Boards Association for "federal assistance to stop threats and acts of violence against public schoolchildren, public school board members, and other public school district officials and educators."
Critics suggested that the memo was an effort to silence concerned parents who descended on school boards to express outrage over sexually explicit material in school curriculum and school libraries, the teaching of racially divisive theories and coronavirus restrictions.
The Justice Department received much criticism last September following the arrest of pro-life activist and Catholic father of seven Mark Houck over an alleged altercation with an abortion clinic escort near a clinic in Philaelphia. Pro-life activists accused the Justice Department of political prosecution of a father who was defending his son when being harassed by the escort. Houck was acquitted by a unanimous jury in January. 
At the annual Conservative Political Action Conference earlier this month, Rep. Harriet Hageman, R-Wyo., attributed the alleged politicization of the federal government to the fact that the country has "stockpiled more and more power in Washington, D.C."
"[W]e've laundered more and more money to Washington, D.C., and it has now become probably [that] the biggest business really in the United States is the federal government," Hageman, who serves on the House Subcommittee on the Weaponization of Government, said.
She lamented that "conservatives and Republicans and parents are the targets of these folks," adding, "we need to ferret it out, we need to expose it, we need to be passing laws to stop it."
"What I'm focused on is that the FBI and the Department of Justice have been violating our First Amendment rights through surrogacy," Hageman said. "So, we found out through the Twitter Files that they have been contacting Twitter and social media companies and demanding that they pull down folks."
Hageman noted that under the First Amendment, "neither of these agencies would be able to do that directly, so they're doing it through a third party." She insisted, "It's just as illegal."