Pope Francis: A Pontiff for the Poor
Pope Francis, formerly Cardinal Jorge Mario Bergoglio of Argentina, was formally installed as the head of the Roman Catholic Church on Tuesday in front of thousands of people, including heads of states. But even before his inauguration, this new pope has made all indication that the poor that he served for most of his life will continue to be a top priority in his papacy.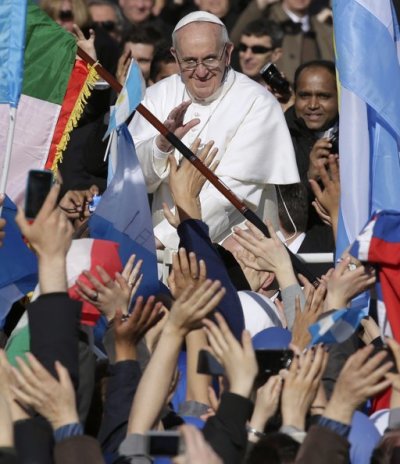 "I feel that his election is a reaffirmation in a very strong way of the church's continual commitment for those who are most poor and vulnerable," said Monsignor Kevin Sullivan of the Archdiocese of New York in an interview with The Christian Post on Monday.
"I think his election, as someone who has spent his entire ministry in South America with people who have struggled will be an ongoing reminder and sign to all of us in the church that one of the places where we find Christ most visible is in the poorest of our sisters and brothers," Sullivan added.
One of the first things the new pope did was to remind the world's poor that he will not forget them by selecting the name of a Saint who stood for poverty and peace – Francis of Assisi.
"During the elections, next to me, the emeritus bishop of Sao Paolo, Cardinal Gomez, a great friend. A great friend. When things were becoming dangerous, he was comforting me. And when the number of votes had reached two-thirds, there was the usual applause because the pope was elected. He hugged me, he kissed me. And he said, 'don't forget the poor'," said Pope Francis in a recent address, explaining how he came to choose his name.
"…Those words just stuck with me, 'the poor'. Then I immediately thought of Francis of Assisi… I thought of peace and that's why this name entered my heart, Francis of Assisi," explained the Pope who had to have one of his lungs removed as a young man due to infection. "For me, he is a man that represents poverty, peace. The man who loves and looks after what has been created… The man who gives us the spirit of peace, a poor man, like a poor church for the poor."
Pope Francis, 76, became the first Latin American and the first Jesuit to lead the Roman Catholic Church after spending a lifetime serving the poor and living a simple life in Argentina. According to one report, Jesuits are perhaps the most powerful and experienced religious order of the Catholic Church. They are also well-known for their exceptional communication skills, which Pope Francis has already exemplified in his last few days of interacting with the public.
"My observations are that the church in New York has responded so positively to his warmth, to his directly speaking to the people, his spontaneity, that the Church of New York is embracing him as our new Holy Father and looks forward to his leadership and being inspired by him," said Sullivan.
Gerard Stockhausen of the national Jesuit Conference who has served the church for 45 years, explained to CP that Pope Francis is well positioned to carry out his promise to the poor as Jesuits have long developed a very clear mission in serving this population.
"Over the last 60 or 70 years, the Jesuits have defined their mission in terms of the service of faith of which the promotion of justice is an absolute requirement and dialogue with other faith traditions and with culture," said Stockhausen. "To me it's kind of natural for him to come from that background, living among the poor and kind of serving their lifestyle just makes a lot of sense."
He further explained that at the last general congregation of Jesuits in 2008, Pope Benedict XVI encouraged them to go to places where other Catholics weren't going and talk to the people about God.
"Most people if they have a choice are not going to live among the poor. They would find a place a little more comfortable and so part of going to the frontiers is the kind of thing that he's (Pope Francis) been doing," said Stockhausen.
"Following the news over the last week, it appears that his initial words and actions have been receiving very positive reactions," added Stockhausen, who says he expects gradual changes in areas like the Roman Curia to improve efficiency and transparency in the church's operation.
He added: "I was very impressed right after he was elected and he came out on the balcony and talked to the people… before he gave a blessing he asked the people to bless him? I thought that was a really notable example of being a man of the people. And he's continued to do things that suggest that he is not beholden to some of the trappings of being Pope that have been there before and he is trying to do things in a simpler way."
First Full Day as Pope: Francis I Pays Hotel Bill, Picks up Bags