Pope Francis Answers Children's Top Questions About God in New Book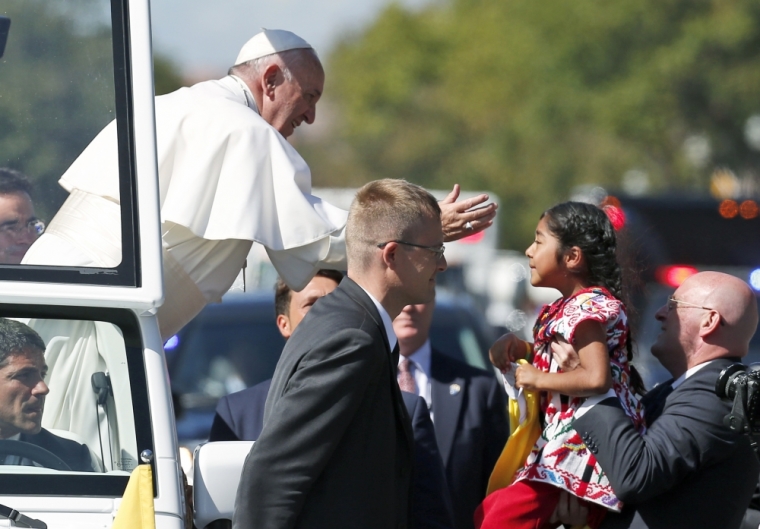 Pope Francis will provide answers to a number of challenging questions posed by children from around the world in an upcoming book, titled Dear Pope Francis.
"These are tough," the pope said, regarding the Dear Pope Francis book, as reported by Catholic News Service.
Some of the questions asked by the children, aged 6 to 13, include "What did God do before the world was made?" and "Do bad people have a guardian angel too?"
Francis' responses to the questions are included in the book, published by Loyola Press, with the Roman Catholic Church leader suggesting for the former: "Think of it this way: Before creating anything, God loved. That's what God was doing: God was loving."
Jesuit Father Antonio Spadaro, who assisted Francis in going through the questions, said that they were "simple, but not silly," and admitted that he was stumped at a number of them.
"This is important," Spadaro said. "It says a lot about the magisterium of Pope Francis; he knows his ministry can reach children."
A description for the book, due to go out on March 1, notes that children are rarely given the chance to ask the big questions they have in their hearts and be taken seriously.
"Pope Francis gives them that chance and celebrates their spiritual depth by directly answering questions from children around the world. Some are fun. Some are serious. And some will quietly break your heart. But all of them are from children who deserve to know and feel God's unconditional love," the description reads.
CNS noted that Francis agreed in May to do the book, which then prompted Loyola Press to reach out to dozens of Jesuits and collaborators around the world, asking them to collect questions and drawings from children. As many as 259 children from 26 different countries, coming from all sorts of different backgrounds, submitted questions.
Spadaro revealed that Francis answered the questions in August, but also encouraged discussion on the points they brought up.
"I was not just taking dictation," Spadaro said. "The pope enjoys a conversation; for the book, that meant the pope would sometimes discuss the questions and potential answers with the Jesuit scribe and, often, would return to add something to an answer after they had already moved on to other letters."
Francis has not been afraid to engage with children and listen to some of the tough questions they have, such as an instance last January when a 12-year-old girl approached the Vatican leader following mass and asked him to explain why God allows children to suffer and experience horrible things like drugs and prostitution.
Francis reportedly comforted the girl and gave her a hug, before telling the Vatican audience:
"She is the only one who has put a question for which there is no answer and she wasn't even able to express it in words but in tears," the pope said.
"The nucleus of your question ... almost doesn't have a reply."