Pope Francis Condemns Coptic Beheadings: They Are Christians, the Blood of Our Brothers and Sisters Cries Out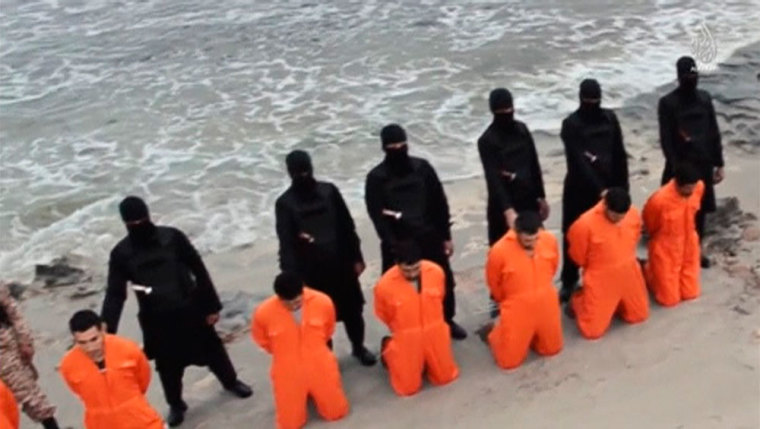 Pope Francis has come out and officially condemned the beheadings of 21 Egyptian Christians by terrorist organization ISIS on Tuesday.
"Be they Catholics, Orthodox, Copts, or Lutherans, it does not matter. They are Christians, their blood is the same, their blood confesses [their faith in] Christ," Francis said in a statement. "Today I read about the execution of those 21 or 22 Coptic Christians," he added. "Their only words were, 'Jesus, help me!' They were executed for nothing more than the fact that they were Christian. The blood of our Christian sisters and brothers is testimony that cries out."
ISIS released the video of the beheadings on Sunday, showing the 21 Christians who had been kidnapped in December and January. Egypt responded by bombing the group's camps in Libya and promised to eliminate ISIS' presence in the Middle East.
"Eight strikes have been conducted so far (in Derna)," Mohamed Azazza, a spokesman for Libyan Prime Minister Abdullah al-Thinni, told BBC News. "The plan is to target all IS locations in the country wherever they are."
According to CNN, warplanes struck 10 targets in Derna, helping to accomplish the overall plan to eradicate ISIS' presence.
"Avenging Egyptian blood and punishing criminals and murderers is our right and duty," the Egyptian military said in a statement for state television.
President Barack Obama also issued a statement condemning the killings, calling them "despicable and cowardly murder."
"We call on all Libyans to strongly reject this and all acts of terrorism and to unite in the face of this shared and growing threat," the statement said. "We continue to strongly support the efforts of the United Nations Special Representative of the Secretary-General Bernardino Leon to facilitate formation of a national unity government and help foster a political solution in Libya."
Obama has asked Congress to authorize a military campaign against ISIS, but Congress is in recess this week and both Democrats and Republicans take issue with the administration's vague request which doesn't provide many details about the U.S.'s role in combatting ISIS.