Pope Francis Expresses 'Deep Pain and Suffering' With Priest Sex Abuse Victims; Condemns 'Sacrilegious Cult' of Abusers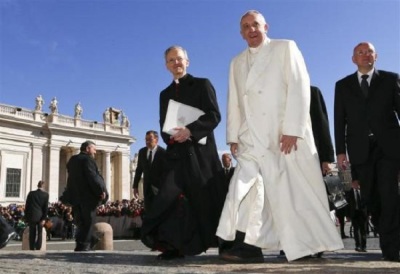 Pope Francis expressed his "deep pain and suffering" with priest sex abuse victims in his first meeting of the kind on Monday, asking them for forgiveness and condemning what he called a "sacrilegious cult" of abusers.
"This is what causes me distress and pain at the fact that some priests and bishops, by sexually abusing minors, violated their innocence and their own priestly vocation. It is something more than despicable actions. It is like a sacrilegious cult, because these boys and girls had been entrusted to the priestly charism in order to be brought to God," the Roman Catholic Church leader declared.
"And those people sacrificed them to the idol of their own concupiscence. They profane the very image of God in whose likeness we were created. Childhood, as we all know, young hearts, so open and trusting, have their own way of understanding the mysteries of God's love and are eager to grow in the faith. Today the heart of the Church looks into the eyes of Jesus in these boys and girls and wants to weep; she asks the grace to weep before the execrable acts of abuse which have left lifelong scars."
Vatican Radio noted that six victims were present for the mass in the Vatican guest house where Pope Francis spoke, and also had the opportunity to speak with him privately.
Earlier in May, a Vatican official revealed during a U.N. Committee hearing that the Catholic Church defrocked 848 priests who raped or molested children and sanctioned another 2,572 others since 2004. The Holy See also showed that it paid $2.5 billion in compensation to victims of clerical abuse in America.
The U.N. has accused the Vatican of not doing enough to tackle sex abuse cases, which have plagued it for decades. The church has defended itself against such accusations, however, insisting that it is punishing priest and bishop abusers.
Francis also established the Commission for the Protection of Children last year as another step toward safeguarding minors in the church.
In his speech on Monday, the pontiff noted that the sex abuse crimes victims have had to suffer through have caused them deep emotional and spiritual pain, which has led to the path of addiction and difficulties in relationships.
"Some have even had to deal with the terrible tragedy of the death of a loved one by suicide. The deaths of these so beloved children of God weigh upon the heart and my conscience and that of the whole church," he said.
"To these families I express my heartfelt love and sorrow. Jesus, tortured and interrogated with passionate hatred, is taken to another place and he looks out. He looks out upon one of his own, the one who denied him, and he makes him weep. Let us implore this grace together with that of making amends.
Francis also asked for forgiveness on the part of church leaders who did not respond to reports of abuse adequately enough, which, he acknowledged, led to even greater suffering.
"You and all those who were abused by clergy are loved by God. I pray that the remnants of the darkness which touched you may be healed by the embrace of the Child Jesus and that the harm which was done to you will give way to renewed faith and joy," Francis concluded.
The Survivors Network of those Abused by Priests, which has often criticized the Vatican for its handling of sex abuse cases, applauded the victims who attended the meeting, but said that the church needs to take more significant action to tackle the problem.
"As he has done for millions over the past year, today Pope Francis seems to have won the hearts of six clergy sex abuse victims with his humble, kind personality. Sadly, however, kids and Catholics need a leader who combines these traits with the toughness to fire complicit church officials," SNAP President Barbara Blaine wrote on Monday.
"Reparations happen when the violence is over. But this is an on-going crisis. Children are being assaulted by clerics right now. Bishops are concealing these crimes right now. And Francis must take decisive action right now, action to expose and remove clerics who commit and conceal heinous crimes against the most vulnerable," she added.