Pope Francis' First Visit to US to Include Discussion on Homosexuality, Infertility, Celibacy at World Meeting of Families!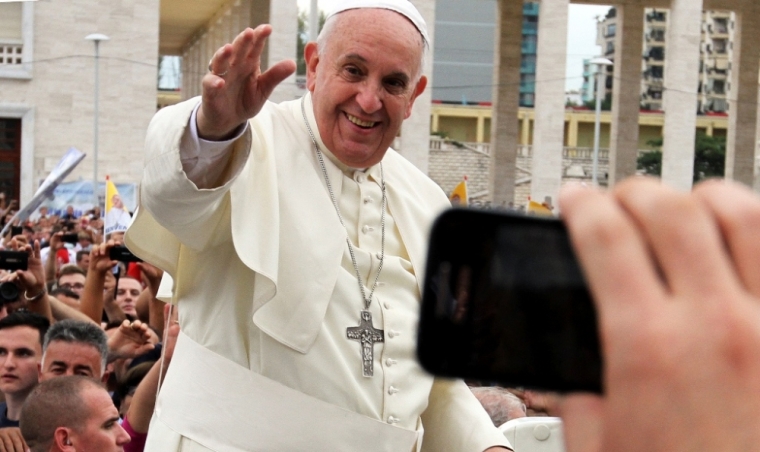 Pope Francis plans to make his first visit to the United States next September, and his itinerary will include traveling to Philadelphia for the upcoming World Meeting of Families congress. The discussion topics for the meeting are set to focus on contentious issues such as premarital sex, homosexuality, infertility and celibacy, according to the congress' meeting notes.
"I would like to confirm that, God willing, in September 2015 I will go to Philadelphia for the eighth World Meeting of Families," the pope said during his opening speech at the interreligious conference on traditional marriage at the Vatican.
Philadelphia Archbishop Charles J. Chaput told Catholic News Service that he was surprised at the early announcement. "You know usually they don't make these announcements. Four months out is the typical and here we are 10 months away, and the Holy Father said he is coming to Philadelphia," Chaput said.
"He's been telling me that personally, but for him to announce it officially that he is coming so early is really quite an unusual thing, so it's going to re-energize our efforts. There's lot of enthusiasm already, but I think 90 percent of the enthusiasm is based on the fact that the Holy Father will be with us, and now that he's said that I expect that there will be even a double amount of enthusiasm ... and I'm very happy about that."
Francis is currently hosting the "Complementarity of Man and Woman" conference, which is dedicated to traditional marriage. The conference will feature speakers from various religious traditions, including a number of different Christian churches.
The World Meeting of Families is held every three years, and is sponsored by the Holy See's Pontifical Council for the Family. The official website claims that it is the largest Catholic gathering of families in the world, and is aimed and energizing and enlivening the understanding of families. The 2015 meeting theme has been designated as "Love Is Our Mission: The Family Fully Alive."
Although the discussion topics include today's cultural hot spots, Mary Beth Yount, a theology professor at Neumann University, who also serves as director of content and programming for the World Meeting of Families, insisted that the meeting will be more than just a discussion on sexuality.
"It's not all about sex," Yount said. "We're pulling in the larger context, not just human sexuality and not just family relationships. This is for all people in all walks of life: married, dating, single by choice, celibate."
The theology professor added that the congress will examine important questions such as "how best to be in human relationship with God and each other," and "what are the ways we can live fruitful lives?"
Yount argued that sexuality "doesn't just mean people having sex. That is a fundamental expression that includes married people, but it also means engaging the world in other ways. It's a self-giving love: married people, people single by choice, and celibacy."
The pope's visit to Philadelphia could potentially be expanded to include other U.S. cities, though that has not been confirmed yet. Back in August, Francis told reporters that President Barack Obama has invited him to Washington D.C., while the secretary-general of the United Nations has invited him to New York.
"Maybe the three cities together, no?" Pope Francis said, and suggested that he would also like to visit the shrine of Our Lady of Guadalupe in Mexico.
Archbishop Joseph E. Kurtz, president of the U.S. Conference of Catholic Bishops, also expressed his excitement over the pope's announcement.
"The presence of Pope Francis at the World Meeting of Families in our country will be a joyful moment for millions of Catholics and people of good will. Our great hope has been that the Holy Father would visit us next year to inspire our families in their mission of love. It is a blessing to hear the pope himself announce the much anticipated news," Kurtz said.