Pope Francis Meets With French President Francois Hollande After ISIS' Brutal Killing of Priest Inside Church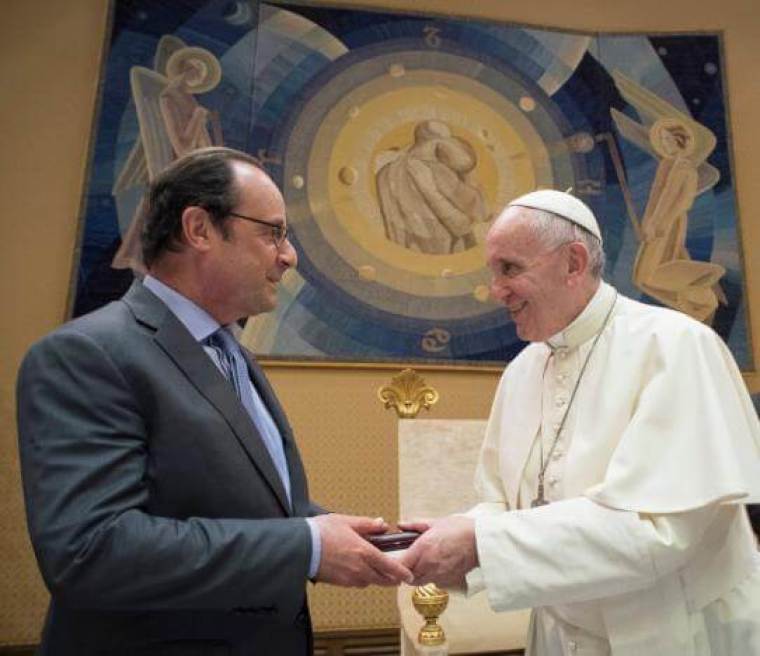 Vatican leader Pope Francis and French President François Hollande held a private meeting on Wednesday where they discussed the murder of a priest at the hands of Islamic State supporters in July, finding unity following major disagreements over gay marriage and homosexuality earlier this year.
AFP reported that Hollande said he wanted to discuss "religious freedom, secularism and unity with respect for everyone."
"French secularism's message is one which unites, not one that wounds," Hollande said. "The Republic must defend the right to believe and also to not believe.
"When a religious figure is assassinated, the Republic is also profaned."
The brutal killing of 84-year-old Father Jacques Hamel at his church in Saint-Etienne-du-Rouvray near Rouen last month at the hands of two teenagers who proclaimed their allegiance to IS shocked the entire nation.
Gruesome details behind Hamel's murder were shared by Sister Danielle, one of the nuns at the church, who told French radio station RMC that the priest was forced down on his knees.
"In the church, everyone screamed 'Stop, you don't know what you're doing.' They didn't stop. They forced him to his knees; he tried to defend himself, and it was then that the drama began," Danielle said.
"They recorded themselves (on video). They did a little — like a sermon — around the altar in Arabic. It was a horror."
Francis said at the time that he was "particularly shaken by this act of violence that took place in a church during the celebration of mass, a liturgical act that implores God for peace on this Earth," and asked God to "inspire all to thoughts of reconciliation and brotherhood."
Following their private meeting, Hollande said that he was comforted by the pontiff's words.
"He confided in me that he felt like a brother at the side of the French people," the French president revealed.
The IS-inspired attack is believed to be the first one carried out on a church in Western soil.
AFP noted that Francis and Hollande have been able to find unity following a notable disagreement earlier this year on the issues of gay marriage and homosexuality.
Hollande has backed gay marriage, which goes against the teachings of the Catholic Church, and had wanted to send an openly gay man to serve as France's ambassador to the Vatican, which the Holy See rejected.
Reuters noted back in April that Hollande had sought to send Laurent Stefanini, the president's head of protocol, to the Vatican position last year, but the Church refused to approve the appointment, which both Italian and French media said was likely due to Stefanini's open homosexuality.
French Catholic newspaper La Croix suggested, based on an unnamed source, that the Vatican considered it a "provocation" that France's government, which legalized gay marriage in 2013, was trying to push such an appointment.
At the end, Stefanini was appointed as France's ambassador to UNESCO, the Paris-based cultural agency of the United Nations, resolving the issue.