Pope Francis, Patriarch Bartholomew Pray at Holy Sepulchre Church to Promote Christian Unity
To bridge rifts between the Roman Catholic and Orthodox churches, Pope Francis met and prayed together with the Ecumenical Patriarch of Constantinople Bartholomew I at the 12th century Church of the Holy Sepulchre in Jerusalem's Old City on Sunday.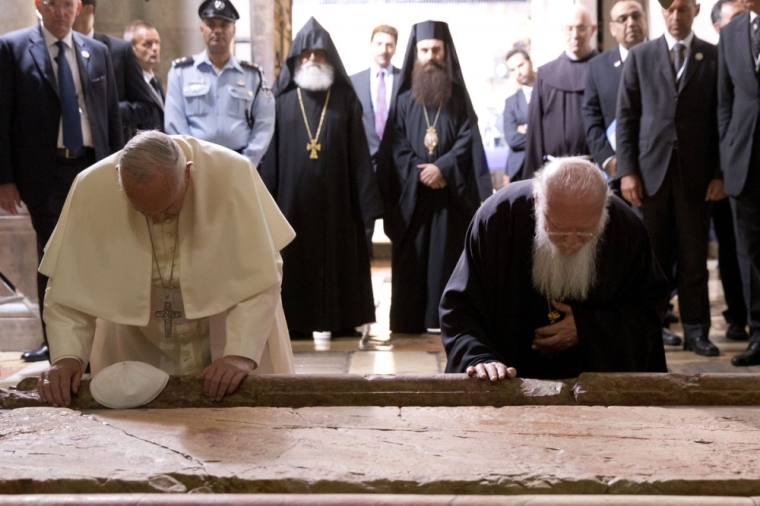 Francis and Bartholomew embraced one another in the church's stone courtyard and recited the "Our Father" prayer together in the relatively neutral Italian after entering the church, according to The Associated Press.
The two leaders helped one another down the stone steps leading into the church, holding one another's forearms. Francis also bent down and kissed the hand of Bartholomew after the remarks by the spiritual leader of the world's Orthodox Christians.
The summit marked the 50th anniversary of the meeting in Jerusalem between Pope Paul VI and Ecumenical Patriarch Athenagoras of Constantinople that ended 900 years of mutual excommunications.
The Church of the Holy Sepulchre is built on the spot where both Roman Catholics and Orthodox Christians believe Jesus was crucified, buried and resurrected.
Today, the church serves as the headquarters of the Greek Orthodox Patriarch of Jerusalem, but control of the structure is shared between numerous Christian churches and secular entities in complicated arrangements. It is home to branches of Eastern Orthodoxy and Oriental Orthodoxy as well as to Roman Catholicism.
The pope arrived in the Jordanian capital Amman Saturday afternoon, beginning his three-day tour of the Holy Land, accompanied with a rabbi and a Muslim cleric from his home country of Argentina.
Francis arrived in Israel Sunday afternoon at Ben-Gurion Airport.
The pope spoke in favor of the rights of Palestinians to a sovereign homeland as well as Israel's right to exist in peace.
President Shimon Peres and Prime Minister Binyamin Netanyahu greeted Francis on his arrival, according to Jerusalem Post.
"In unity with all those of good will, I urge on everyone who bears the responsibility not to stop for a moment in the search for fair solutions to the complicated problems in order that Israelis and Palestinians can live in peace," Francis was quoted as saying. "We must always go out in courage and without tiredness to the path of dialogue peace and reconciliation. There is no other way."
The pope added: "Therefore I renew the call of Benedict XVI in this place: the right of existence for the State of Israel to be recognized universally, the right to live in peace and security in recognized borders by the international community. At the same time, the rights of the Palestinians to a sovereign homeland, to life with dignity and freedom of movement should be recognized. We hope that the two state solutions will become reality and will not remain a dream."
Francis will depart for Rome Monday evening.