Pope Francis 'progressively improving' since hospitalization over respiratory illness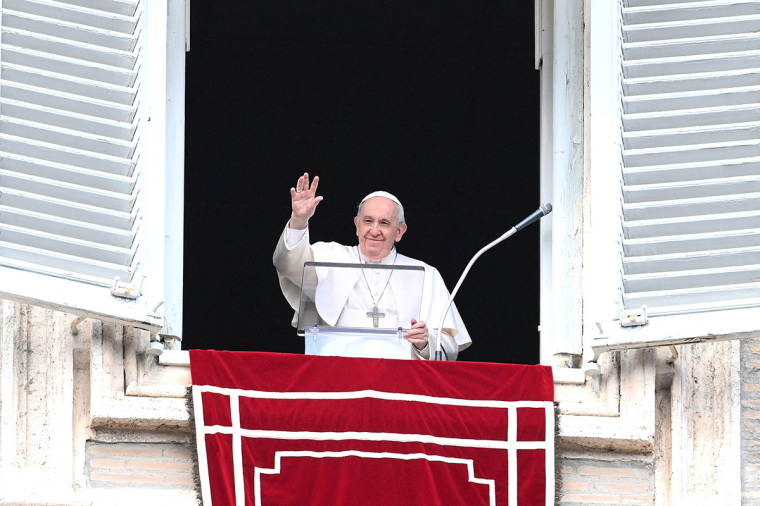 Pope Francis is reportedly doing better after being hospitalized for serious respiratory issues, as the head of the Roman Catholic Church thanking supporters for their prayers.
The 86-year-old Francis was hospitalized Wednesday with a respiratory infection. He was taken to the Gemelli Hospital in Rome for treatment expected to last a few days.
In a statement released Thursday via Vatican News, the Holy See Press Office said that the pontiff rested well overnight and his condition was gradually improving. 
Holy See spokesperson Matteo Bruni said that Francis' "clinical picture is progressively improving and he is continuing with his planned treatment."
Bruni stated on Wednesday that Francis "complained of some respiratory difficulties" and was admitted to the hospital for "medical checks." 
"The outcome of these [tests] showed a respiratory infection (excluding Covid-19 infection) that will require a few days of appropriate hospital medical therapy," Bruni said. 
Pope Francis, born Jorge Mario Bergoglio, took to his official Twitter account Thursday to convey his appreciation for the many prayers he received regarding his condition.
"I am touched by the many messages received in these hours and I express my gratitude for the closeness and prayer," he tweeted.
Francis was sent to the hospital shortly after he gave his weekly general audience speech at St. Peter's Square in the Vatican. At the time, Bruni told the press that the hospital visit and tests were planned. His schedule for Thursday was cleared "to make space for the continuation of tests should that be necessary."
Francis, who already ranks as one of the oldest popes in the history of the Catholic Church, has experienced multiple health issues over the past several months, reports The Washington Post.
For example, the pontiff began last year using a wheelchair to get around due to persistent knee pain, with some speculating that he might step down soon, as his predecessor, the late Pope Benedict XVI, did in 2013.
"I think at my age and with this limitation, I have to save [my energies up] a bit to be able to serve the church or, on the contrary, think about the possibility of stepping aside. This I say with all honesty," said Francis during a news conference last year, according to The Associated Press. "It is not a catastrophe. It is possible to change pope."
The hospitalization comes shortly after Francis celebrated 10 years since he was elected and became the first head of the Catholic Church to come from Latin America. Francis was born in Argentina and served for many years as the Archbishop of Buenos Aires.
"Let us pray for one another, let us pray for the whole world, let us have a big brotherhood," said Francis in 2013, shortly after being elected. "This journey for the Church that we will start today, let's open this journey and bear fruits for evangelism."