Pope Francis Says Christians Must Campaign to End Death Penalty, Life Imprisonment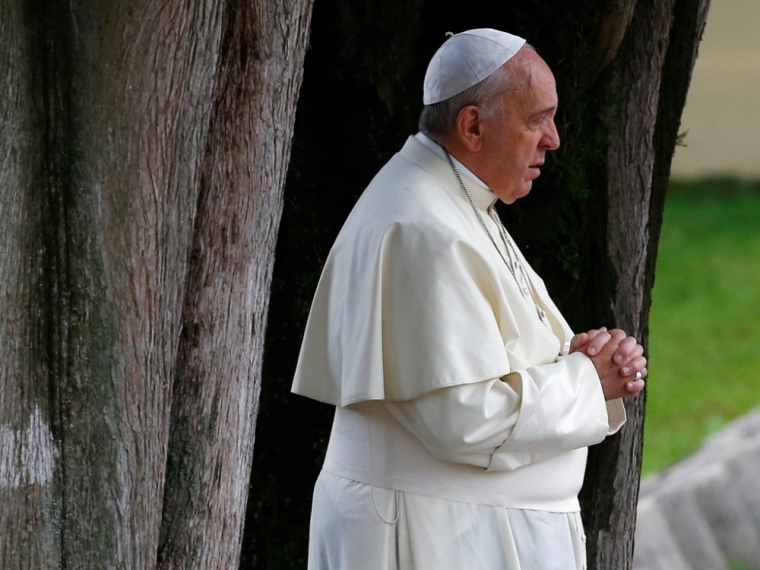 Pope Francis has called on Christians everywhere to campaign to end the death penalty and life imprisonment, a goal which has been achieved in the Vatican state. Meanwhile, a recently released Gallup poll found that six in 10 Americans support capital punishment.
"It is impossible to imagine that states today cannot make use of another means than capital punishment to defend peoples' lives from an unjust aggressor," Francis said Wednesday in a meeting with representatives of the International Association of Penal Law, Catholic News Service reported.
"All Christians and people of good will are thus called today to struggle not only for abolition of the death penalty, whether it be legal or illegal and in all its forms, but also to improve prison conditions, out of respect for the human dignity of persons deprived of their liberty. And this, I connect with life imprisonment," he said. "Life imprisonment is a hidden death penalty."
The Vatican state recently eliminated life imprisonment from its own penal code, which Francis said could serve as an example for other states.
A Gallup poll released on Wednesday found that there has been little change in American attitude toward the death penalty in the past six years, with 6 in 10, or 63 percent of Americans, supporting capital punishment.
This support has varied over time. In 1966 only 42 percent of people favored the death penalty, while in 1994 support was as high as 80 percent.
Richard Dieter, the executive director of the Death Penalty Information Center, reflected on the results by stating that the support for the death penalty remains low compared to other years.
"This overall decline in public support is also reflected in the decrease in executions, death sentences, and the number of states carrying out the death penalty," Dieter said.
"The recent exonerations from death row and the botched executions earlier this year have likely contributed to the public's growing dissatisfaction with a flawed system. Other recent polls have indicated that when given a choice between a sentence of life without parole and the death penalty, the life sentence is the public's first choice."
Death penalty is a legal punishment in 32 states, while six states have abolished the practice since 2007. A number of botched executions earlier this year, however, have given fuel for anti-death penalty activists who have called for the abolition of capital punishment in the country.
Francis pointed out on Wednesday that the Catechism of the Catholic Church "does not exclude recourse to the death penalty, if this is the only possible way of effectively defending human lives against the unjust aggressor," but said that developments in methods to protect society from criminals means that "cases in which the execution of the offender is an absolute necessity are very rare, if not practically nonexistent."
The pontiff spoke out strongly against the detentions of prisoners without trial, and said that maximum security prisons can be a form of torture, since their "principal characteristic is none other than external isolation," which can lead to "psychic and physical sufferings such as paranoia, anxiety, depression and weight loss and significantly increase the chance of suicide."
The Vatican leader accused contemporary societies of overusing criminal punishment, seeking "sacrificial victims, accused of the disgraces that strike the community."
He also suggested that some politicians and members of the media promote "violence and revenge, public and private, not only against those responsible for crimes, but also against those under suspicion, justified or not."
Furthermore, the pope denounced the growing tendency to think that the "most varied social problems can be resolved through public punishment ... that by means of that punishment we can obtain benefits that would require the implementation of another type of social policy, economic policy and policy of social inclusion."
Amnesty International notes that 98 countries had abolished the death penalty for all crimes by December 2013, while more than two thirds of all nations in total have abolished capital punishment in law or practice.