Pope Francis Tells Archbishop Welby: Our Division Is Scandal, Obstacle to Proclaiming the Gospel of Salvation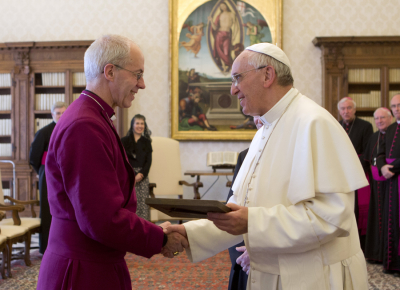 Pope Francis told the Archbishop of Canterbury Justin Welby at a meeting on Monday that their division is a "scandal and an obstacle to our proclaiming the Gospel of salvation to the world," while both Church leaders expressed hopes to move forward in unity.
"We cannot claim that our division is anything less than a scandal and an obstacle to our proclaiming the Gospel of salvation to the world," Francis told Welby according to Asia News. The Roman Catholic Church leader added: "The goal of full unity may seem distant indeed, [. . .] it remains the aim which should direct our every step along the way."
Francis added that although they share a "commitment to the great cause of reconciliation and communion between Christian believers," a problem is that "Our vision is often blurred by the cumulative burden of our divisions and our will is not always free of that human ambition which can accompany even our desire to preach the Gospel as the Lord commanded (Matthew 28:19)."
The meeting between two of the biggest Christian leaders in the world came on the second day of Welby's visit to Rome, which also included a visit to Rome's Joel Nafuma Refugee Centre and an encounter with the ecumenical Global Freedom Network for the eradication of human trafficking.
Francis mentioned the shame of the first disciples when Jesus asked them what they were arguing about, and suggested that divided Christians also feel ashamed when they "ponder the distance between the Lord's call and our meager response."
In his address, Welby reminded Francis of their first meeting a year ago, and said that back then he expressed hope that they might find ways to strengthen what they share, and seek to pray, act and speak together as a Christian family.
"Please be assured, Your Holiness, of the continuing respect and affection of the Anglican Communion, and the assurance of our prayers as we seek with you to serve the call of Christ to maturity in faith, and to do so full of joy in service," Welby said.
The Archbishop of Canterbury also led a prayer for the Global Freedom Network in its mission against modern slavery and human trafficking.
In March, Francis and Welby signed an agreement to support the anti-slavery and anti-human trafficking initiative.
"Many are already engaged in the struggle and we join them with much to learn as well as much to contribute. All are called to join common cause to end this crime and suffering," Welby said at the time. "We are struggling against evil in secret places and in deeply entrenched networks of malice and cruelty. No one of us is strong enough, but together we are ready for the challenge God is placing before us today, and we know that he will strengthen us so that all people may live in freedom and dignity."
The Global Freedom Network agreement, signed at the Vatican City by both Francis and Welby, has also been signed by a Sunni Muslim representative from the prominent al-Azhar University in Cairo, seen as a strong symbol of unity between the faiths in the battle against slavery.