Pope Francis Tells Congress: 'Protect and Defend Human Life at Every Stage of Its Development'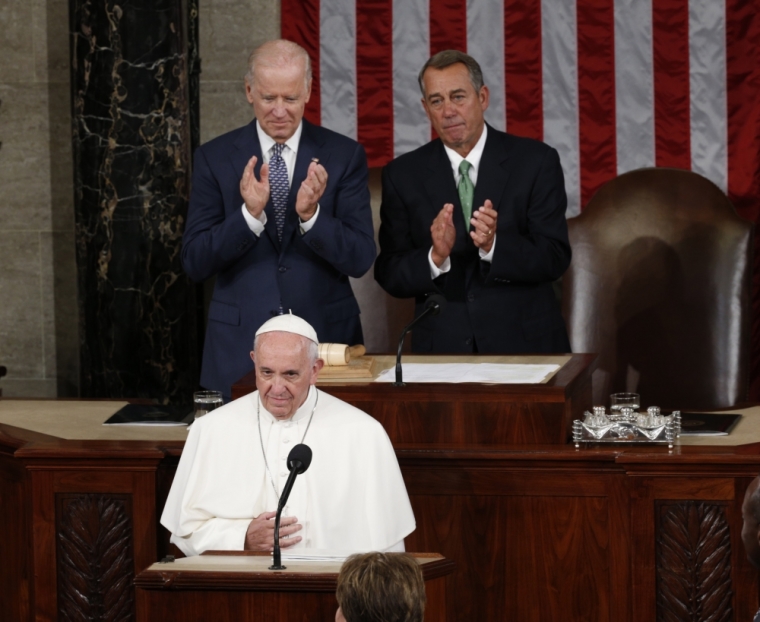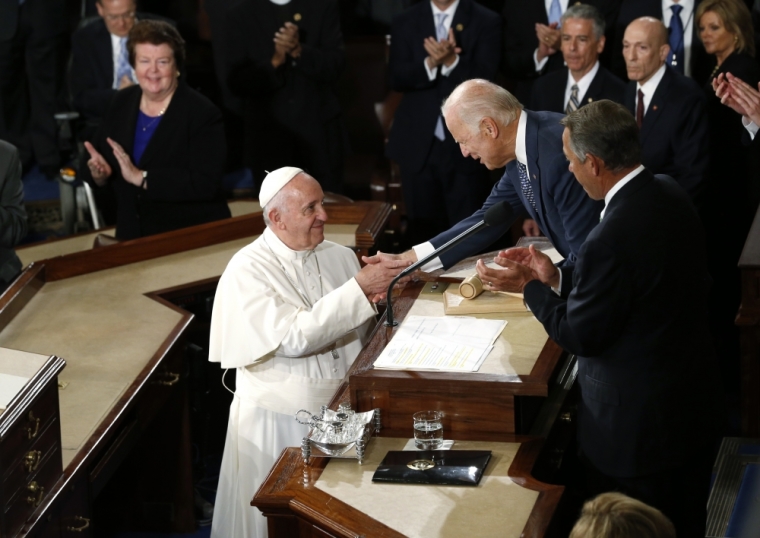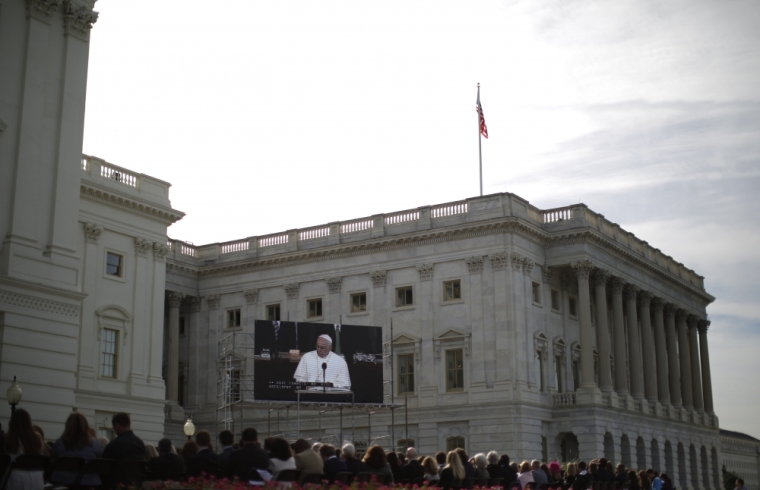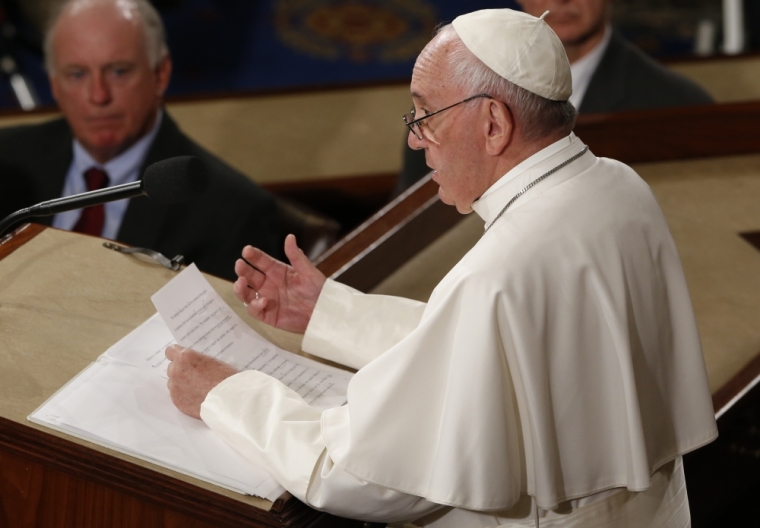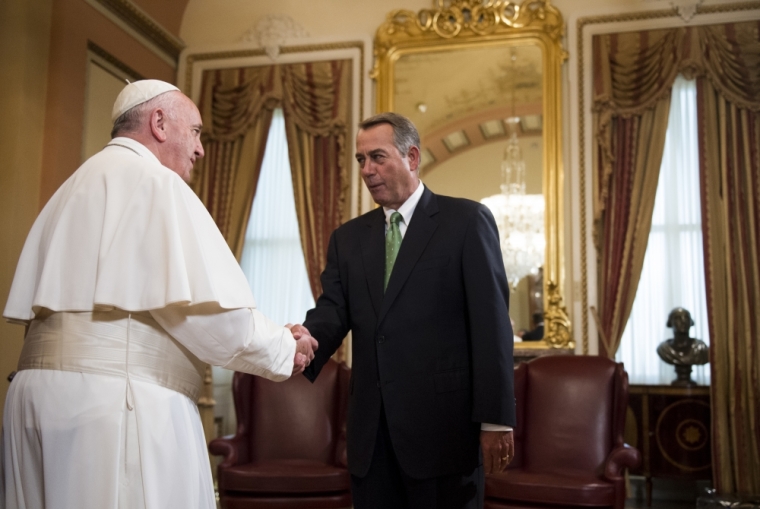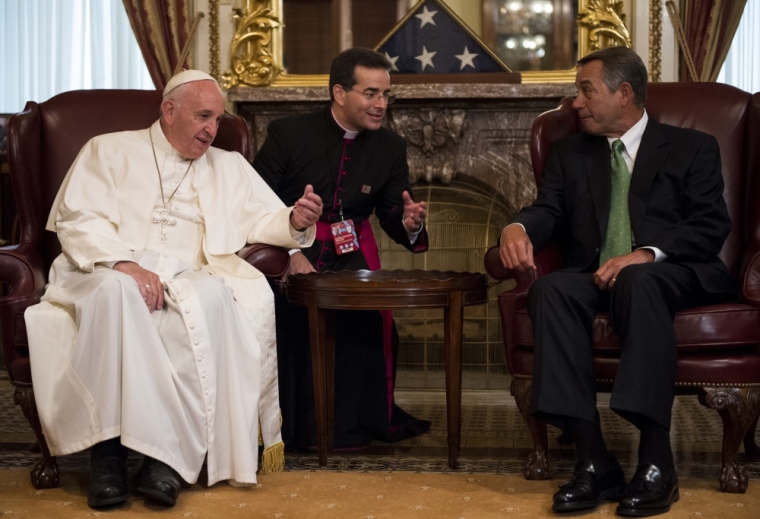 View Photos
WASHINGTON — In the first ever papal address issued to a joint session of the U.S. Congress on Thursday, Pope Francis urged Americans to share their wealth, stand up against religious and minority persecution, defend life at every stage of development, welcome immigrants seeking better lives, abolish the death penalty and protect the planet.
After meeting with Speaker of the House John Boehner, R-Ohio, in his office around 9:15 a.m., the leader of the Catholic Church addressed members of the House and Senate with a 50-minute speech that was broadcasted and shown to approximately 50,000 adoring fans who gathered on the front lawn of the Capitol building to hear his historic remarks.
"Each son or daughter of a given country has a mission, a personal and social responsibility," Pope Francis, who hails from Argentina, asserted. "A political society endures when it seeks, as a vocation, to satisfy common needs by stimulating the growth of all its members, especially those in situations of greater vulnerability or risk. Legislative activity is always based on care for the people. To this you have been invited, called and convened by those who elected you."
The pope then compared the "work" of Congress to the work of the prophet Moses.
"Yours is a work which makes me reflect in two ways on the figure of Moses. On the one hand, the patriarch and lawgiver of the people of Israel symbolizes the need of peoples to keep alive their sense of unity by means of just legislation," he explained. "On the other, the figure of Moses leads us directly to God and thus to the transcendent dignity of the human being. Moses provides us with a good synthesis of your work: you are asked to protect, by means of the law, the image and likeness fashioned by God on every human face."
After praising American values and historic American figures such as Martin Luther King, Dorothy Day, Abraham Lincoln and Thomas Merton, the pope decried the trend of religious radicalism that has caused many innocent lives to be brutally lost. Explaining that "no religion is immune from forms of individual delusion or ideological extremism," he stressed the importance of combating religious violence.
"This means that we must be especially attentive to every type of fundamentalism, whether religious or of any other kind," Pope Francis declared. "A delicate balance is required to combat violence perpetrated in the name of a religion, an ideology or an economic system, while also safeguarding religious freedom, intellectual freedom and individual freedoms."
At a time when their is seemingly great tension towards certain religious views in America, Pope Francis argued that the "voice of faith" needs to continue to be heard in order to allow faith-based works to continue strengthening the country.
"In this land, the various religious denominations have greatly contributed to building and strengthening society," the pontiff stated. "Such cooperation is a powerful resource in the battle to eliminate new global forms of slavery, born of grave injustices which can be overcome only through new policies and new forms of social consensus."
As the son of immigrants, Pope Francis touched on how America is a land founded by immigrants and urged the United States, which takes in about 70,000 refugees every year, to continue opening its doors to the world's refugees and even immigrants coming from Latin America.
"Our world is facing a refugee crisis of a magnitude not seen since the Second World War. This presents us with great challenges and many hard decisions," he said. "On this continent, too, thousands of persons are led to travel north in search of a better life for themselves and for their loved ones, in search of greater opportunities. Is this not what we want for our own children?"
"We must not be taken aback by their numbers, but rather view them as persons, seeing their faces and listening to their stories, trying to respond as best we can to their situation," Pope Francis added. "To respond in a way which is always humane, just and fraternal. We need to avoid a common temptation nowadays: to discard whatever proves troublesome. Let us remember the Golden Rule: 'Do unto others as you would have them do unto you.'"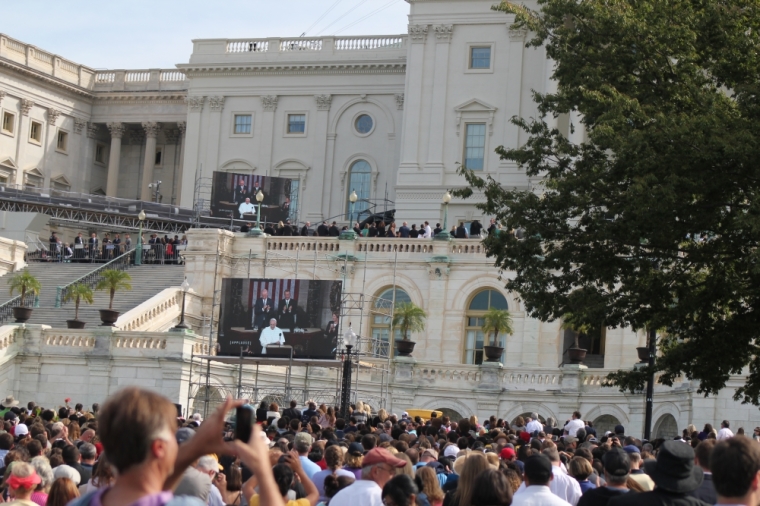 Continuing with the theme of the "Golden Rule," the pope discreetly criticized assisted-suicide and abortion, a topic that has become a hot button issue in Congress following the recent releases of the undercover Planned Parenthood videos. Many conservatives in Congress have called for the federal defunding of the abortion giant, which conducts over 300,000 abortions every year.
"In a word, if we want security, let us give security; if we want life, let us give life; if we want opportunities, let us provide opportunities. The yardstick we use for others will be the yardstick which time will use for us," the pope explained. "The Golden Rule also reminds us of our responsibility to protect and defend human life at every stage of its development."
Although that would have been a great opportunity to further stress the Catholic teachings against the killing of unborn babies, Pope Francis instead used his call to defend human life to promote the abolition of the death penalty.
"This conviction has led me, from the beginning of my ministry, to advocate at different levels for the global abolition of the death penalty," the pope said. "I am convinced that this way is the best, since every life is sacred, every human person is endowed with an inalienable dignity, and society can only benefit from the rehabilitation of those convicted of crimes."
Pope Francis then discussed the importance of serving the less impoverished members of society.
"I would encourage you to keep in mind all those people around us who are trapped in a cycle of poverty. They too need to be given hope," he said. "It goes without saying that part of this great effort is the creation and distribution of wealth. The right use of natural resources, the proper application of technology and the harnessing of the spirit of enterprise are essential elements of an economy which seeks to be modern, inclusive and sustainable."
In continuing his consistent call to combat climate change, Pope Francis explained that new technology must be used to create and promote alternative forms of energy so that that the world is no longer being deteriorated by "human activity."
"This common good also includes the earth, a central theme of the encyclical which I recently wrote in order to 'enter into dialogue with all people about our common home,'" Pope Francis asserted. "I am convinced that we can make a difference and I have no doubt that the United States — and this Congress — have an important role to play."
After issuing his address, Pope Francis later appeared on the Speaker's Balcony to address the thousands of people gathered on the lawn and gave brief remarks in Spanish.
"The most important ones here, children. I've asked God to bless them," the pope said.