Pope Francis Threatens to Fire Priests Who Don't Obey Him, Says Rebellion Is Destructive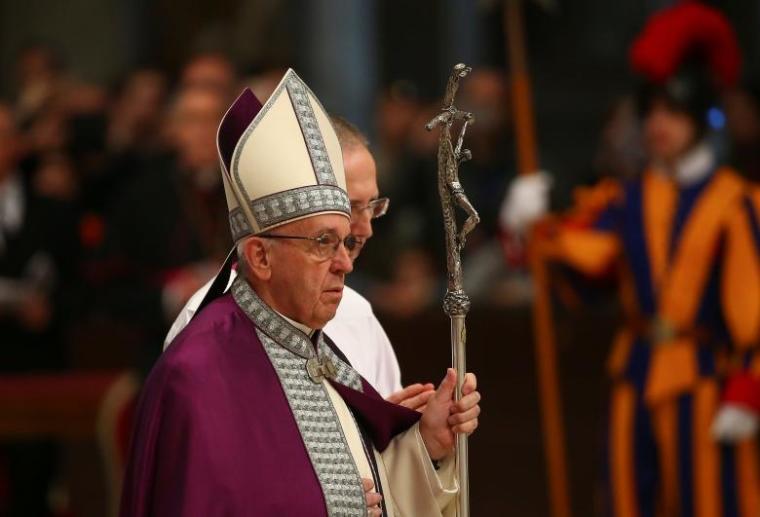 Pope Francis has threatened to fire a group of Nigerian priests who are refusing to pledge allegiance to him and the Roman Catholic Church's appointees, warning that a rebellion against the papacy is seeking to "destroy" the Church.
As Vatican Radio explained on Saturday, the controversy stems from several priests in the Nigerian Diocese of Ahiara who have apparently refused to receive Bishop Peter Ebere Okpaleke, who was appointed to Ahiara by Pope Benedict XVI in 2012.
"The Pope cannot remain indifferent" to such rebellion, Francis said after welcoming Nigerian church leaders.
The pontiff asked "every priest or ecclesiastic incardinated in the Diocese of Ahiara, whether he resides there or works elsewhere, even abroad, [to] write a letter addressed to me in which he asks for forgiveness; all must write individually and personally. We all must share this common sorrow."
Priests who fail to do so will be suspended and lose their current office, he warned.
"Whoever was opposed to Bishop Okpaleke taking possession of the Diocese wants to destroy the Church. This is forbidden; perhaps he does not realize it, but the Church is suffering as well as the People of God within her," Francis argued.
"Tribal loyalties" were cited as the reason for why some priests are refusing to accept Okpaleke's appointment. 
Protests against Okpaleke have been motivated by the fact that he is not a local priest, according to Crux Now.
The Catholic Church has been growing in Africa, though clergy there often need to integrate their practices with local culture, The Associated Press pointed out.
The Diocese of Ahiara served around 520,000 Catholics, according to 2015 statistics, and had 128 diocesan priests and seven other priests, though it was not clear how many of them were involved in the rebellion against the bishop's appointment.
In his address to the Nigerian priests, Francis admitted that his ultimatum seems "very hard," but insisted that he must ask for such obedience, or else the Church there will continue to remain divided.
"The people of God are scandalized. Jesus reminds us that whoever causes scandal must suffer the consequences. Maybe someone has been manipulated without having full awareness of the wound inflicted upon the ecclesial communion," the pope said.
Francis noted that the disputes over the bishop have been "dragging on for years," and thanked Okpaleke for the "holy patience" that he has demonstrated.
"I listened and reflected much, even about the possibility of suppressing the Diocese, but then I thought that the Church is a mother and cannot abandon her many children. I feel great sorrow for those priests who are being manipulated even from abroad and from outside the Diocese," he added.
The Vatican later also defended Francis' request for obedience, stating, "The Holy Father, after a careful evaluation, spoke of the unacceptable situation in Ahiara and reserved the right to take appropriate measures."