Pope Francis to Tour New York's Central Park; Mayor de Blasio Praises Pontiff's 'Historic Visit' to 3 US Cities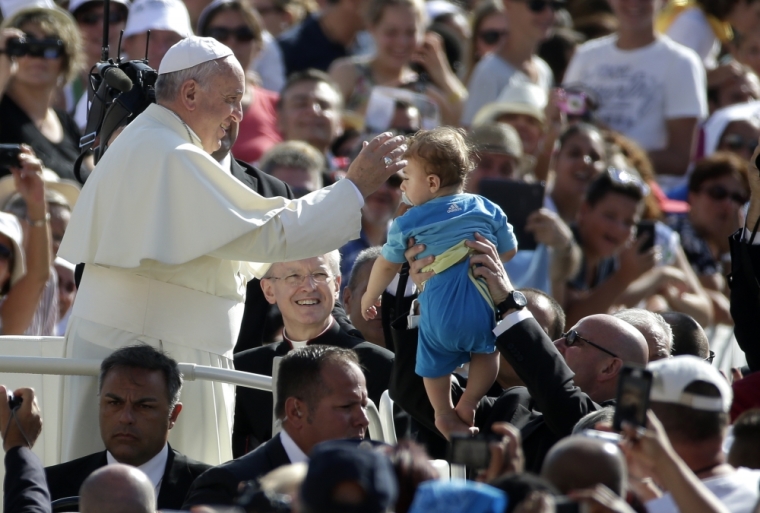 New York residents will get the chance to catch a glimpse of Pope Francis later this month during his U.S. tour which will include a procession through the city's iconic Central Park.
On Sept. 25, the pontiff will tour the city's famous landmark on his popemobile and tens of thousands are expected to turn out for what will be a historic event. The papal motorcade will be a part of his first-ever tour of the U.S. since becoming the first Latin American pope in 2013.
"The procession through Central Park will give thousands of New Yorkers an opportunity to come face-to-face with Pope Francis," Mayor Bill de Blasio said in a statement on Tuesday. "We're proud to welcome one of the world's most powerful voices to our great city ... and we are grateful to the archdiocese for their cooperation in giving even more New Yorkers a chance to join in this historic visit."
The procession will begin in the Upper West Side on West Drive in the park near 72nd Street and make its way down to 60th Street. Those interested in attending the pontiff's procession must be New York residents and can apply for tickets via a lottery online.
For Central Park procession ticket information CLICK HERE
"Truly honored to announce His Holiness @Pontifex will travel through Central Park during his NYC visit," de Blasio tweeted.
Also that day, Francis, who's 78, will meet with 9/11 families during an interfaith ceremony at the 9/11 Memorial and Museum in downtown Manhattan.
His brief visit to New York will take place from Sept. 24-26 during which he is expected to address the United Nations General Assembly. He will also make a stop at Our Lady Queen of Angels School in East Harlem, hold mass at Madison Square Garden and offer public prayers at St. Patrick's Cathedral.
Francis' Sept. 22-27 trip to Washington, D.C., New York City and Philadelphia includes a brief trip to Cuba, where he will meet Raul Castro.
He will also attend the World Meeting of Families event in Philadelphia on Sept. 26 and 27, which is an international event that is held every three years and highlights the need for family in Catholic life.
In July, the pope participated in an eight-day tour of South America.