Popular Youth Pastor Matt Pitt of The Basement Jumps Off 45-Foot Cliff Running From Cops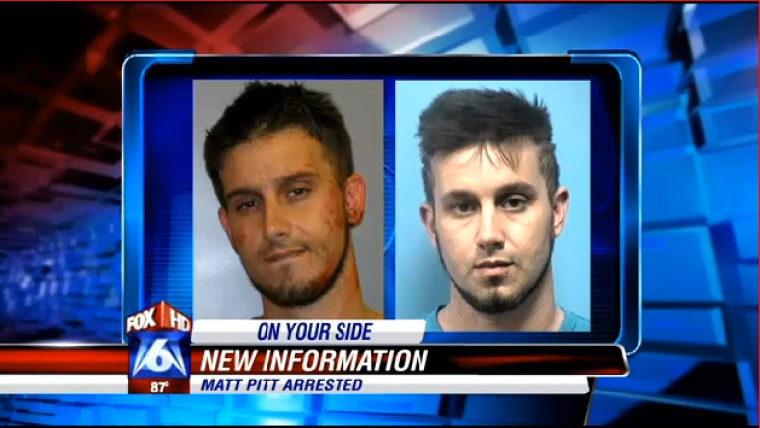 Matt Pitt, 30, founder of one of America's largest Christian youth ministries, The Basement, was arrested by Alabama police for impersonating a police officer for the second time on Tuesday night after he jumped off a 45-foot cliff in a last ditch attempt to escape.
"He is lucky that cliff didn't take his life," Jefferson County Sheriff's Chief Deputy Randy Christian told AL.com. "For his family's sake and for his I am truly glad he is OK. As I said before, going to jail may very well have saved his life."
Pitt, who has been battling longstanding rumors of drug use, was wanted for impersonating a peace officer but refused to surrender to authorities. He was arrested shortly after he gave an interview to a local television station.
Christian praised Birmingham police for helping to catch the wanted pastor and noted that they weren't happy with the youth leader's behavior.
"Obviously they were just as offended by this suspect pretending to be a police officer as everyone else was,'' Christian said in another AL.com interview.
When officers asked Pitt where he worked at the time of his arrest, he told them that he worked for the sheriff. "His story just continues to get stranger by the moment,'' said Christian. "You can draw your own conclusions as to why."
The evangelist was released from the Jefferson County Jail just before 1 a.m. on Tuesday and he was later picked up by Shelby County sheriff's deputies where he is being held without bond.
On Thursday, investigators told Fox 6 that they were awaiting the results of a drug test ordered for Pitt on Wednesday morning.
"The public has to be able to trust, when they're talking to someone that presents themself as a law enforcement officer, if that's what they are. We depend on that for law enforcement to operate effectively," Christian noted in that report.
Authorities noted on Thursday that there was a high possibility that Pitt will serve some jail time for this current case because he violated the probation of a 2012 case where he was charged with a similar offense.
The Basement was started by Pitt in the basement of his parents' house in 2004 and is a monthly Christian youth-revival service that features popular music and energetic speakers.
As word of his arrest spread, reactions have been mixed, but some ex-board members and clergy said Pitt wanted to be a "Lone Ranger."
"We saw him going down the wrong way," an unidentified board member of The Basement said in an AL.com report. "He pushed everybody away."
Another unidentified ex-board member said Pitt and his closest advisers: "took their eyes off Jesus. I believe there were great possibilities. I believe people were helped. I never looked at Matt as a rock star. I saw an opportunity to win the lost. In the beginning Jesus was foremost. ... God is not going to be mocked."
Some area clergy also expressed frustration at the young evangelist.
"I think we have to be careful not to let him off the hook as a victim," Lyle Dorsett, the Billy Graham professor of evangelism at Samford University's Beeson Divinity School told AL.com. "He needs to face up to the fact that he's basically dishonest. He needs to get out of the ministry and get himself sorted out. He's got an inability to live in the real world."
Birmingham evangelist Scott Dawson, however, was more gracious in his reaction.
"This was one of the premier outreaches to young people in the country," said Dawson. "Not only in Birmingham, but across the country. He was the new thing on the market."
"We certainly need to pray for Matt and his family," he added. "It doesn't change the impact on people's lives. They didn't respond to Matt, they responded to Christ. Christ is the one that can changes lives."