Potential Presidential Candidate Ben Carson to be Featured in One Hour Documentary This Weekend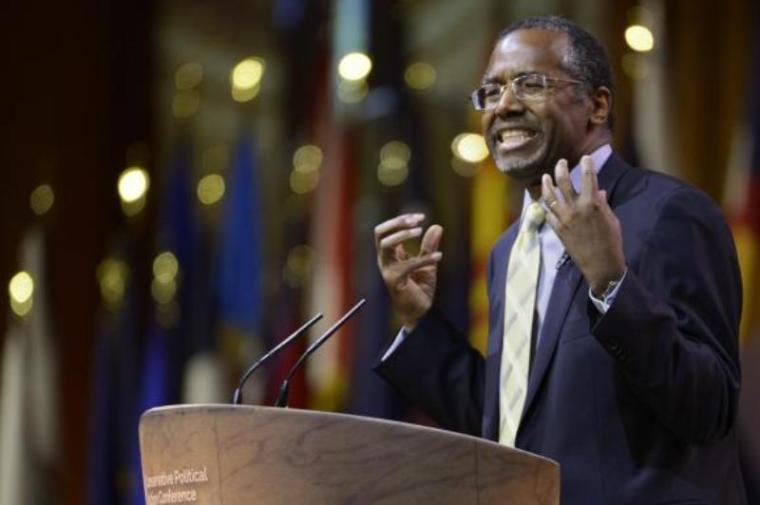 In a potential introduction to the 2016 presidential race, an hour-long documentary about retired neurosurgeon Ben Carson will air over the weekend in 22 states and the District of Columbia.
According to Right Side Wire, the rising 63-year-old conservative will be featured in a documentary that will air this weekend entitled "A Breath of Fresh Air: A New Prescription For America."
The documentary is designed to provide greater insight into Carson's life and suggest that Carson may be running for president in 2016. The show will also inform viewers on how Carson has made a "political transformation" since he gained national conservative prominence for criticizing President Barack Obama's healthcare reform law during his speech at the National Prayer Breakfast in February of 2013.
Depending on the media market, the documentary will be aired at different times and on different channels on Saturday and Sunday. According to the documentary's television market listing, it will be featured heavily in three early primary or caucus states: three media markets in Iowa and South Carolina and two media markets in Florida. The documentary will not air in New Hampshire, the first state with a primary election.
Armstrong Williams Productions, a production company owned by conservative activist and Carson's business manager, Armstrong Williams,shot the documentary and will be paying for the airtime, a Washington Times article states. The Washington Times, the newspaper that publishes Carson's op-ed column, says the documentary will also explain the childhood obstacles Carson had to overcome in order for him to become the famous neurosurgeon and political commentator that he is widely known as today.
Carson's childhood was not an easy one. The documentary is likely to discuss how he was raised by his single mother in inner-city Detroit and could possibly include stories about how he had spurts of angry violence as a child.
According the documentary's television market listing, most media markets will air the documentary at a reasonable hour. However, four media markets will air the documentary duing early morning hours on Saturday or Sunday. The earliest morning air time will be that of Seattle's ABC, which will air the documentary at 5 a.m. on Sunday.
Although Carson has not officially announced that he is running for president, he has hinted numerous times at the strong possibility of him running. His candidacy seems likely now that the Republican Party has taken back control of the House and Senate. Although Carson has risen to popularity among many social conservatives since his speech at the National Prayer Breakfast, people with no political experience are rarely competitive in presidential elections.
The Washington Times article claims that that the documentary will help Carson overcome the fact that other potential 2016 Republican candidates, like New Jersey Gov. Chris Christie, rose in the prominence as a result of the 2014 midterm elections by victoriously campaigning for a largely successful Republican election.
Even though Carson has yet to announce his candidacy, his supporters have already taken steps to ensure he has a full fledge campaign effort in place should he decide to run. Carson has the benefit of a strongly organized campaign by an unaffiliated political action committee called The National Draft Ben Carson for President Committee.
Since the committee's founding in August of 2013, it has raised over $10.5 million, which is an impressive donation figure for unaffiliated PAC.
Earlier this week, Carson took another step toward a run for the Republican Party's presidential nomination. After Carson declared himself an independent nearly 20 years ago because the GOP put a "sour taste" in his mouth, Carson officially switched his party affiliation back to the Republican Party on Tuesday.
Washington Times reported that Carson made the switch to avoid having to do it later if he decides to run.
"If I make the decision to run, then I clearly don't want to be backtracking and do something in a hurry. It's one of those things I wanted to be thinking about far ahead," Carson said.