Preachers' Daughters Exclusive: Lolly White Talks Issues With 'Fake' Preachers' Daughters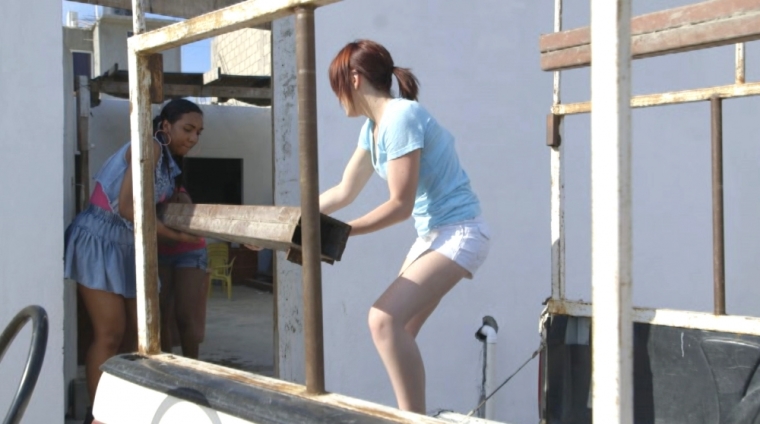 Lolly White may have stuck out like a sore thumb on Lifetime's "Preachers' Daughters" this season when she refused to participate in some missions work, asked her housemates to clean and some suggested she be kicked out of their shared house, but the outspoken pastor's daughter insisted the experience changed her for the better.
Lolly, the 24-year-old South Central Los Angeles, California, native, expected a different greeting when she arrived later than the preachers' daughters who she would be sharing a house with on a trip centered around doing missions work. Instead, her arrival resulted in tensions rising in the house, which was one of Lolly's biggest challenges participating in the hit Lifetime series.
"I thought the girls would be more receiving of me. The way they embraced me really wasn't what I expected," Lolly admitted to The Christian Post. "I thought they would be more genuine and loving, but watching it play out I thought it was kind of hurtful."
While the preacher's daughter said she had issues dealing with "fake" personalities in the house where nine girls were picked to live together and do missions work, she is not angry at the reactions from her fellow cast members.
"I realize that they're all under construction just like I am. So I really can't fault them for what they did because they were learning as well as I was," she told CP. "So faith is the substance of things hoped for and the evidence of things not seen. Just because they were portraying themselves to be a certain way to my face, I could tell that they had a heart at the end of the day."
Lolly seemed to be the source of tension for many of the fellow preachers' daughters she lived with, but it also seemed that the stressful environment helped her learn a few things about herself.
"I've learned that I have to go the extra mile, I can't just give up when I want to give up," Lolly told CP, reflecting on the experience. "I have to be patient and know that God has me. He has my back and He fights all of my battles, so I learn to pick and choose my battles."
Some of those battles in the house centered around Lolly wanting to bring boys home and not take her missions work seriously. Although she insisted that she has prided herself on doing missions work at home where she prays for the sick, visits cancer patients and feeds the homeless, cameras showed Lolly initially spending time on the beach instead of participating in the group missions work she was assigned on the show.
However, she believed the missions experiences in Cabo, Mexico, changed her for the better.
"In Cabo it was a different kind of mission work," Lolly told CP. "Building houses and working in the sun and all of that was totally different for me and I had to adapt to that."
At 24, Lolly seems to be more focused on having fun and enjoying her youth, which even prompted "The Real" talk show host Tamera Mowry-Housley to call her out on national television recently. During a recent appearance on the daytime talk show, Mowry-Housley told Lolly that she could not keep running from God.
Lolly admits that she has heard that message before and explained why it is not always easy for her to adhere to that calling.
"I've heard that all of my life, but to hear it on national television from Tamera it was like 'ahhh Tamera.' I mean I'm young and it's hard because I'm trying to live two lives and God says you can only serve one master," Lolly said. "So I'm still trying to find my way, and I'm on my way and it will happen, definitely."
The preacher's daughter left her father's church to join another place of worship so that she could find herself outside of her father. While she does love the church she now attends, Lolly believes it is important to focus on a relationship with God instead of being caught up on religious titles such as "Christian" or "Catholic."
Joining "Preachers' Daughters" was a rewarding experience for her because it helped to cultivate some growth in her relationship with Jesus Christ.
"We had no phones, no T.V.s, we had none of that. So my walk with Christ, my relationship with God was really rewarding," Lolly told CP. "Just the stuff that I do [at home], I'm always on my phone. I'm always looking at my T.V., but out there I had a clear head, He had my attention."
Although some drama unfolded between Lolly and the eight other girls in the house they had to share, she wants people to take something important from her story.
"You're going to fall, but you're going to get back up, but it's about how you get back up. You're never perfect and you're never going to be perfect," she told CP. "You can only try to be like Christ. He's coming back to get His people one day and guess what? I'm going to be on that train."
Catch Lolly and her fellow castmates on "Preachers' Daughters" which comes on Lifetime networks Fridays at 10 p.m. ET/PT. The show is produced by Thinkfactory Media.