'Preachers of LA' Deitrick Haddon Says He Has 'Second Chance' at Life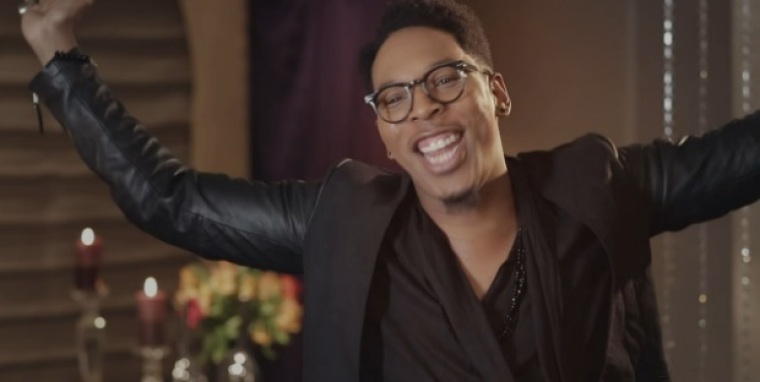 Deitrick Haddon, star of Oxygen Network's "Preachers of L.A." reality show, admits that he made mistakes in his personal life that led him to fall from grace but after enduring turmoil and criticism, Haddon now feels grounded once again.
The gospel artist has been transparent about his faults on the show by admitting that he left the church he once pastored in Detroit for a life of pleasure in Los Angeles. He also came forward about fathering his first daughter out of wedlock but that is all behind him, he explained.
"I feel like God has given me a second chance at marriage, at life and at ministry. So now I'm determined to do it my way … Do it God's way, but do it with my style," Haddon said in an interview with Centric TV. "I'm solid. I'm sure about myself. I don't need validation from people. I've got God. I've got my focus. I've got my babies, my wife, and I'm good."
Haddon remarried in July 2013 after divorcing from gospel singer Damita Haddon in 2011. His second wife, Dominique Mctyer, is the mother of his two daughters.
He said he married Damita Haddon at age 23, which he now says was too young but he had caved in to get married after getting pressure from his father. Upon learning that she was having an affair with another gospel singer, Haddon left his church Kingdom Culture, which he grew from 400 to over 3,000 in two years, and moved to Los Angeles where he began getting involved with alcohol and frequenting strip clubs.
His now wife notes that he was suicidal when she met him and although he was still legally married, she struggled with beginning a relationship with him.
"It was a very tough spot to be in because in my morals growing up, I learned that was a no-no. However, my heart was like, 'this is where you should be.' But he was married … I knew I needed to be there for him or else I don't know what he could've done with his life," said Dominique Mctyer.
Mctyer became pregnant while Haddon was in the process of divorce but they kept the birth of their child a secret until their now 2-year-old was a few months old. Following the birth, Haddon proposed and got married a few months before he found out that his first wife had also gotten remarried.
Haddon, who is also known for being outspoken, sid he is no longer fazed by the scrutiny that once led him astray from God and noted that his past brought on lessons that have helped him gain new perspective on life.
"I hope that my story can help people know there is live beyond your mistakes … We all mess up at some point. You can't expect to live 80 years or 90 years or 70 years on the planet and you don't make a mistake. That's not even realistic. You're going to make a mistake. You're going to mess up real bad. Keep moving … Learn from your mistakes. It's not how you fall; it's how you get up," said Haddon.
The second season of "Preachers of L.A." debuted on Aug. 20 and can be seen each Wednesday at 10/9c on Oxygen.