President Obama Condemns 'Evil' Paris Terrorist Attack Which Leaves 12 Dead; Queen Elizabeth II Leads Tributes to Victims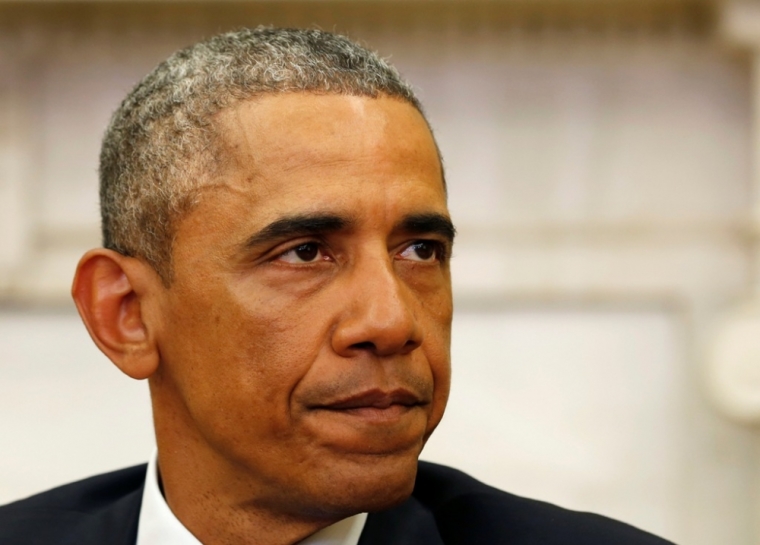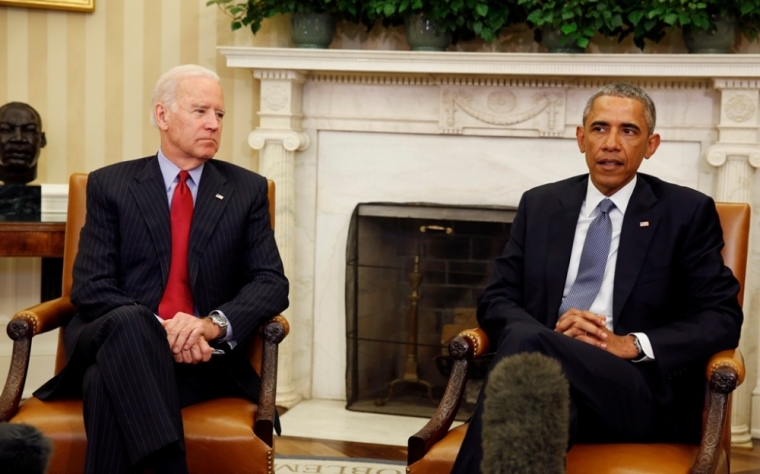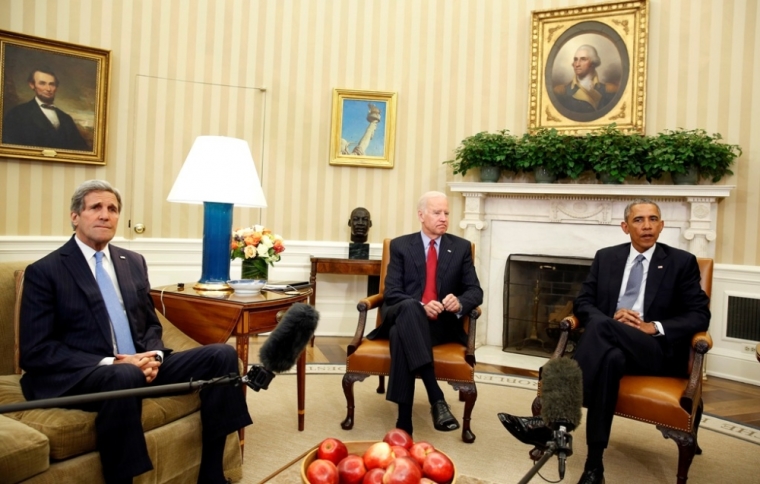 View Photos
President Barack Obama condemned a deadly shooting at a satirical newspaper in Paris that left 12 people dead on Wednesday, calling it "an attack on our free press."
The shootings mark the worst terrorist attack France has seen in the last decade, which Obama called "cowardly, evil attacks."
Charlie Hebdo had long been threatened by jihadists for its caricatures of the Muslim prophet Muhammad and other controversial sketches. The paper is notorious for its satirical attacks on political and religious leaders of all faiths.
"The fact that this was an attack on journalists, an attack on our free press, also underscores the degree to which these terrorists fear freedom of speech and freedom of the press," Obama said from the Oval Office during a meeting with Secretary of State John Kerry and Vice President Joe Biden.
"The one thing that I'm very confident about is that the values that we share with the French people, the universal belief in freedom of expression, is something that can't be silenced because of the senseless violence of the few," he continued. "For us to see the kind of cowardly, evil attacks that took place today, I think, reinforces once again why it's so important for us to stand in solidarity with them, just as they stand in solidarity with us."
The gunmen were reportedly armed with a Kalashnikov and a rocket-launcher. Video footage of the attack revealed one of the assailants yelling "Allahu Akbar!" (God is Greatest) as shots were fired, reported BBC UK.
"According to a witness who survived, they shouted Allahu Akbar and said they wanted to avenge the prophet," said Paris prosecutor Francois Molins, according to Reuters.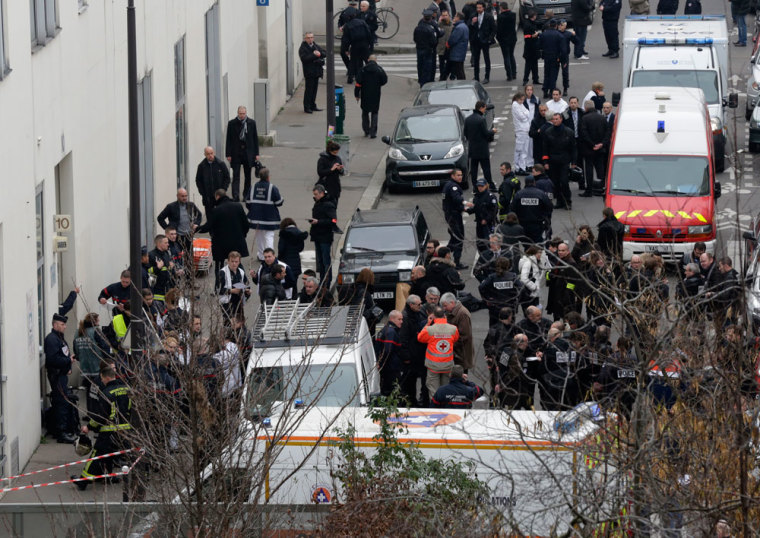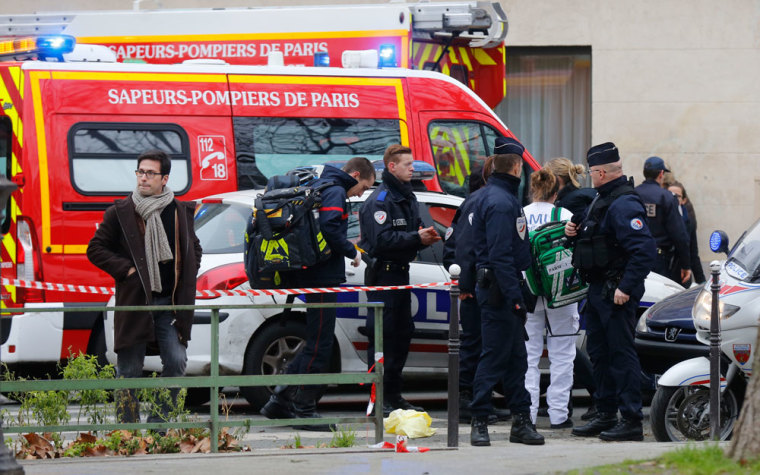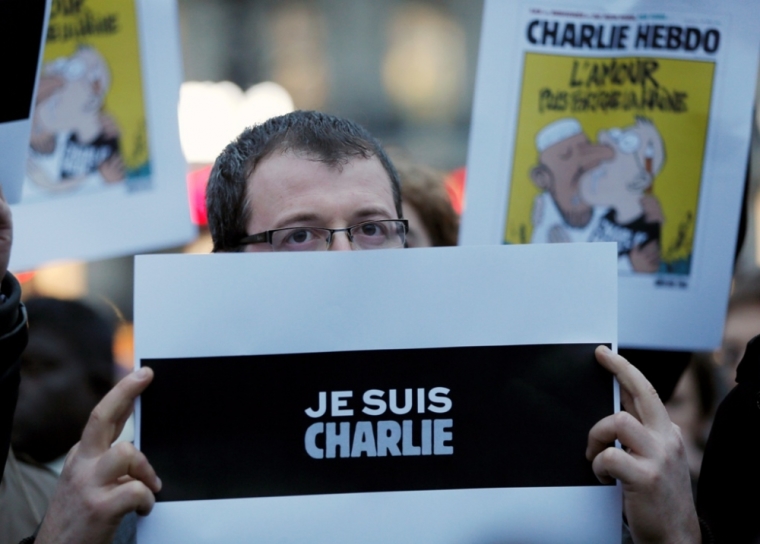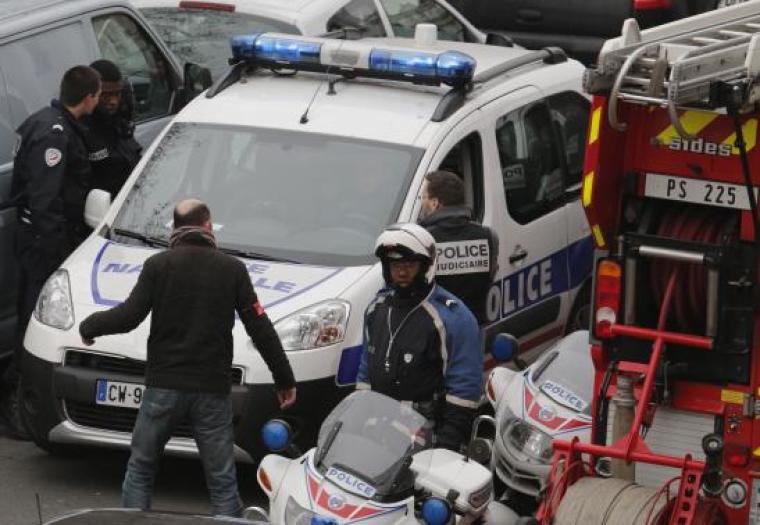 View Photos
The gunmen forced entry into the building by fatally shooting a guard before making their way to the second floor, where they opened fire on an editorial meeting attended by eight people.
Another video shows one of the assailants rushing over to a wounded police officer laying on the ground. As the officer pleads for his life, the gunman shoots him in the head at point-blank range with a rifle.
The newspaper editor, a cartoonist and two police officers guarding the building are among the 12 victims. The gunmen fled by car after the attacks and they are still on the loose.
The 20 Minutes daily newspaper quoted a witness as saying one of the assailants shouted out before getting into the vehicle: "Tell the media that it is al-Qaeda in Yemen!"
French President Francois Hollande vowed to find those responsible and bring them to justice with the help of authorities. He also declared that Thursday will be a national day of mourning.
"An act of indescribable barbarity has just been committed today in Paris," he said. "Measures have been taken to find those responsible, they will be hunted for as long as it takes to catch them and bring them to justice."
Queen Elizabeth II led the way in sending tributes to the victims and their families.
"Prince Philip and I send our sincere condolences to the families of those who have been killed and to those who have been injured in the attack in Paris this morning," the queen said in a statement obtained by ABC News. "We send our thoughts and prayers to all those who have been affected."
New York City Mayor Bill de Blasio tweeted: "Our thoughts and prayers are with Paris — a heinous terrorist attack goes at the very fabric of a free society."
Republican and Democratic leaders in Congress also tweeted messages of support and their sympathies.
"Prayers for the people affected by the vicious terrorist attack in #Paris. We must always be vigilant against the enemies of freedom," wrote Republican House Speaker John Boener.
And Democratic House Minority Leder Nancy Pelosi tweeted: "France is one of America's oldest and truest allies. Our prayers are with the people of Paris & all who stand for a world free from terror."