Presidential Candidate Lindsey Graham Introduces 20-Week 'Pain-Capable' Late-Term Abortion Ban in Senate; Promises Vote in 2015
Lawmakers Expect Obama to Veto Pro-Life Bill Despite Saying 'Every Child Ought to Have the Opportunity to Achieve Their God-Given Potential'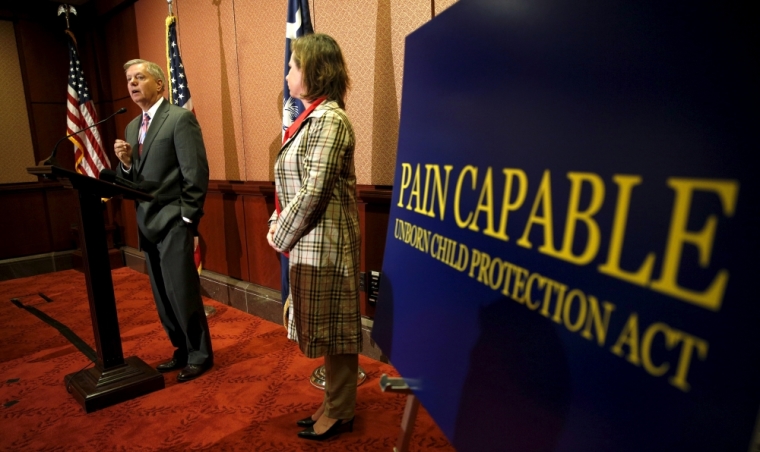 WASHINGTON — Presidential candidate Sen. Lindsey Graham, R-S.C., reintroduced legislation in the Senate Thursday that would ban abortions after 20 weeks of pregnancy except in cases of rape and incest, a measure that passed the House of Representatives by a 242-184 vote last month.
At a Capitol Hill news conference, Graham promised that the bill, titled the Pain-Capable Unborn Child Protection Act, would be debated and voted on this year.
"This legislation is groundbreaking yet simple at the same time. What I love most about this piece of legislation is how simple it is," Graham said. "Do you believe that at 20 weeks in the pregnancy, five months, when medical encyclopedias are encouraging young parents to sing to their child because they can begin to recognize the voice, that this is a stage in development where you should be very excited because your child is well on their way? Does the government have a legitimate and compelling interest to protect that baby? The answer, I believe, is yes."
Graham reasoned that since the 1973 U.S. Supreme Court ruling in Roe v. Wade, medical sciences have advanced enough to acknowledge that unborn children at 20 weeks of pregnancy are capable of feeling excruciating pain and that there is a reasonable governmental interest in protecting those unborn children.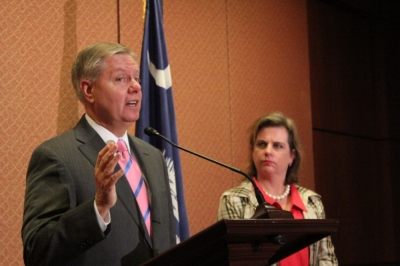 "Roe v. Wade was about medical viability. Roe v. Wade acknowledges that there is a compelling state interest in protecting the unborn child," Graham argued. "The standard of medical practice in America is that if you operate on an unborn child at 20 weeks, which happens fairly often …, you have to provide anesthesia to the baby because they are capable of feeling extreme pain.
"Here is the choice for America — if a doctor is required to provide anesthesia to the child to help save its life because they feel pain in the process of being operated on, is it OK for society to say, 'Well, at that stage in the pregnancy we don't want the operation to be an abortion?'" Graham continued. "I believe that most Americans will say yes."
The United States is one of just seven countries in the world that doesn't ban abortions after 20 weeks of pregnancy, putting the U.S. in the same "club" as systemic human rights violators such as China and North Korea.
"This bill would put us out of a league of nations who have refrained from protecting children after that point. We are one of only seven nations that have refrained from protecting children after 20 weeks," Susan B. Anthony List president Marjorie Dannenfelser said at the press conference. "We are in the company of China, North Korea, Vietnam and others. That is not the human rights club that we would like to be in and we need to be out."
Graham said that there are some exceptions in the legislation for pregnancies that occur as a result of rape or incest and said that women would need to report the claim of incest or rape to a counselor or medical doctor at least 48 hours prior to the abortion.
When asked whether Senate Majority Leader Mitch McConnell, R-Ky., would push this bill for debate, Graham explained that McConnell is one of the co-sponsors of the bill and promised a vote by year's end.
"He is very favorable to this bill and I think he is a co-sponsor and we will find time on the calendar," Graham asserted. "I can promise you a debate in 2015 and a vote."
Graham's bill could force some of his Republican colleagues, who are representing historically Democratic states, to take a position on this legislation, which some pundits claim could hurt their reelection chances. But the legislation could also force a few Democratic senators who represent historically conservative states to do the same.
"Don't get into politics if you don't want to talk about things like this. This is why you want to get elected, I think. Whether you are for or against it, this is something worth talking about," Graham said. "I think if you are in the House or the Senate, voting on this issue is required because it is an important issue. What we are looking for is a debate with those who oppose this. Tell me the upside of this. … What are we achieving here? How are we a better nation? What is your theory of the case? Why do we want to let this happen this late in the pregnancy?
"I am dying for that debate and I am going to insist that we have that debate because we are a member of seven nations that I don't think represent who we are as Americans," Graham added.
Should the measure pass in the Senate, it could be vetoed by President Barack Obama, although he stated earlier this week that every child ought to have the opportunity to reach their "God-given potential."
"And we agree with President Obama on what he said earlier this week, here in Washington, D.C., when he spoke before the Catholic Health Association. He said this: 'A shared belief that every human being made in the image of God deserves to live in dignity. All children, no matter who they are or where they come from or how much money they were born into, ought to have the opportunity to achieve their God-given potential,'" Family Research Council President Tony Perkins explained at the press conference.
"Well, that potential, that opportunity, it begins with life," Perkins continued. "So I call upon President Obama and his party to withdraw their opposition to this bill; and I call upon President Obama to pledge his support for this measure that would help bring his administration's policies in line with his political rhetoric."
Currently, 13 states have laws banning abortions after 20 weeks.