Princeton University Tells Staff to Stop Using the Word 'Man'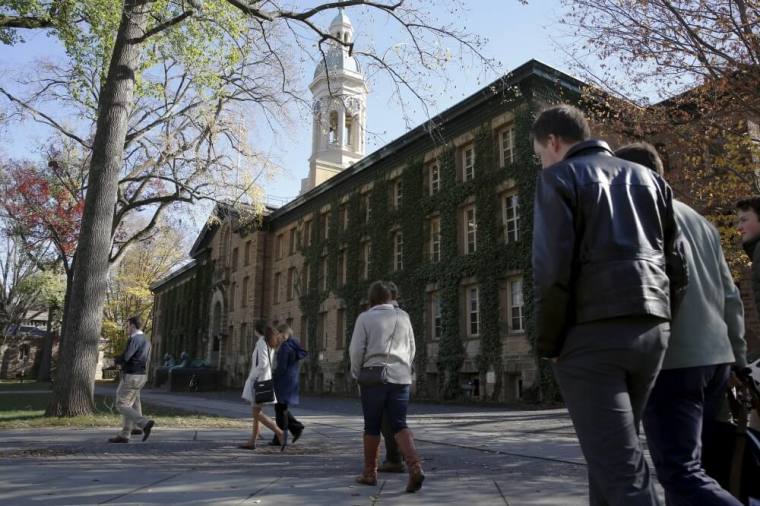 Princeton University is seemingly phasing out references to the word "man," as the historic Ivy League institution has issued a memo detailing the gender-inclusive terminology that staff members should use to avoid offending anybody with gender-binary terms.
Princeton's human resources department has produced a four-page document outlining how staff members within the department should write different resourcing documents and policies so they don't label others with gender-specific pronouns and suffixes, the College Fix reported on Thursday.
"Consistent with style guidelines issued by Princeton's Office of Human Resources and Office of Communications, and as endorsed by the Institutional Equity Planning Group as a preferred university practice, HR has developed these gender inclusive style guidelines, to be utilized by all HR staff members in HR communications, policies, job descriptions, and job postings," the memo states. "These communication guidelines reflect the inclusive culture and policies at Princeton University."
The guideline lists a number of phrases, terms and names of occupations that employees should avoid and also provides gender-inclusive replacement terms that should be used instead.
"[A]ll forms of alumna, alumnus, alumni, alumna" should be replaced with terms like "alum, grad, alums, [and] grads."
Instead of using words like "anchorman," "cameraman," "businessman," "cleaning lady," "mailman" and other gender-specific job titles, the school advises people to use terms like "anchor," "camera operator," "businessperson," "office cleaner" and "mail carrier."
Even for terms like actress, which is used to differentiate a female actor from a male actor, the school suggests that people at the school just refer to all actors as "actor," no matter the gender.
Although the majority of higher education institutions around the nation refer to students in their first year of study as "freshman," the school now suggests that "first-year students" or "frosh" is more acceptable.
As for generic terms like "man and wife," the school prefers that people use the terms "spouses" or "partners." Instead of using a term like "man made," words such as "artificial," "handmade," "manufactured," or "synthetic" should be used.
The school also advises that words like "mankind" and "man" need not be used. According to the memo, "humanity," "people" or "human beings" are much more inclusive terms. Although many people refer to generations that came before as "forefathers," the school states that the more gender-inclusive term is "ancestors."
The memo advises staff members to avoid using gender-specific pronouns such as "he, him, his, and she, her, hers." It suggests that employees should write in the plural or, if possible, "eliminate the pronoun altogether."
Another trick to avoiding pronouns, the memo states, is repeating the noun or person's name or writing in the second person instead of using the gender-binary pronoun.
The last part of the memo details examples of job postings. The errors in each job posting is shown in red, while the gender inclusive way to write the terms are shown in green.
John Cramer, Princeton's media relations director, told the College Fix that the memo is meant to "reflect the university's initiative of fostering an inclusive environment."
As more and more colleges are allowing their students to pick their own pronouns to be referred by, the Princeton memo did not go into detail about transgender pronoun usage.
However, Princeton's LGBT Center offers a guide on how to use gender-inclusive, non-binary pronouns such as "ey," "eirs," "ze," "hir" and "eir." The guide was originally created by the University of Wisconsin-Madison's Division of Student Life.
Last August, the University of Tennessee posted a memo to its Office for Diversity and Inclusion website advising members of its community to replace gender binary pronouns with gender inclusive ones such as "ze," "hir," "hirs," "zir," "zirs," "xem," and "xyr."
"We should not assume someone's gender by their appearance, nor by what is listed on a roster or in student information systems," Donna Braquet, director of University of Tennessee's Pride Center, wrote in the posting. "Transgender people and people who do not identity within the gender binary may use a different name than their legal name and pronouns of their gender identity, rather than the pronouns of the sex they were assigned at birth."
"In the first weeks of classes, instead of calling roll, ask everyone to provide their name and pronouns," she added. "This ensures you are not singling out transgender or non-binary students."
According to College Fix, the University of North Carolina Chapel Hill issued a posting last September that is similar to the memo issued by Princeton. Like the Princeton memo, the UNC Chapel Hill guidance provides a number of gender-inclusive terms that should be used instead of words that end or being with "man."
Last October, the Wisconsin-based Catholic institution Marquette University posted a guide called "Tips for Using Inclusive, Gender Neutral Language" to its "Writing Across the Curriculum" website.
"Careful writers avoid language that would universalize one element of humanity to the exclusion of others," the Marquette memo says. "When you are writing about people in general, many of your professors will expect you to use "inclusive" or "nonsexist" language, that is, gender neutral language."