Prison Fellowship: Jeff Sessions Shouldn't Bring Back Reagan-Era Drug Policies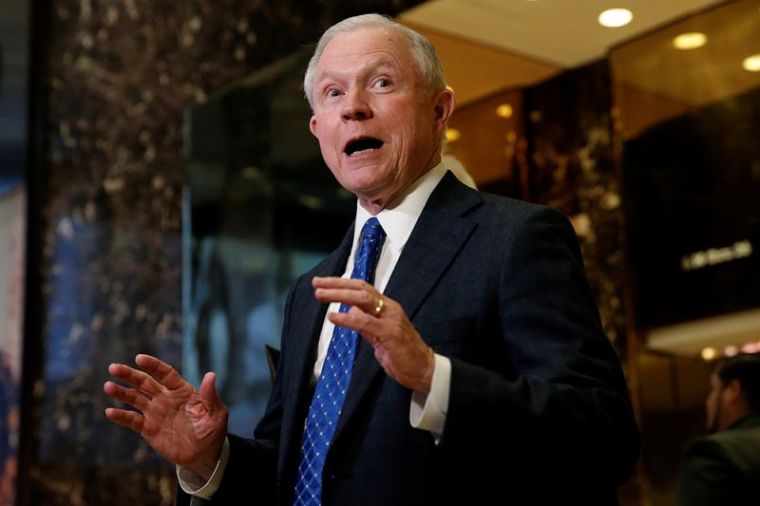 Following Attorney General Jeff Sessions' speech last week in Richmond, the United States' largest prison outreach ministry is warning that Sessions and the Trump administration would be "wrong" to reinstate Reagan-era drug enforcement policies.
Last Wednesday, Sessions spoke to federal, state, and local law enforcement officials in Virginia's capital city and touched on his concern with the rising levels of drug use in America.
"Attorney General Sessions is right to send the message that drug use is destructive. Where he is dangerously wrong is his proposed solution. Reagan-era policies — incarceration without accountability — led to more drug use, addiction, death, victims of crime and government waste," Craig DeRoche, senior vice president for advocacy and public policy at Prison Fellowship, told CP in a statement. "The Reagan-era drug policies steal power from the states and grow the federal government, not to mention they are dangerously ineffective for victims of crime and for communities, and devastating for families."
According to The Washington Post, Sessions argued in his speech in Richmond that America has "too much tolerance for drug use" and insisted that "there is no excuse" for recreational use. He also quoted the motto of the drug prevention advertising campaign championed by former First Lady Nancy Reagan during the "War on Drugs" in the 1980s and 90s — "Just Say No."
"We need to say, as Nancy Reagan said, 'just say no,'" Sessions said. "There's no excuse for this, it's not recreational. Lives are at stake, and we're not going to worry about being fashionable."
The Washington Post reports that Sessions, the former Alabama senator, pledged in his speech to aggressively prosecute drug dealers and gun-toting felons.
"I am determined that this country will not go backwards," Sessions said. "President Trump gave us a clear directive. It's the policy of this administration to reduce crime in America, not preside over an increase in crime, but reduce crime."
Sessions claimed marijuana is only "slightly less awful" than heroin and shot down arguments that legalizing marijuana would help reduce the rise in opioid use in the country. He also asserted that there needs to be a renewed drug awareness campaign about the effects of drugs, like the ones started during the Reagan administration.
"In the '80s and '90s, we saw how campaigns stressing prevention brought down drug use and addiction. We can do this again," Sessions said. "Educating people and telling them the terrible truth about drugs and addiction will result in better choices. We can reduce the use of drugs, save lives and turn back the surge in crime that inevitably follows in the wake of increased drug abuse."
Criminal justice reform advocates, including some conservative and nonpartisan advocates, have been weary of Sessions as attorney general because he has opposed past efforts to reform mandatory minimum sentencing laws that force people to serve unnecessarily long federal sentences for nonviolent crimes.
However, Sessions introduced the Drug Sentencing Reform Act in 2001, which decreased the disparity in the amount of crack cocaine and powder cocaine needed to trigger mandatory minimum sentences.
Many blame Reagan-era drug policies for the rise of mass incarceration in the United States. During the Reagan presidency, there was a sharp increase in the rate of incarceration for nonviolent drug offenses. The number of people jailed for nonviolent drug offenses increased from 50,000 in 1980 to 400,000 in 1997, according to the Drug Policy Alliance.
DeRoche added that "if more state drug courts and other effective alternatives to incarceration for those struggling with addiction were launched back in the 80s and 90s, many of our loved ones might still be alive."
"I lost my own brother as did President Trump so I understand the stakes. There is a better way to fight drug abuse and addiction and it is best done at the local and state level," DeRoche continued. "Red states across the country have been leading the way in criminal justice reform that has increased American safety. How? Proportional punishment that fits the crime, constructive prison culture that prepares people for sobriety and reentry, and policies that allow people who have paid their debt to start fresh and provide for their families."
Additionally, DeRoche said that he would like to see Sessions and the Trump administration work with Congress to pass reforms that have been proposed by fellow conservatives "that build upon the proven state solutions to reduce crime and promote justice that leads to less drug use and addiction."
Pat Nolan, director of the American Conservative Union Foundation's Center for Criminal Justice Reform, told CP last month at the Conservative Political Action Conference that there are some concerns that he has regarding Sessions but also pointed out instances in which Sessions was an ally to criminal justice reform advocates. Not only did Session introduce the Drug Sentencing Reform Act, he also co-sponsored the Prison Rape Elimination Act of 2003.
"He has supported the extension of mandatory minimums," Nolan said. "I have problem with that because I don't think justice should be one size fits all. I think he is more supportive of civil asset forfeiture. We are for reforms and think they should stop federal equitable sharing."