Prisoners Prayed, Sang 'Amazing Grace' During Executions in Indonesia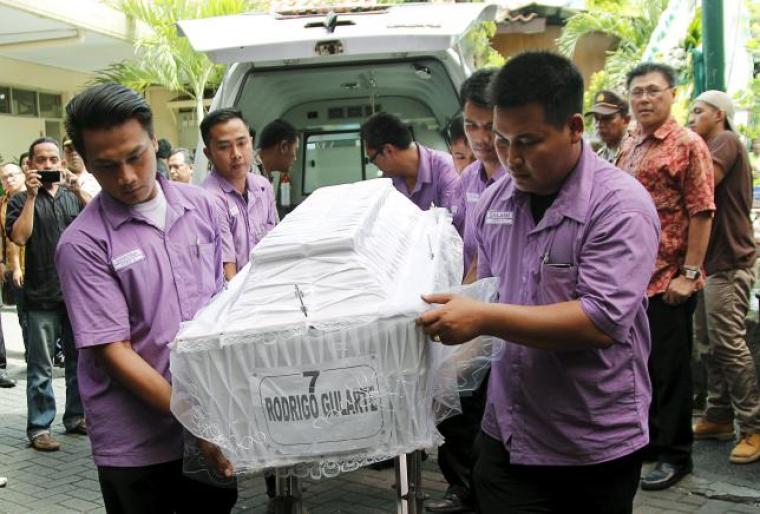 Eight prisoners in Indonesia reformed by Christianity sang and prayed as they walked to their executions Wednesday morning, witnesses said.
The eight prisoners included two Australians (Myuran Sukumaran and Andrew Chan); four Africans (Raheem Agbaje Salami, Sylvester Obiekwe Nwolise, Okwudili Oyatanze, and Martin Anderson); and one each from Brazil (Rodrigo Gularte); and Indonesia (Zainal Abidin bin Mgs Mahmud Badarudin), who were convicted of drug trafficking in Indonesia, a country with harsh penalties for smuggling, including life in prison and the death penalty.
"When they were being put on the cross for execution, they were singing on the crosses and we were in a tent not too far away from the execution place trying to support them," Father Charlie Burrows told News Corp Australia
And as the executions began, pastor Christie Buckingham's husband, Rob, told an Australian radio station that the prisoners began to sing hymns and pray. As the executioners opened fire, the prisoners began singing "Amazing Grace," which provided inspiration to those gathered to mourn the losses and seeming injustice.
"She told me the eight of them walked out onto the killing field singing songs of praise." They conducted themselves with "dignity and strength until the end," Buckingham said.
The case brought international criticism and prayers for the prisoners to be released. One prisoner was seemingly spared, but it was later revealed that her execution will be carried out at another time. Indonesian Attorney General Muhammad Prasetyo explained why the executions were necessary.
"We are fighting a war against horrible drug crimes that threaten our nation's survival. I would like to say that an execution is not a pleasant thing. It is not a fun job. But we must do it in order to save the nation from the danger of drugs. We are not making enemies of countries from where those executed came. What we are fighting against is drug-related crimes," Prasetyo told the AFP.
Yet the executions have caused strife with the countries where the executed were from, as well as the larger international community. Nigerian president Goodluck Jonathan and Foreign Minister Aminu Wali pleaded for their four citizens to be granted pardon. Australia recalled its ambassador, and the European Union expressed its "dismay" with the decision to carry out the execution and asked for a moratorium of all further executions.
"They asked for mercy, but there was none," the families of Australians Andrew Chan and Myuran Sukumaran said in a statement.
The remaining prisoner, a Filipino woman named Mary Jane Veloso, has attorneys preparing to present a case that she is a victim of human trafficking who had no choice but to participate in drug trafficking. Veloso was due to be executed along with the seven others but was spared at the last moment, much to the delight of the public. However, she still faces the real possibility of being executed should her attorneys not be able to make the case.
"Everything will depend on the outcome of the investigation and its conclusion, which will help determine and identify those responsible in drug trafficking and human smuggling. If we are able to file charges and convict them and establish that Mary Jane is a victim, that's the time we could request again for clemency," foreign ministry spokesman Charles Jose said at a news conference.
"We are currently reviewing the postponement and we will take every possible step to get her death sentence canceled by the president," attorney Agus Salim said at a conference in Jakarta.