Pro-life activist arrested again for silently praying near abortion clinic after legal victory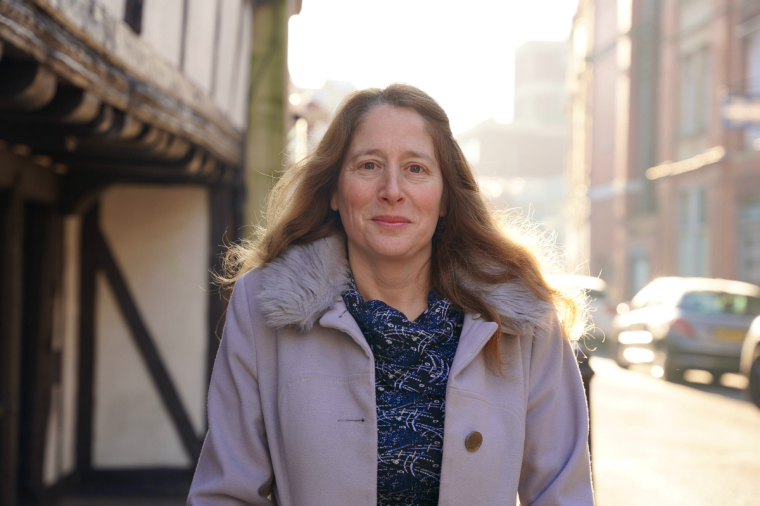 A pro-life activist was arrested again for silently praying outside an abortion clinic just weeks after a court cleared her of all wrongdoing related to a previous arrest for engaging in silent prayer outside the facility. 
ADF UK announced in a statement Tuesday that March for Life UK Director Isabel Vaughn-Spruce was arrested for violating a Public Space Protection Order by silently praying outside an abortion clinic in Birmingham, England.
Video footage of the arrest, shared on the law firm's Twitter account Monday, shows police officers asking Vaughn-Spruce to "step away from here and step outside the exclusion zone," referring to the area covered by the Public Space Protection Order. 
The Public Space Protection Order prohibits people from "protesting, namely engaging in any act of approval or disapproval or attempted act of approval or disapproval, with respect to issues related to abortion services, by any means" within a certain radius of the abortion clinic. As documented in the video footage, the pro-life activist assured the officers that "I'm not protesting, I'm not engaging in any of the activities prohibited." 
"You've said you're engaging in prayer, which is the offense," one of the officers responded. When she clarified that she was merely engaging in "silent prayer," the officer indicated that it did not matter: "You're still engaging in prayer. It is an offense."
The officer cited Vaughn-Spruce's disagreement with his analysis as evidence that she would "rather be arrested and taken away than stand outside the exclusion zone." The video concluded with Vaughn-Spruce contending that she was "not intimidating or harassing" anyone and "not protesting." 
In a second video clip, Vaughn-Spruce reiterated her assertion to law enforcement officials that she was not violating the Public Space Protection Order because she was not "protesting." They maintained that it did not matter that she was not verbally protesting because "people know who you are and they know why you're here" and that according to "people's perception," she was protesting. They informed Vaughn-Spruce of their intention to issue her a ticket and told her, "if you don't leave the area, you will then be arrested."
Vaughn-Spruce's latest arrest comes less than three weeks after the Birmingham Magistrates' Court sided with the pro-life activist in her bid to determine whether or not "it's still lawful to pray silently in our own heads." The court ruling followed the dropping of all charges related to her previous arrest for engaging in silent prayer outside the abortion clinic and came in response to her efforts to seek binding precedent on the matter.
"Only three weeks ago, it was made clear by the court that my silent prayers were not a crime," Vaughn-Spruce said of her latest arrest. She lamented that she had once again been "arrested and treated as a criminal for having the exact same thoughts in my head, in the same location."
"The ambiguity of laws that limit free expression and thought — even in peaceful, consensual conversation or in silent, internal prayer — leads to abject confusion, to the detriment of important fundamental rights," she added. "Nobody should be criminalized for their thoughts."
Shortly after Vaughn-Spruce's latest arrest, lawmakers in the United Kingdom rejected an amendment to Clause 10 of the Public Order Bill in a 116-299 vote Tuesday. Clause 10 prohibits people from "influencing any person's decision to access, provide or facilitate the provision of abortion services" within about 400 feet of abortion clinics. In other words, it would extend buffer zones, like the one imposed by the local government in Birmingham, to apply to all abortion clinics nationwide.
The amendment, as described by ADF UK, "would exempt silent prayer and consensual conversations from the ban." ADF UK Legal Counsel Jeremiah Igunnubole reacted to Tuesday's vote in the House of Commons in a statement.
"Today's vote marks a watershed moment for fundamental rights and freedoms in our country. Parliament had an opportunity to reject the criminalization of free thought, which is an absolute right, and embrace individual liberty for all. Instead, Parliament chose to endorse censorship and criminalize peaceful activities such as silent prayer and consensual conversation," he said.
As Igunnubole expressed disappointment with the rejection of the amendment, he saw a small silver lining with the developments in the House of Commons Tuesday.
"Thankfully, where the clause initially called for a prison sentence for those convicted of engaging in these peaceful activities near abortion facilities, the penalty now has been reduced to a fine," he said.
"Today it's abortion. Tomorrow it could be another contested matter of political debate. The principle remains that the government should never be able to punish anyone for prayer, let alone silent prayer, and peaceful and consensual conversation," Igunnubole warned. "It is extremely regrettable that Parliament, which exists to protect and champion the rights of the electorate, has taken a clear stance against fundamental freedoms, opening the door for nationwide thought-crime prosecution."