Pro-Life Leaders Raise Voice in Support of Baby Charlie Gard, Blast European Courts and Hospital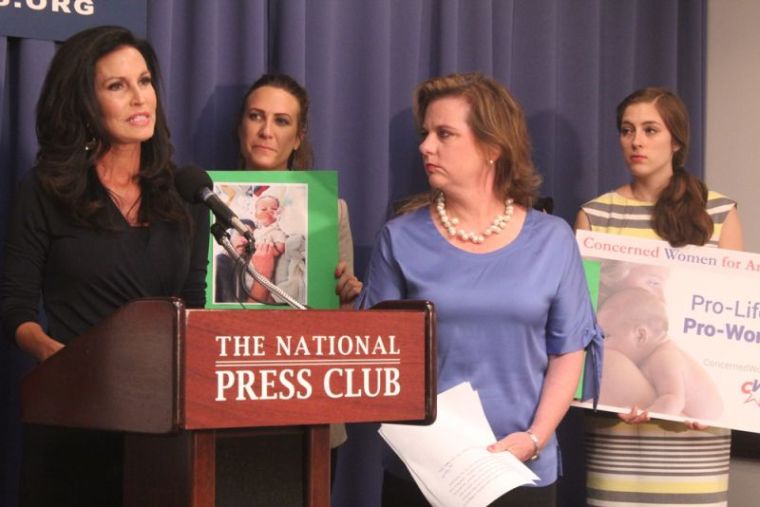 WASHINGTON — American pro-life leaders are raising their voices in support of baby Charlie Gard, decrying the decision by European courts that a London hospital has the authority to withdraw life support against the wishes of his parents. They view this move as a flagrant violation of parental rights and are pleading with England to reconsider in an appeal to save his life.
Gathered at the National Press Club in Washington, D.C. Thursday afternoon, six notable figures in the pro-life movement expressed solidarity with the 11-month-old child who is suffering with a rare form of mitochondrial disease and is on life support in London amid an ongoing international outcry.
"Every life is a gift and worth fighting for, and we plan to do everything in our power to be a voice and to protect the inherent dignity of little Charlie Gard," said Jeanne Mancini, president of March for Life, at the press conference.
"Our hearts go out to the Gard family and we hope that their wishes for Charlie to be released and to seek alternative medical treatment will soon be respected."
Great Ormond Street Hospital in London, where Charlie is currently residing, has refused to transfer the child, has refused to allow Charlie's parents to take him home to die, and has reportedly denied the couple's request for a hospice arrangement. Previous court rulings in favor of the hospital's decision were recently upheld in the European Court of Human Rights in Strasbourg, France.
President Donald Trump, who is in Germany for the G20 summit this week, reportedly plans to discuss the plight of Charlie Gard with British Prime Minister Theresa May, according the Daily Mail.
Catherine Glenn Foster, president and CEO of Americans United for Life, the legal arm of the pro-life movement in the United States, told The Christian Post after the press conference that court decisions are not orders that the child must die.
When asked by CP what Prime Minister May might do to trump the decision of the court, Foster said that the court ruling "does not require the hospital to remove care; it simply allows them and gives them the authority to."
"This is not a mandate to remove the ventilator and kill him in essence. [May] could do something, she could intervene with the hospital. There are a number of things that can happen that would give the hospital that 'out' and allow them to save face and still transfer Charlie and give him that chance at life that he deserves," she said.
Foster is preparing to travel to London Thursday evening and has begun coordinating with the legal team in England but could not go into further specifics.
Gard's case is gaining steam with world leaders like Pope Francis, President Trump and even celebrities like singer Cher posting on social media in support of the sick child. Cher tweeted Monday evening in all caps: "Institutions have no right 2flip switch on beloved baby. If USA can save precious Charlie Gard... send him 2 us."
Thirty-seven members of the European parliament have also signed a letter to May and Health Secretary Jeremy Hunt, writing that they felt "obliged to voice our deepest concerns about the outrageous outcome of Charlie's case, which infringes Europe's most fundamental values, particularly the right to life, the right to human dignity and personal integrity."
Protests outside Buckingham Palace in London and at the British Embassy in Washington, D.C., have also bolstered the effort to save Charlie's life.
Gard's parents, Connie Yates and Chris Gard, have raised over $1.6 million through a crowdfunding campaign to transfer him to a hospital in the U.S. for an experimental treatment. The couple is supported by thousands of people around the world calling themselves "Charlie's Army"; a Facebook group of that name boasts over 65,000 members.
Thus far, however, while Charlie remains on life support the massive solidarity has not yielded any change and, according to LifeSiteNews, international pro-life activist the Rev. Patrick Mahoney believes the hospital could pull the plug on Charlie at any time.
Earlier this week, Pope Francis offered to take in the sick child at Gesu Bambino hospital in Rome. But when Italian Foreign Minister Angelino Alfano spoke Wednesday with Boris Johnson, British secretary of Foreign Affairs, to discuss the Vatican's offer, Johnson reportedly declined to intervene.
The Daily Mail reported that a source close to Johnson said he told the Italian minister: "This was a deeply tragic and complex case for all involved, and it was right that decisions continued to be led by expert medical opinion, supported by the courts, in line with Charlie's best interests."
Yet many see this as a government violating the rights of parents to determine the best course of medical care for their children even when medical experts say no hope of recovery exists.
Penny Nance, president and CEO of the Washington-based Concerned Women for America, said at the press conference Thursday that if the hospital has its way, it sets a "troubling precedent." The state has quashed the parents' request for more time and it is a violation of their right to determine the best course of medical treatment for their child, she argued.
"The heavy hand of government has come between the family and their child, and we believe that it's wrong," she said emphatically.
While the ECHR's ruling praised the parents for their concern for their sick child, it nevertheless ruled that Charlie's best interests were in the hospital's purview, even though it meant that he has to die.
Marjorie Dannenfelser, president of the Susan B. Anthony List, a pro-life political action committee that works to elect pro-life women to Congress, said she is not moved by those supposedly warm words from the court.
Such language feigning concern, she explained, "is what Walker Percy called the compassion of the gas chamber."
And in this case, the difference between genuine compassion and the kind of compassion espoused by the state is that the hospital is digging in its heels, not even allowing the parents to take their child home to die, she noted.
"This hospital has dug in and said 'No, he will die, and he will die here," Dannenfelser said.