Trump, Pope Francis Proclaim Support, Offer Help for Sick Baby Charlie Gard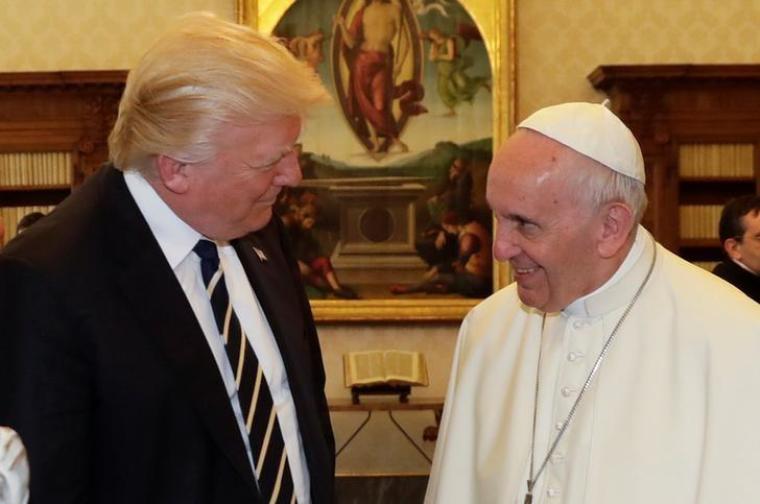 President Donald Trump and Pope Francis are voicing support for a British couple whose sick 10-month-old son was slated to have his life support cut off despite their objections.
In a statement released Sunday, Vatican officials said that the pope was following the case of Charlie Gard, who has a rare form of mitochondrial disease, "with affection and sadness" and was close to his parents, the Guardian reported Monday.
"For this he prays that their wish to accompany and treat their child until the end isn't neglected," Pope Francis' statement read.
The couple also received the support from another influential leader across the Atlantic on Monday. In a tweet released Monday morning, President Donald Trump said: "If we can help little #CharlieGard, as per our friends in the U.K. and the Pope, we would be delighted to do so."
Last Tuesday the European Court of Human Rights in Strasbourg, France refused to intervene in the case, upholding previous courts which ruled that Great Ormond Street Hospital in London had the right to remove life support from the child.
Gard's parents, Connie Yates and Chris Gard, had raised over $1.6 million through a crowdfunding campaign to transfer their son to a hospital in the United States for an experimental treatment. But the ECHR judge maintained, citing medical experts, that nothing else could be done for the child and that it was in his best interest to die.
The hospital told the parents that the life support would be removed Friday but then delayed doing so amid public outcry in an eleventh hour move to give the parents more time to say goodbye. The hospital also told the parents they could not take the child home to die and also reportedly refused to allow for a hospice arrangement.
The pope's public stance comes on the heels of a previous statement from a Vatican bioethics advisory panel which suggested that the hospital and courts had made a legitimate decision.
"We should never act with the deliberate intention to end a human life, including the removal of nutrition and hydration," Archbishop Vincenzo Paglia of the Pontifical Academy of Life, said Friday. "We do, sometimes, however, have to recognize the limitations of what can be done, while always acting humanely in the service of the sick person until the time of natural death occurs," he continued.
Pope Francis, who usually posts to Twitter just once per day, released a second tweet Friday addressing the issue: "To defend human life, above all when it is wounded by illness, is a duty of love that God entrusts to all."
The Sunday clarification from the Vatican occurred as a protest in support of baby Charlie occurred outside of Buckingham Palace. A Facebook group of supporters called Charlie's Army boasts over 57,000 members.
Around the world the case is being seen as an unlawful usurpation of the rights of parents to determine the best course of treatment for their children.
As The Christian Post reported last week, National Review's Ian Tuttle wrote that the decision by the European Court will "metastasize" and sets a troubling precedent.
"It will be made to apply to children with more-familiar illnesses and better prognoses; it will be used to dismiss the input of parents whose values and priorities when it comes to medical care and end-of-life issues do not align with those of the state; it may be used simply to clear beds for 'worthier' patients in a healthcare system with very limited resources," he said.