Pro-life pregnancy center set on fire in act of arson, investigators say
Fire department estimates over $250K in damages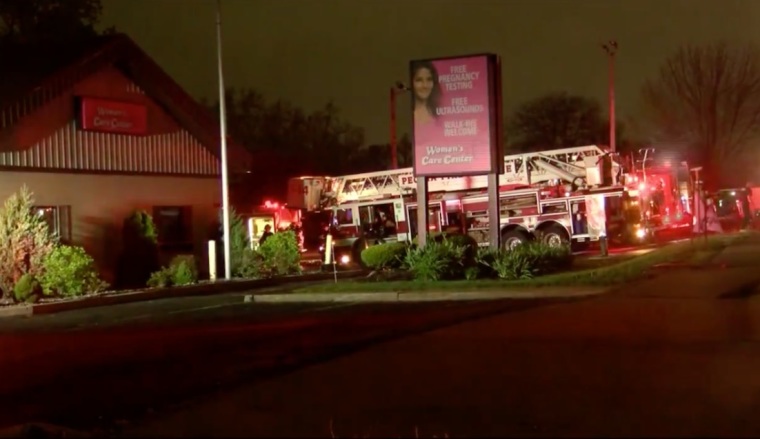 An Illinois pregnancy center was set ablaze in an act of arson during the early-morning hours of May 3, causing an estimated $250,000 in damage as the pro-life center scrambles to find a permanent location. 
The Peoria Fire Department responded to the fire at Peoria Women's Care Center around 2:40 a.m. on Monday and said most of the fire was contained in the front room, but damage was done to the entire building. 
Fire investigators believe the fire was intentionally set but under control by 3 a.m., a local news station reported. No one was injured in the fire. 
The center's contents, including diapers and baby supplies, were lost to the fire, and the center needs material assistance. 
"If called beyond prayer, we need financial assistance in rebuilding," the center's founder and vice president of its board of directors, Christine Dennis, said in an interview with Peoria-based diocesan newspaper The Catholic Post. 
"And we have 500 women on our client roster whose babies are due in the coming months."
Women's Care Center is a pro-life chain founded in 1984 and now has 33 centers across 12 states. Its goal is to help pregnant women choose life for their babies, have healthy pregnancies and become self-sufficient.
The Women's Care Center in Peoria serves around 13 women per day, performs 1,000 ultrasounds annually and saved 596 babies from abortion last year, according to its website. The center in Peoria was established in 2013.
Despite their losses from the fire, Peoria's Women's Care Center continues its mission to help pregnant women.
"Our doors are open. We just don't have any doors," Connie McClure, director of client care at the burned center, told the official newspaper of the Diocese of Peoria. 
The center is searching for a temporary site to operate until the original location is rebuilt. The headquarters in South Bend, Indiana, has sent a mobile unit to service patients in a parking lot nearby for the time being. 
"It may look a little different, but we've made a promise we will be there to support them," McClure said.
Dennis said good will come from the tragedy through the rebuilding process, according to The Catholic Post. She stated that they are "saddened" but not crushed.
"We take care of our women No. 1. And when we take care of them, everything else falls into place," she said. 
McClure said counselors were already speaking to some of the center's 500 clients the morning of the fire to promise them their care would continue as their due dates approach. 
According to WMBD, fire investigators announced Monday that the cause of the fire was arson, and the investigation will be aided by both the Office of the Illinois State Fire Marshal and the Peoria Police Department. 
At the scene of the fire, Peoria Fire Chief Tony Ardis told media that places like the Women's Care Center are often targeted for arson. 
Pregnancy resources centers offer pregnancy testing, STD testing, ultrasounds, parenting classes, baby gear, pregnancy-related items, employment assistance, maternity housing and referrals. In the past, other pro-life pregnancy centers have been attacked for their pro-life beliefs.
The abortion industry often claims pregnancy resource centers offer services that are deceptive and harmful to women," pro-life group Live Action reported. 
A pro-life women's healthcare center in Texas was vandalized in 2019 as words like "liars" and "fake clinic" were spraypainted on the side of the building. 
A report declassified this year by the U.S. Department of Homeland Security classified both pro-life and pro-abortion extremists on a list of domestic violent extremist groups "motivated by a range of ideologies and galvanized by recent political and societal events in the United States" who "pose an elevated threat to the homeland in 2021."