Pro-Life State Rankings Released: 6 Best, 5 Worst, 4 Most Improved States for Life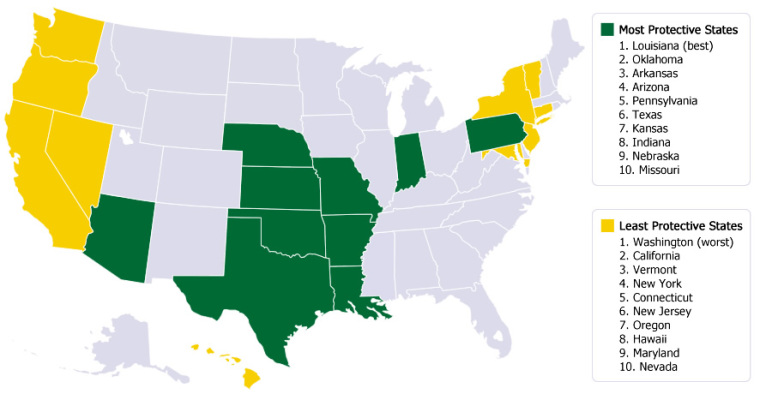 Americans United for Life, a nationwide pro-life legal team, released its 2014 "Life List," which includes a ranking of the various states on how well their laws defend life, from conception to natural death.
"Real pro-life momentum is reshaping the country as legislators craft protections for both mother and child, the victims of an avaricious abortion industry," AUL President and CEO Charmaine Yoest said in a statement to mark the "Life List." In an interview on Friday with the Christian Post, AUL Media Consultant Kristi Hamrick emphasized a few state initiatives in particular.
Hamrick praised the state of Texas, one of the Life List's "most improved" states, and home of the controversial pro-choice activist Wendy Davis, whose filibuster against the 20-week abortion ban gained her national attention last June. Texas legislators "have been creative and determined in protecting women from abortion industry abuses post-Gosnell," Hamrick said.
"What we saw in the Gosnell 'House of Horrors' trial is that even though there were protections on the books, politicians decided not to enforce them," the AUL spokeswoman explained. She was referring to the case of Kermit Gosnell, an abortionist found guilty in May of murdering three babies born alive in a Pennsylvania abortion clinic and one woman who died from abortion complications.
In July, Texas enacted legislation prohibiting late-term abortions, prohibiting "telemed" abortions, mandating abortion clinics meet patient care standards, and requiring that abortion providers have local hospital admitting privileges. These reforms pushed Texas into AUL's category of "All-Stars." Other "All-Stars" included Missouri, Alabama, Arizona and Arkansas.
"Each of AUL's All Stars enacted life-saving legislation to protect mother and child from an abortion industry more committed to its financial bottom line than protecting women from a dangerous procedure that is too often performed in substandard facilities," Yoest explained. Texas was the only state to rank among the "All Stars" and the "Most Improved," taking sixth place overall.
Hamrick also mentioned New York, the fourth worst state for life, which almost adopted the worst laws from an AUL perspective. "New York came very close to having the most draconian, anti-life laws in the country, but they failed," the spokeswoman explained. The Life List notes AUL's work to defeat Governor Andrew Cuomo's Women's Equality Act, which "would have elevated abortion to a fundamental legal right in the state, eliminated all existing legal protections for women considering abortion, and rescinded protections for unborn victims of violence."
AUL also helped defeat a pro-choice measure in Washington State. The bill would have mandated that health insurance plans which cover maternity care also cover abortions. Washington State ranked dead last on life issues, for the fifth year in a row.
Louisiana, the home state of the hit show "Duck Dynasty," ranked number one on AUL's Life List, also for the fifth year in a row. "Louisiana tops the list because of its decades-long history of enacting common-sense limitations on abortion," the list explained. The state "also comprehensively protects healthcare freedom of conscience and is one of only a small number of states that has enacted meaningful regulations on biotechnologies such as destructive embryo research."
In addition to Texas, Illinois, North Carolina, and Kansas made the "Most Improved" list.
In Illinois, a 2005 executive order forcing pharmacies to dispense "emergency contraception … without delay" was invalidated, and a parental notice requirement for abortion went into effect. North Carolina prohibited sex-selection abortions, limited Affordable Care Act funding for abortions, and regulated abortion facilities according to "ambulatory surgical center standards." Kansas limited state funding for abortion, prohibited sex selection abortions, and enhanced other limitations.
Hamrick praised states which finally enforced such regulations. She called NARAL's complaints that such laws "throw us back into the dark ages" laughable. "You would think that the abortion industry would be ashamed to argue for legal back-alleys of abortion which are unregulated, unmonitored, and unsupervised," she said.
6 Best States for Life
Louisiana
Oklahoma
Arkansas
Arizona
Pennsylvania
Texas
5 Worst States for Life
Washington
California
Vermont
New York
Connecticut
Most Improved
Texas
Illinois
North Carolina
Texas